NOTE: This article discusses an older version of Capture One Pro. To learn more about our latest version, click here.
Capture One Express is a free photo editing software for Sony and Fujifilm files – a simplified version of Capture One's award-winning photo software Capture One Pro. It's completely free to download and unlike a 30-day trial, doesn't expire.
In this blog post, I'll guide you through the basics of Capture One Express and also talk about the differences between the Express and Pro versions.
First, let's start with why anyone would want to use a photo editor at all:
If you've got a Sony or Fujifilm camera, you've probably spent hours trying to nail that perfect, memorable shot from your holiday, birthday party – or anything else that you love to photograph. When you upload the photos to your computer and export them for printing or sharing online, you might be disappointed to find the moment doesn't look as good as you remember it.
That's because shooting with a camera is only half the battle – you need image editing software to make quick fixes to elements like brightness, shadows, colors or lighting and create a truly memorable photo.
It doesn't have to be complicated – the auto adjustments and essential editing tools in Capture One Express can help you boost your photos in just a few clicks. Here's a quick guide to using them:
Automatically boost photos
Want a fast way to improve your photos? You can automatically boost image elements like colors, white balance, contrast or brightness using Auto Adjustments in Capture One Express.
There are two ways to apply an Auto Adjustment:
1. Click the adjustments menu and select Auto Adjust.
2. Use the shortcut CMD + L on Mac or CTRL + L on Windows.
Then, select which image elements you wish to automatically adjust by selecting
Adjustments > Configure Auto Adjustments.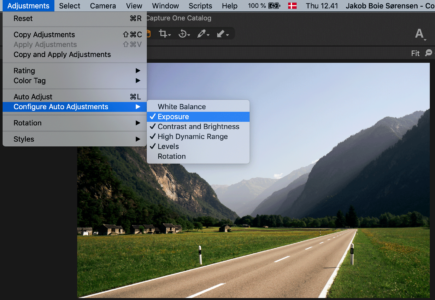 The other option it to click the A  symbol in the right corner of almost every Tool.  Capture One Express will then apply the tool in a way that fits your image as best as possible.
To undo an adjustment, select the single arrow or use the CMD + Z shortcut on Mac or CTRL + Z on Windows.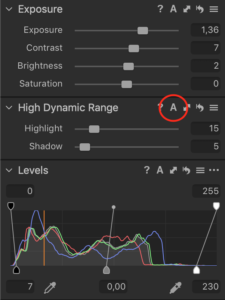 The red circle around A marks the Auto Adjustment setting in the specific tool – for example in the High Dynamic Range sliders shown here.
Instant color grading with Styles
Instantly transform the look of your photos with Styles – a layer of preset colors and adjustments that can be applied over any photo with just one click.
Capture One Express comes with some built-in Styles – scroll through and try them out on your photo to see which look you prefer. You will find them in the Styles and Presets Tool tab.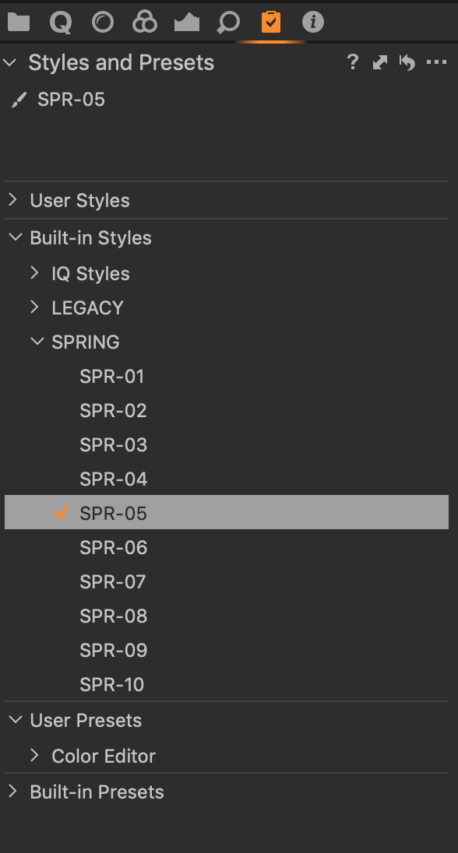 Scroll through the different Styles and find one that fits your photo best. You can also find some built-in presets, which is an easy way to adjust specific elements of the photo.
Although you can apply Styles to JPEG files, you will get the best result with a RAW file – simply change your camera settings to shoot in RAW instead of JPEG. To learn more about the benefits of RAW files, read our Why shoot RAW blogpost.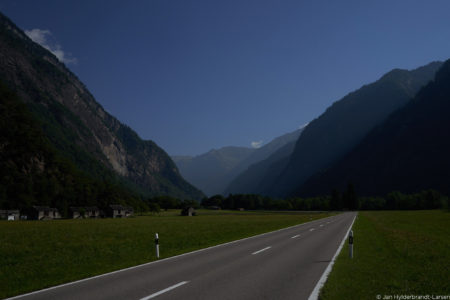 The photo straight out of camera, before any adjustments have been made.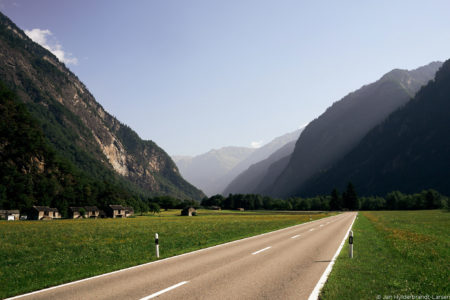 The same photo with the Spring Style 05 applied and some added Auto Adjustments
You can also save a series of adjustments and edits as your own personal Style, so you can use it again on a later photo. Simply click Adjustments > Styles > Save User Style.
For even more creative possibilities, visit the Capture One Styles store to browse the range of Style Packs inspired by different looks – from seasonal colors, to black-and-white and film photography.
Express vs. Pro
Capture One Express is a simplified version of Capture One Pro – with the same fast performance and high-quality image conversion as in the award-winning Pro version.
So what's the difference between Express and Pro? With a full range of professional photo editing tools, the Pro version gives you complete creative control of your photo editing. For example, you can use Layers to adjust specific sections of an image without affecting the rest, apply advanced color grading, shoot directly into your computer with tethered capture, and customize your own workspace so you can quickly find the tools you need and edit big projects in a snap.
Check out the full list of Capture One Pro features.
Now you know all about Express, here's how to get it:
Download Capture One Express (for Sony) or
Download Capture One Express Fujifilm
Launch the program, then follow these steps: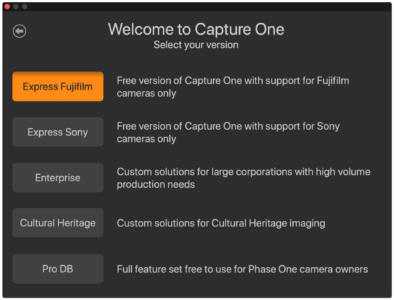 You're all set!
Want to learn more about creating great photos with Capture One Express? Visit the Capture One Learning Hub for free webinars and tutorials on the free photo software. Have fun!
Jakob Boie Sørensen
Jakob is a portrait and wedding photographer who also works as a Marketing Consultant with Capture One – his must-have tool for his professional work. Jakob is passionate about sharing his technical expertise and helping others discover the benefits of editing with Capture One.
Follow Jakob Boie Sørensen