NOTE: This article discusses an outdated version of Capture One. To learn more about our latest version, click here.
You are not restricted to working on a single computer when using ICC profiles. In this post I will show how easy it is to share these custom-made profiles with other computers.
Viewing your image with the right colors on another computer
When working with Sessions, the ICC profile will be included in the settings files located within the image folder. This ensures that you can move the image folder to another computer – and still have all the necessary components available for viewing the images exactly the same way on the other computer.
If you want to use a custom ICC profile on another computer running Capture One, you can simply import the profile.
How to import a Custom ICC profile from an image into Capture One
When viewing an image with a custom ICC profile on a different computer than where it was generated, you will see the image with the right colors, as the ICC profile is included in the settings folder inside the image folder.
But if you want to use the profile on other images, you need to import the profile. You find the camera ICC Profile selector in the Color Tool Tab's Base Characteristics Tool. In the bottom of this selector, you find the Import option as shown in the image below. Select the images with the custom ICC profile and choose Import.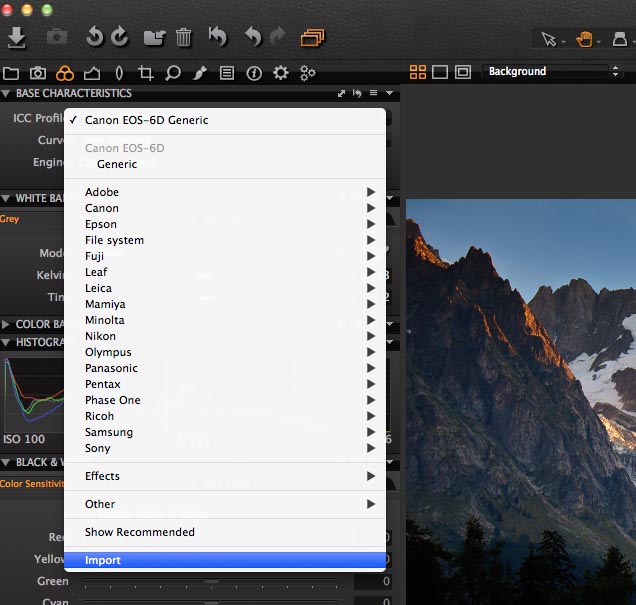 The ICC selector dropdown menu with Import as the last option
On a Mac system the custom ICC profile will be located in:
Users/UserX/Library/Colorsync/Profiles
The Library folder is hidden. To open it, make sure you are in the Finder, hold down the Option key, and then choose Go > Library.
On a Windows system the profiles will be located in:
Users/UserX/AppData/CaptureOne/Color Profiles
How to install a custom ICC profile on a computer:
If you want to use one of your custom ICC profile on a different computer, you need to copy it manually to the above locations depending on the system.
If Capture One is already running you will need to restart it in order to see the profiles in the ICC selector in Base Characteristics Tool.
If you do not follow the naming convention, the ICC profile will still be available but you will need to select it from  "Other"  rather than under the camera name.
For more information on the naming convention see my previous tip Tweak the default color look of your camera.
All the best,
Niels
The Image Quality Professor
The digital pioneer, Niels V. Knudsen, is Phase One's Image Quality Professor and founder of the IQP blog. Moreover, he is responsible for breakthrough advancements in image quality both in Phase One's medium format camera systems and in Capture One Pro.