Apple will release macOS Catalina 10.15 in October. In a knowledge base article on their website, Apple confirms that Aperture will not run on this new version of macOS. Some may choose to postpone upgrading macOS in order to continue using Aperture. I recommend migrating to Capture One Pro.
When Apple announced in 2014 that they had ceased development of Aperture, I chose to find a new raw image editor. I wanted all the Aperture features I loved, plus all the features Apple confirmed it was never going to deliver.
I used Lightroom prior to using Aperture. After Apple's 2014 announcement, I tried it again. With user interface and performance issues, Lightroom still didn't measure up, so I downloaded Capture One Pro's 30-day free trial and it quickly became my image editor of choice.
After spending a few weeks importing and editing images from my Aperture archives, I was impressed with how quickly and easily I adapted to the new workflow. Even better, the image quality of Capture One is far superior to Aperture's and the Aperture Library import tool is more complete than Lightroom's. Capture One Pro almost immediately felt like home and is now my go-to tool for photo editing.
Migrating between Aperture and Capture One Pro may seem intimidating, but it can be done smoothly. When I first downloaded Capture One Pro, I had over 50,000 images in my Aperture Library. After some careful trial and error, I developed a workflow to easily migrate all my images to Capture One. I'm here to share that with you – if you prefer visuals, I also go through the process in this video:
Information imported into Capture One
Before you migrate your Aperture libraries into Capture One Pro's Catalogs, you need to know what Capture One imports, and how to preserve the information Capture One does not import.
Image Files and Versions
Capture One Pro imports all the images in your Aperture Library as referenced images. If your Aperture Library is "Managed" (the images are stored inside the Aperture Library), you need to relocate the original images to a referenced location outside the Aperture Library before migrating to Capture One Pro. You do not want Capture One Pro to reference images stored inside the Aperture Library package directory. Capture One Pro also imports all the image versions as Capture One variants.
Metadata, Keywords and Attributes
The following metadata in Aperture libraries is preserved and directly imported into Capture One Pro.
All Aperture color labels are imported

Aperture Color Labels – red, orange, yellow, green, blue, purple, gray
Capture One Color Labels – red, orange, yellow, green, blue, pink, purple
Aperture purple is imported as pink, and Aperture gray is imported as purple
Aperture Versions are imported correctly as Capture One Variants
All Aperture keywords and IPTC metadata are imported to Capture One
All Aperture star ratings are imported to Capture One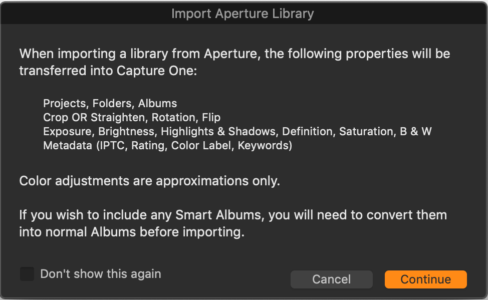 What doesn't get imported?
The following is a list of attributes in an Aperture Library are not imported into Capture One along with some recommended steps to preserve them.
Flags – Capture One does not have "flags" as an attribute on images. Filter your Aperture library for flagged images and add a special keyword to them to save the flag status.
Custom Metadata Fields – Capture One does not support custom metadata fields. You will need to move your custom metadata field information to standard IPTC fields in order to preserve it. As with flags, I recommend filtering on your custom metadata fields and adding special keywords to save this information.
Books, Slideshows, Light Tables, Web Journals, Web Pages – Capture One Pro does not have these products. If you want to preserve them, create an album in your Aperture Library for each one before migrating. Aperture albums are imported into Capture One as albums and will help you retain the list of images in each of them.
Image Stacks – Aperture Stacks can stack different images. Capture One Pro stacks can only stack variants (versions) of a single image. In order to preserve your Aperture stacks, create a special album for each stack in your Aperture Library before migrating it. Aperture albums are imported as Capture One albums.
Keywords deserve special attention. The Aperture keyword field does not honor keyword hierarchy even though the Aperture Keyword tool provides a keyword hierarchy. To preserve your hierarchy, export your keyword list from the Aperture keyword tool to a text file and import that text file into your Capture One Catalog using the Keyword Tool before you migrate any images to Capture One. This is illustrated in the video above.
Global and Local Adjustments
Every photo editing software package has its own algorithms when it comes to adjustments – these are usually not transferrable between programs. Capture One Pro will import many global adjustments and do a best-effort at converting them to their corresponding Capture One Adjustments. You will have to review these converted adjustments and refine all of your images after importing into Capture One.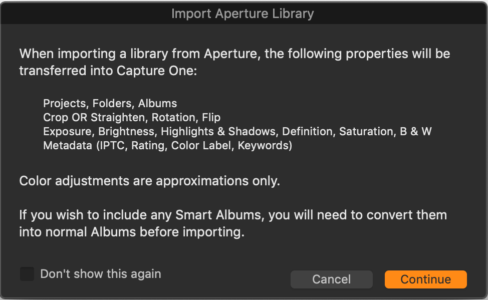 Aperture local adjustments (brushed-in and brushed-out) are not preserved. You will have to recreate them in Capture One using Layers and Layer Masks, which are far superior to Aperture's brushing in and brushing out. Each Layer with a Layer Mask can reflect multiple adjustments using almost all of the Capture One Pro adjustment tools. Recreating your local adjustments in Capture One Pro should take less time than it took to create them originally in Aperture.
A learning good exercise for your 30-day trial period is to bring over your Aperture archives and recreate their look in Capture One Pro. It will get you familiar with Capture One Pro's corresponding adjustment tools and how the Capture One Pro controls work. Plus, Capture One offers free tutorials and webinars to help you master the software quickly
Preparing for the Migration
It took several attempts to develop the right workflow for migrating my Aperture libraries into Capture One. Before migrating, you need to prepare your Aperture Library and Capture One Catalog and create a working folder. Here's a checklist to help you prepare for your migration:
Create a new master Capture One Catalog
Create a working directory for temporary Aperture ibraries and Capture One Catalogs
Export the keywords from your Aperture Library keyword tool to a text file in your working directory
Import the working directory keyword text file into the Capture One Master Catalog Keyword tool
NOTE – Commas are not permitted in keywords – a comma is a keyword separator character
Get familiar with the Aperture "Export > Project as New Library" dialog screen

UNCHECK "Copy originals into exported library" – they are referenced outside the library
UNCHECK "Copy previews into exported library" – Capture One will not import previews
CHECK "Show alert when finished" – handy to know when Aperture finished an export
Use "File > Relocate Originals" to move originals to referenced folders outside the Aperture Library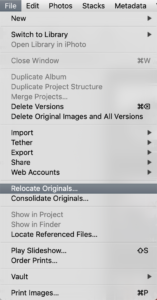 Relocating your originals to referenced folders outside the library is very important. Capture One does not copy your Aperture originals. It imports your Aperture originals by reference where they currently reside on disk. If your Aperture library is "managed" (I.e. your originals are stored inside the Aperture Library), Capture One will reference them there. If you later delete your Aperture library, you will remove the original files Capture One is referencing.Relocating your originals to referenced folders outside the Aperture Library may take some time if your libraries contain a lot of images. You will need to think through the folder structure you want before relocating them. A good starting point for your referenced folder structure is the organization you use inside your Library. You probably put a great deal of thought into that structure.
Recommended Migration Workflow
Once you have completed the preparation steps, the following migration steps will get you through the process of getting your images from Aperture to Capture One. The video linked to this article illustrates the preparation and migration processes. I recommend migrating in small batches. This will let you get comfortable with the process, allow you to edit your images in a smaller Capture One catalog before importing it into your master catalog, and help you track of your progress. I chose to migrate project by project since that is the library organizational unit that Aperture uses to "contain" images.
Master Aperture Library > Small Aperture Library > Small Capture One Catalog > Validate / Edit > Master Capture One Catalog
Select a project in your Aperture library and Export to a New Library in your working directory
Create a Capture One catalog in your working directory and import the new Aperture library
File > Import Catalog > Aperture Library
Validate all the images were imported and edit the images in the temporary Capture One Catalog
Close the temporary Capture One catalog and import it into your master Capture One Catalog
File > Import Catalog > Capture One Catalog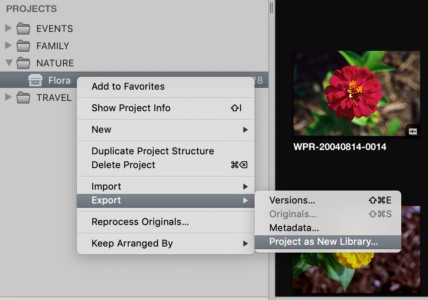 Validate the set of images imported into the master Capture One CatalogCapture One will import all the images and adjustments from the temporary Catalog and recreate previews and thumbnails of the imported images in the master Catalog. Let this process complete.
Repeat this process until all of your Aperture Library images have been successfully migrated into your master Capture One Catalog. If you have multiple Aperture Libraries, use multiple corresponding Capture One Catalogs in order to keep things straight. Do not hurry this process. Be patient and take your time. It is a deliberate and methodical process designed to ensure 100% success.
Comparing Aperture Organization to Capture One User Collections
The Library Tab in Capture One is where you organize your image collections. There is a Folders section that shows you where all of your images reside on disk. There also is a User Collections section that allows you to create virtual organizations of your images that may differ from the disk folder structure.
When you import an Aperture Library into a Capture One Catalog, some User Collections are created automatically. When you import a Capture One Catalog into another Capture One Catalog, you automatically get a User Collection that includes all the user collections of the imported Catalog.
Here are the similarities and differences between Aperture Library organization and Capture One Catalog User Collections.
Similarities:
Aperture Projects are converted to Capture One Projects
Aperture Folders are converted to Capture One Groups (Folders)
Aperture Albums are converted to Capture One Albums
Aperture nested Folders become Capture One nested Groups
Selecting a Project displays all the images in all the Albums it contains
Changing Inspector / Tool Tab panels does NOT change browser/viewer panel
Capture One has many built-in filters that let you search you catalog
Capture One creates a User Collection Group named after the imported Aperture Library
Your Aperture Library organization structure is recreated inside this Capture One Group
Aperture and Capture One allow you to place your tools on the left or right side
Aperture and Capture One allow you to customize the user interface (Capture One even more)
Customizable user interface (in Capture One can define and switch between workspaces)
Full screen, dual-monitor and floating resizable tool palettes support
Differences:
Projects are how Aperture groups images. Albums are how Capture One groups images.
Capture One creates an Album in each imported Project that holds the Aperture Project images.
Aperture associates images with Projects. Capture One associates images with Albums.
Aperture Versions can reside in different Albums. Capture One variants cannot (except Smart Albums).
Aperture Stacks can have different images. Capture One stacks contain the variants of a single image.
Selecting a Folder in Aperture displays all the images it contains.
Selecting a Group in Capture One does not.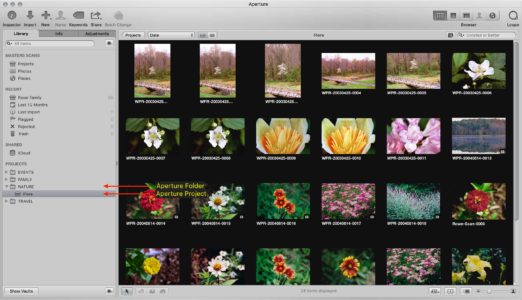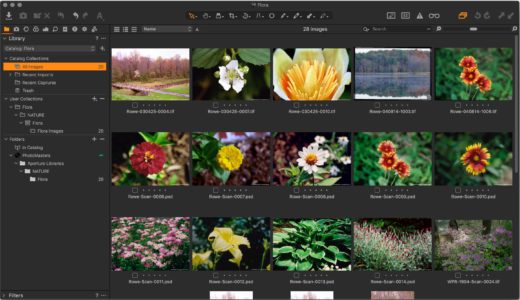 If you don't already have Capture One, download a 30 day trial and try it out.
Eager to learn? Access webinars, tutorials and expert help in the Learning Hub – completely free.
Walter Rowe
Walter Rowe a professional photographer specializing in portraits for couples, families, children, high school seniors, and working professionals. He also photograph engagements, family events, and headshots for professional profiles. He has also worked with restaurant owners to show their space, the owners and staff, and the incredible food they serve. For each client he strives to create an emotional connection between the viewer and the subject, and to present the subject in the most flattering manner.
Follow Walter Rowe