With a blend of curiosity and family legacy, Vincent has been navigating the world of photography for most of his life. Hailing from the Rochester Institute of Technology (RIT), this recent photojournalism graduate has been joined by his camera since early childhood. Since exploring the countless possibilities photography and storytelling can bring, Vincent has been all about capturing the deep essence of the people he photographs.
His moving project "Absence and Presence" highlights the relationship between gun violence, segregation, and poverty. He dives into the human connections that shape these communities. In this interview, we talk about the emotional landscape of his work, the importance of empathy in his approach, the process of finding his artistic voice, and the future.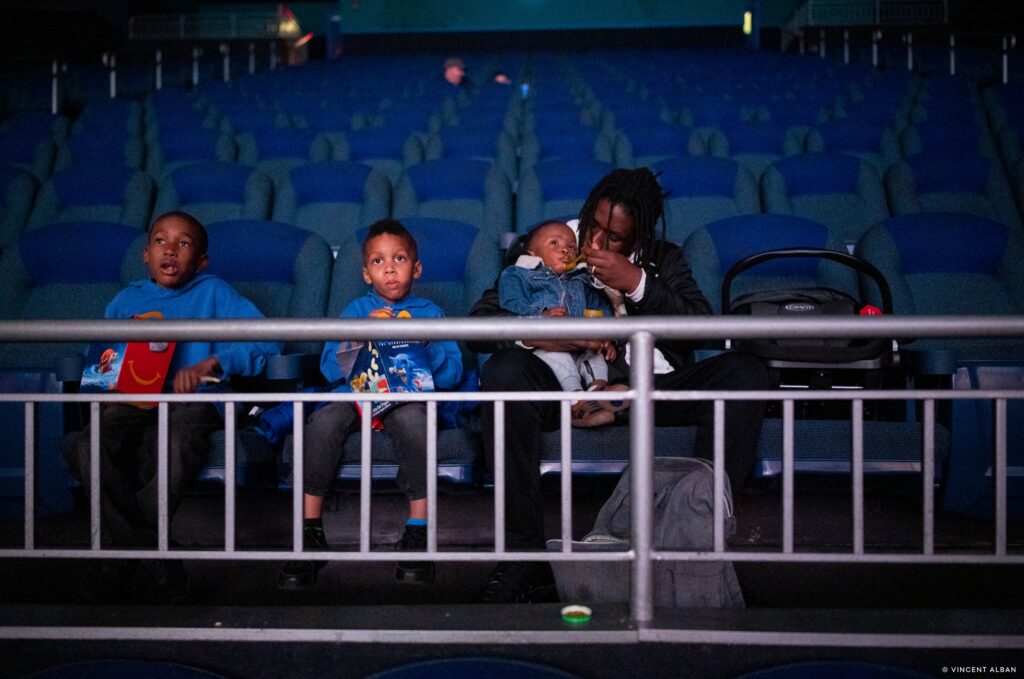 Devon Reynolds feeds his son, Elijah, while watching the movie "Sonic the Hedgehog 2" with sons, Devon Jr. and Karter at Greece Ridge Mall in Greece, N.Y. on April 26, 2022.
When did your photo journey start?
I traveled a lot when I was younger and always had a camera with me. My grandparents on my father's side ran a small-town newspaper for over 50 years, inspiring my love for journalism. I was also a part of my student newspaper in high school, which progressed to studying photojournalism in college. The combination of these engrained my love for photojournalism.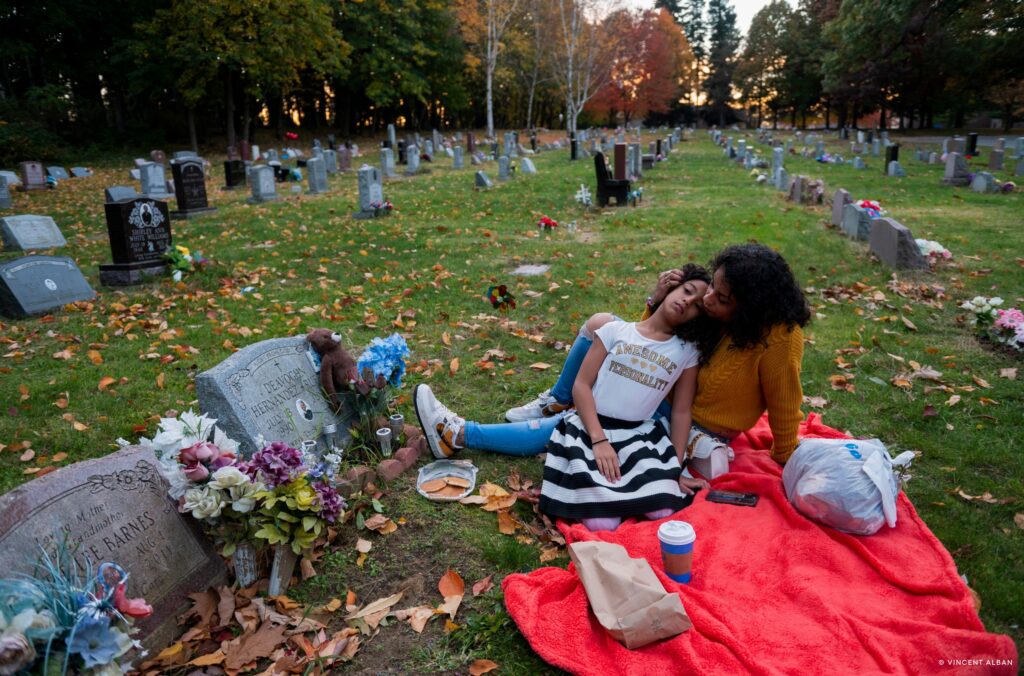 Jasmin and her daughter,

Za'Ryah

Hernandez-Ruffin, 11, visit the gravesite of

Za'Ryah's

father at Riverside Cemetery in Rochester, N.Y., on Oct. 23, 2022.

Deavoghn

Hernandez-Ruffin was shot and killed on June 18, 2012, when

Za'Ryah

was only eight months old. The pair visited

Deavoghn's

grave to mark

Za'Ryah's

11th birthday.
Wh

y

did you decide to go for

photojournalism?
I remember joining my high school newspaper to improve my photography. At that point, I spent my Saturdays making street portraits in New York City. Soon, I discovered Sebastião Salgado and Lynsey Addario. I was amazed by how photojournalism could combine the art of photography and the facts of journalism to tell a deep story.
How did RIT support your vision and help you grow as a photographer?
RIT gave me the opportunity to be surrounded by inspiring peers and supportive professors whom I hold close to my heart. Most importantly though, it allowed me to immerse myself in the City of Rochester which I have grown to love. The university set an incredible foundation for me to photograph in Rochester that I hope to continue throughout my career.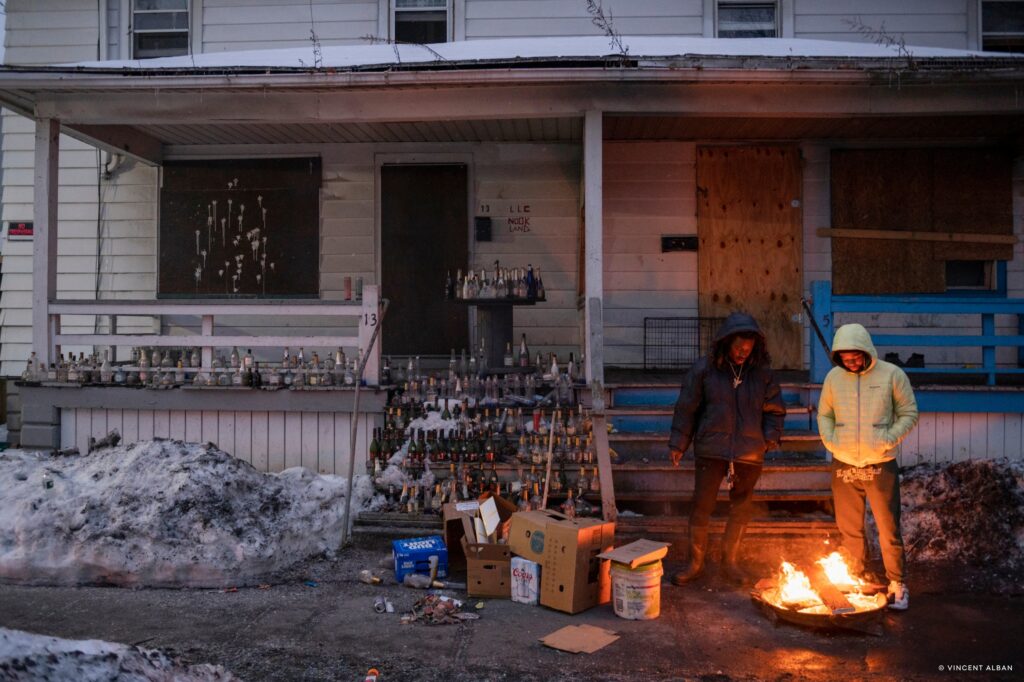 Friends of Trent Davis hang out at his shrine on Mohawk St. in Rochester, N.Y., on Feb. 12, 2022. Trent was shot on the street in 2017 and succumbed to his injuries in 2020.
New research from the Cornell ILR Buffalo Co-Lab finds a correlation between eviction filings and crime rates, saying the two "are related in ways that cannot be explained by chance alone; but surface-level patterns in these variables are products of deeper structural variables, such as poverty and inequality.
Cong

rats on

your

'

Absence and Presence

'

project

. T

he storytelling is delicate and sensitive. How did you

come up with

the idea

for

i

t?
Thank you. I saw a news story about how the city of Rochester, where I was attending college, was on track to surpass the per capita murder rate of Chicago. It made me think about the cities 'defined' by violence which I saw as an overreported stereotype. At the start of that following semester, I was given a class assignment entitled 'Make it Local.' We had to find a national news trend and make it a local story. At the time, gun violence was rising everywhere. I wanted to tell this story more layered than through numbers and rates that create stereotypes about specific neighborhoods and demographics.
How did you

showcase

this layered story

and organize your documentation?
I worked with many people in Rochester, but two people, Devon and Jasmin, are the main characters of 'Absence and Presence.' I focused on them because their stories were solid visual representations of the issues I was focusing on. Education, food insecurity, poverty, and segregation are intertwined with gun violence as root causes but are not always reported in that way. The common thread connecting them is their desire to create a better life for their children.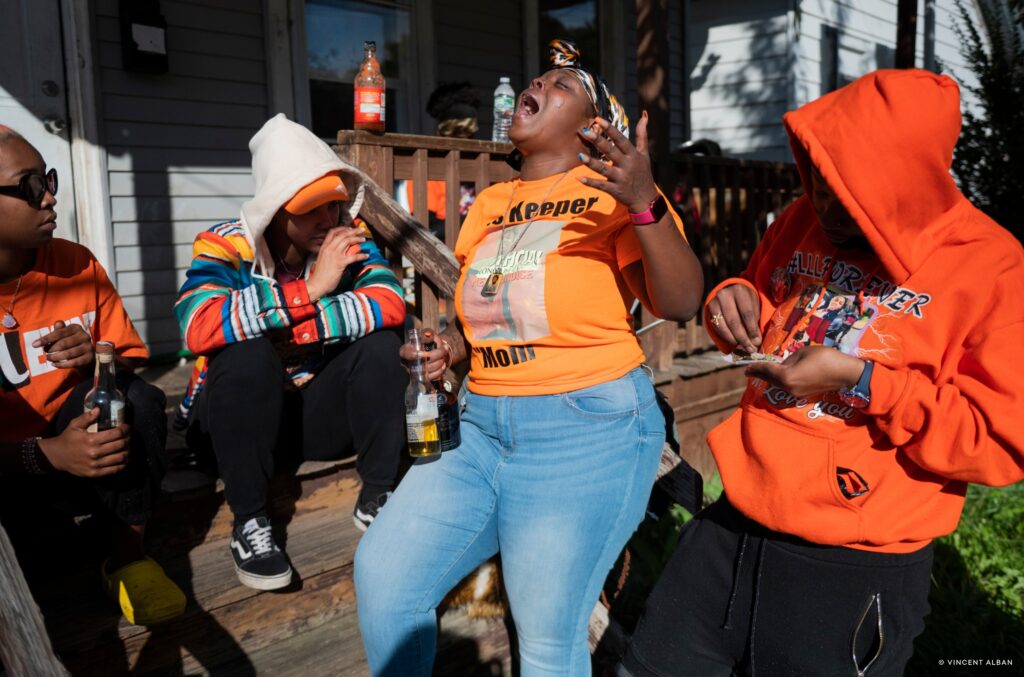 Titiana

Bogar

, the mother of

Ly'Saun

Curry, cries out after a balloon release honoring

Ly'Saun

on the second anniversary of his death in Rochester, N.Y. on Oct. 2, 2022.

Ly'Saun

, who was 18, was killed while walking home from work on Oct. 2, 2020. Orange was his favorite color, and his friends and family

use

it to honor him in their everyday life.

Bogar

has become a mentor to

Ly'Saun's

friends, as they all deal with his passing. Jonathan Spinks, the man who shot and killed

Ly'Saun

was sentenced to 90 years to life in prison on Dec. 22, 2022.
How did you first come to understand th
e
correlation
between segregation, poverty, and gun violence
?
Rochester is a city that shares many of the same issues as other American cities despite being relatively small. It did not take long to notice how neighborhoods experiencing high shootings were also experiencing high levels of food insecurity, amongst other issues. I worked closely with researchers at The Center for Public Safety Initiatives, a research center at the Rochester Institute of Technology, where I went to school, to find studies of these correlations to include in my project.
Zhyon
Stewart poses for a portrait with his 1-year-old son,
Zhyon
Jr., at their home in Rochester, N.Y. on Nov. 13, 2021.
Zhyon
was shot in the chest on June 23, 2021, after he was caught in the crossfire of a shooting. "It was stressful, honestly, because
it's
like, 'Why did I get shot? Why me? Why do I have to deal with this pain?'" says
Zhyon
. "I couldn't even hold my son for two months.
Can you share your experience of documenting people exposed to traumatic events?
To make people more comfortable, I did not change my style of photography much. But I made sure to tell and remind them that I wanted it to be a collaboration. I did not want to take my photos and leave. I often spent time with them, not photographing, hanging out, talking about our life experiences, their hobbies, or anything. This approach helped me to understand how they see themselves and their community. It helped me represent them and their community more accurately in my photographs. Being able to photograph someone in their home for many months is a privilege, and I wanted to make sure they felt perceived in the right way.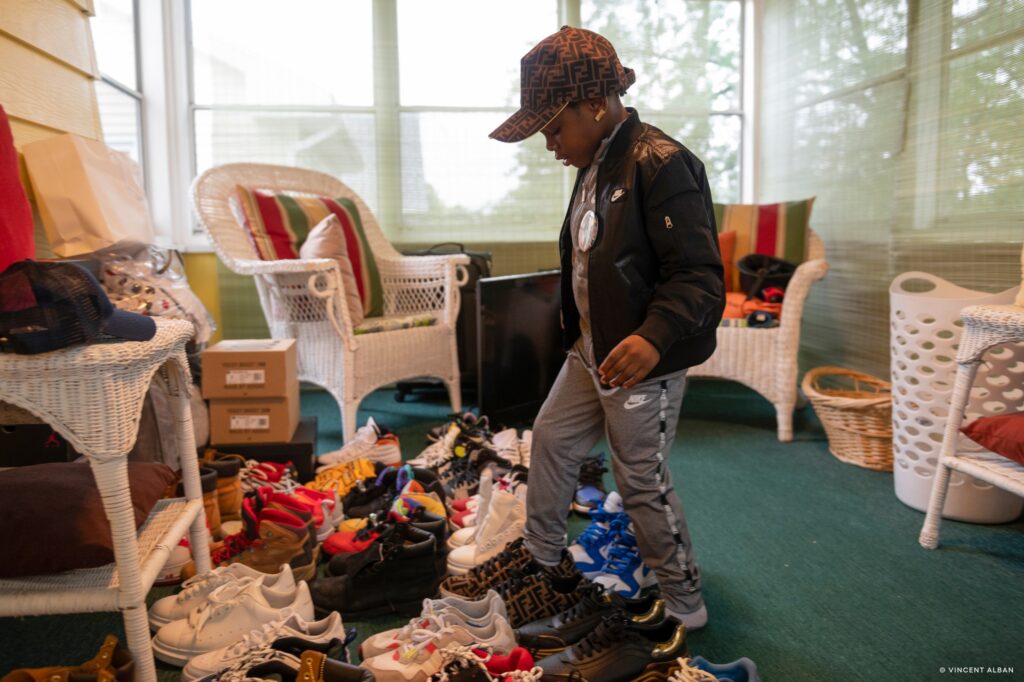 Jamma

, 8, the son of

Jamen

Balkum

, who was killed in a shooting on Aug. 30, 2021

, tries on one of the many pairs of shoes that once belonged to his father, at his aunt's home in Rochester, N.Y., on Oct. 3, 2021.
Did your captures of the raw and intimate family moments happen naturally?
It happened naturally, but, of course, it was not right away. It took a lot of time with the families beyond just getting the 'safe; photos and calling it a day. That is when the collaboration I mentioned earlier comes into play. Having empathy for their situation is vital to capture true and raw emotion. In the beginning, it's important to discuss with whoever you photograph that you will be there to document both the good and bad moments. That is critical to telling a well-rounded story.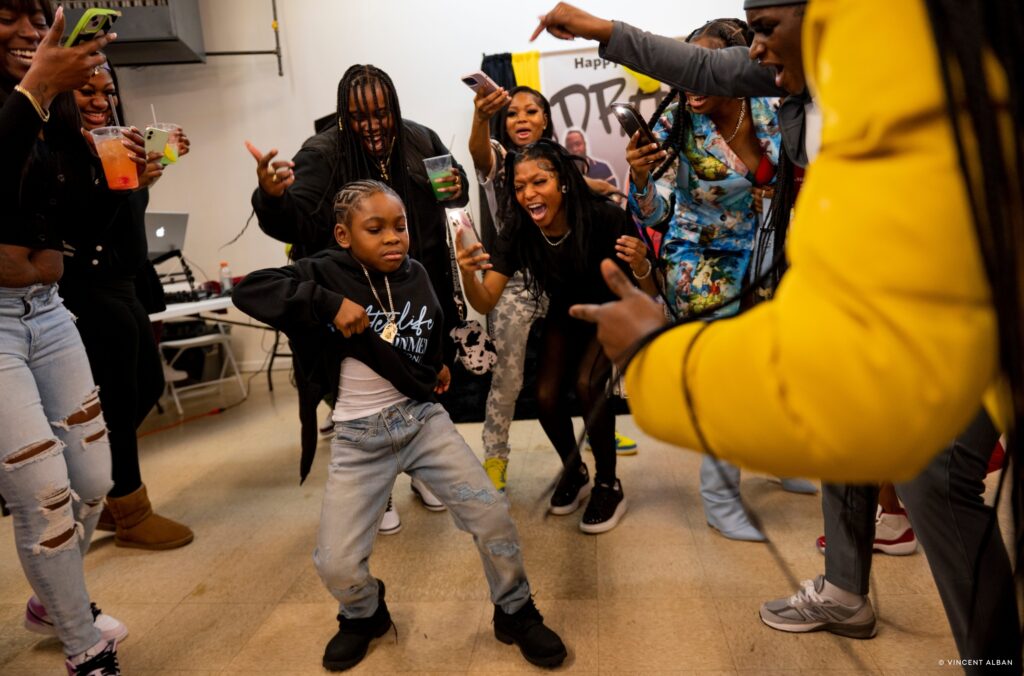 Jamma

dances while surrounded by friends and family at the 30th birthday celebration for his late father in Rochester, N.Y., on Jan. 14, 2023. During the two years since

Balkum's

passing, his mother, Michele

Balkum

, has hosted birthday parties to celebrate the legacy of her late son.
What information shocked you the most, and what was the most challenging part of working on "Absence

and

Presence"?
The information that surprised me the most was how much youth-involved shootings have risen and continue to rise. According to data from the Pew Research Center, gun deaths among U.S. children rose 50% from 2019 to 2021. 
The most challenging moments were not in the peak moments of emotion, like a funeral or a shooting scene, but rather when I was not working. I felt I was not doing justice to the stories I was working on. That pushed me to continue telling these stories long beyond the initial moments of grieving to go deeper beneath the story's surface.
Have you found your photographic voice?
This project has helped me develop my voice greatly, but my voice is constantly evolving. It is a process. We are always learning no matter how long we have been photographing, and I want to continue down that track. If I were done learning, I would be quite bored.
Follow along with Vincent as he edits his photos to bring out the details of the scenes.
You

'

ve

just graduated.

W

hat are your plans for the near future?
Now, I am interning at Boston Globe for the summer. Following that, I will be working for National Geographic. By the end of the year, I plan to move to Chicago to begin my freelance career. I want to be centrally located for 2024 election coverage, and there are a few stories I would like to pursue there. 
What do you wish someone told you when you decided on your career?
I wish someone would tell me about the importance of pacing oneself throughout one's work. I have found the idea of this career being a marathon, not a sprint, very fitting.
See more of Vincent's work on his Instagram and website.
---
---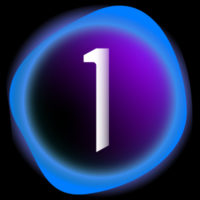 Capture One
Born out of a passion for photography, Capture One provides photographers with the tools to collaborate with clients and creatives, achieve the highest quality photograph, and bring their visions to life. Today, Capture One offers the fastest tethered shooting in the industry, an intuitive and efficient workflow, unparalleled image quality with support for over 600 camera and lens profiles, true-to-life color processing, and precise editing and collaborative tools. We are on a journey to become the most powerful ecosystem of creative and collaborative tools with workflow freedom spanning across multiple devices, letting professional photographers work from anywhere with anyone.
Follow Capture One