NOTE: This article discusses an outdated version of Capture One. To learn more about our latest version, click here.
Capture One offers two distinct ways of managing your files. Either via a Catalog (or Library as you may know it) or uniquely to Capture One, a Session. Each method offers advantages in file handling, but what if you wanted to take advantage of both of these?
This is exactly what I do with my personal work at home. I get the advantages of both systems in a workflow that works for me.
Why I work with both
Before I go further, perhaps it will help to explain my home situation in terms of physical storage, and how I catalog my images. I have a home office remote from the house (which happens to be a log cabin in the garden – 'Yard' for the USA!) which contains my hard drives for image storage.
My only computer is a laptop, which is then easy to move between house / office / home office and also travel with when working on the road for Phase One.
Because of storage limitations I don't keep ALL images on my Laptop. Even though it has a 1TB hard drive, that's pretty easy to fill up, in this day and age! I do however keep my Catalog database on the local laptop hard drive, which gives me the ability to browse all my images without being attached to my office storage, because Capture One previews are 'Smart'. Meaning that I can still browse and edit images.
This is a great benefit, as all your images are always on hand for viewing and sorting.
This is what my internal drive currently looks like in terms of some of Sessions I am currently working on. They are all stored on a folder called 'Capture One Sessions'….

Each session follows the default format of the automatically created folders, Capture, Output, Selects and Trash. We can see if we look at one at random…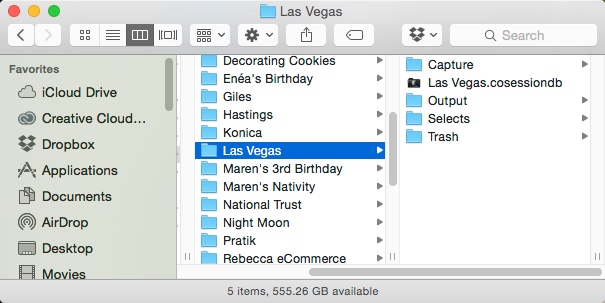 This particular Session shows a trip to Las Vegas. If we expand it out you can see that the Capture folder has been subdivided and the Output folder has been subdivided in the same way too.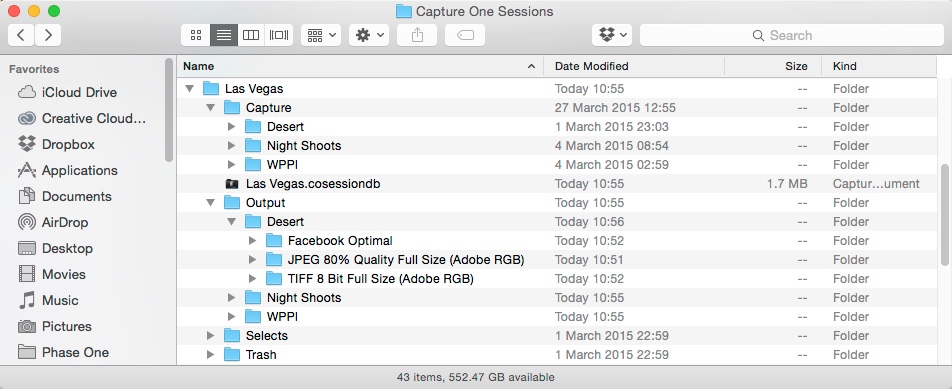 As a side note the Output sub folders were generated automatically to mirror the Capture folders using a new feature in Capture One 8.2. See this blog post for more info. 
Also my output folders contain my exports in different formats using different Recipes in Capture One. This gives me a good way to sort them to their final destinations. i.e Facebook!
Benefits of working in a Session like this
So working in a Session like this gives me a good way to..
Decide on the images I really want to keep (delete the losers!)
Organise the Captures and Output in a useful way
Keep it locally on my laptop so I can access it whether at the office, in the house, in the home office or in an airport!
When I consider the Session to be 'finished' I can then move it to my Catalog. From here on, you might decide on a different workflow to me, but I will present some other options at the end.
As a general rule I don't tend to move the Outputs to my Catalog because I am not a heavy Photoshop user. I can do 99% of my work in Capture One and by this point the outputs have already found their home (for example Instagram and Facebook). If I need to, I can just generate them again from Capture One with a lightening fast export! But if I need an output folder or two, I can also import them using the same steps below…
Copy the Capture folder from my Laptop to my external hard drive where I store all my images for Cataloging.
Open up my Catalog
Import the Capture folder into my catalog.
That's it! But what about adjustments, ratings, metadata and so forth I hear you cry? That is all brought over too, if you remember one simple check box. Here is a grab of the import window settings when I import into my Catalog…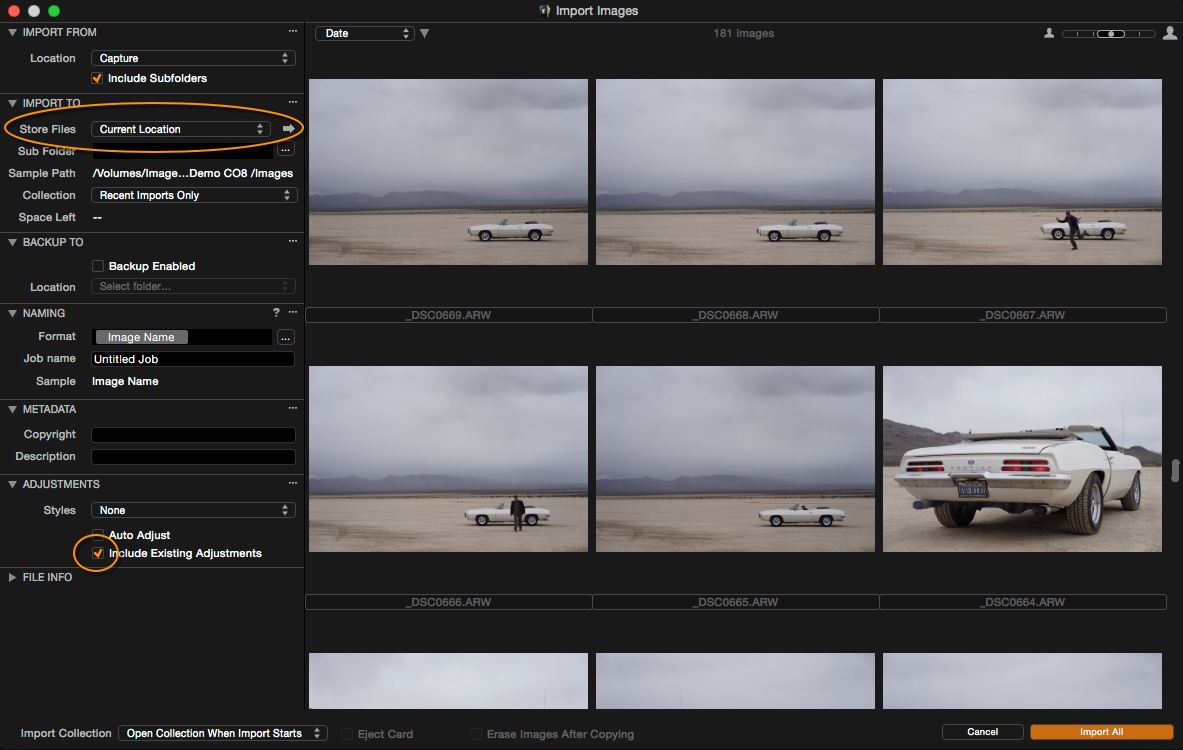 'Store Files' is set to 'Current Location' as I have already copied them over to the right location on my external hard drive.
Checking 'Include Existing Adjustments' means all that important adjustment data is brought over.
Once the import is done and I have made sure a backup has kicked in, I can simply delete the Session.
Job Done!
Alternatives
You might be wondering why I don't use the 'Import Session' option that is available in a Capture One Catalog? The reason is that I don't need all the Session folders (For example the output) so its a bit of a waste of time for me. But if you are wanting to import the entire session into your catalog, this is an excellent choice!
You can find this option under File>Import Session. Bear in mind that the Import Session Command doesn't move the Session anywhere, so before using that command, make sure you have moved the Session to where you want it to be Cataloged.
As an alternative I could make smaller Catalogs on my laptop and then import them into my 'Master' catalog. This is entirely possible in Capture One, but I enjoy the simplicity that the Session option has to offer.
Further Learning
To learn more about Sessions in general, watch a short tutorial on our Youtube channel
To follow an in-depth webinar recording comparing Sessions to Catalogs, watch here.
Best regards,
David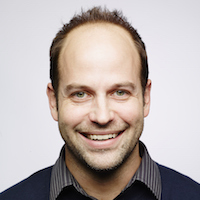 David Grover
David Grover is part of the Capture One team, bringing you help, advice and education on a variety of subjects and platforms. David can be found on most weeks delivering live Capture One Webinars or anytime on our YouTube Channel.