Our guest photographer, Alexander Vinogradov, gives us his advice on important aspects of portrait photography; from finding the perfect face to editing after the shoot. Read on to get inspired and learn about Alexander's top tips and tricks that helped earn him the prestigious Sony World Photography Award this year.
Download a free 30-day trial of Capture One.
My name is Alexander Vinogradov. I'm a portrait photographer from Russia. I like to photograph people with interesting and unique features. This gives me inspiration and a burst of energy before every shot.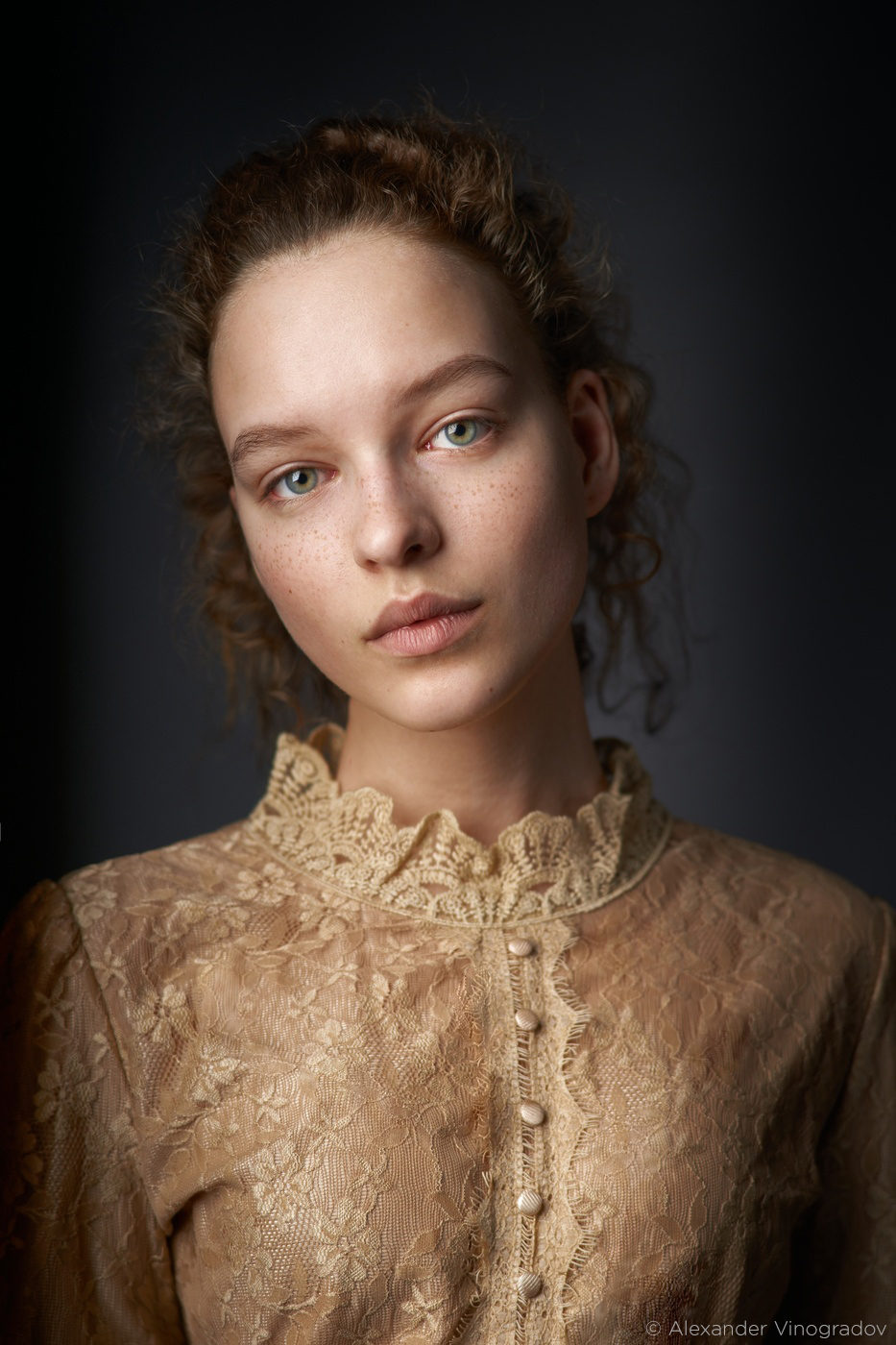 This is a shot of beautiful Lera.  A lace blouse with a collar neck was a perfect fit. The only thing missing was a diadem in the hair and the image of the young princess would be complete. Tip: Choose soft and discreet clothes. Bright colors and prints will only distract the attention from your model. The same goes for jewelry and make up. I prefer a natural and very feminine look.Photo: Alexander Vinogradov  Model: Lera  Equipment: Sony A99, Sony 85/2.8
The formula for my portraits is very simple: an interesting face, soft light, and delicate retouching.
One can easily argue that today is the heyday for photography. With so many people able to take pictures, there is a lot of visual information on the Internet for every taste, so one must try hard to differ from the millions of other photographers.
Therefore, I highly recommend to approach and look for a model very carefully. It should be interesting, unusual, catching. Don't go for ordinary faces, but look for that muse that will resonate in your heart, and in the soul of the audience.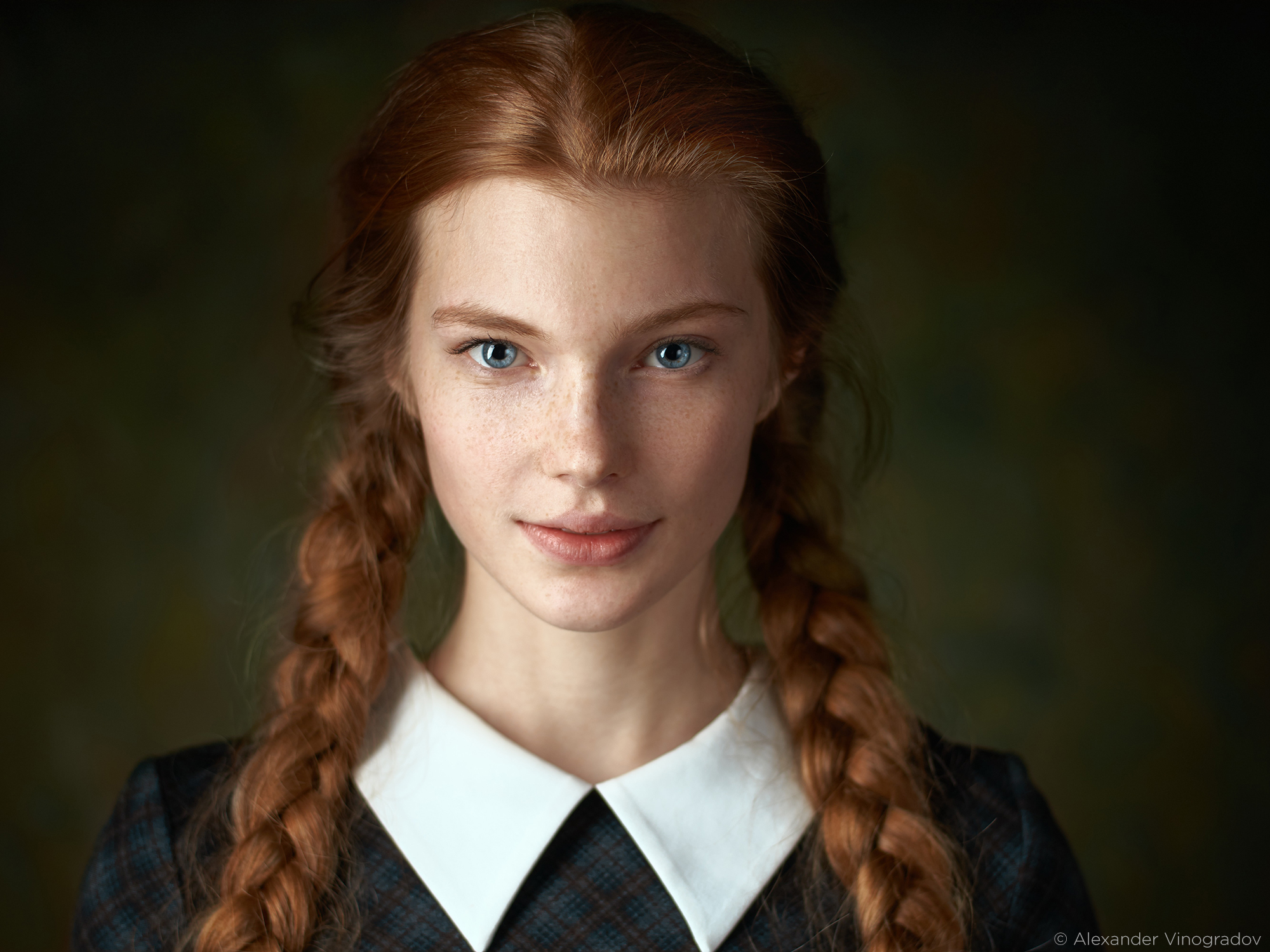 Pure Russian beauty Dasha is one of my favorite models. Red hair and freckles are the perfect combination, which I emphasized with this vintage dress. Tip: The background color for such a portrait is easy to change with the help of a mask in Capture One Pro. Choose harmonious colors. Green background and red hair is a perfect combination. Photo: Alexander Vinogradov  Model: Daria Milky  Equipment: Sony A99, Sony 85/2.8
People often ask where I find my beautiful models and most of them I meet on social media e.g. Instagram and Facebook. Searching by hashtag is very helpful. Street casting is also a good idea – you can also approach interesting looking people on the street. For the most part, these are ordinary girls who do not work in modeling agencies and almost without shooting experience.
The light for my portraits is the simplest – this is a normal window and sometimes a reflector for highlighting shadows. A couple of years ago I started shooting in the studio. There, as a source, I use a soft box and a reflector. A soft box is similar in shape to a window, so the light from it is so similar to natural light. It's quite easy to shoot with natural light, you do not need to know how to install studio light, and you do not have to pay for renting a studio. Such portraits are possible to achieve at home.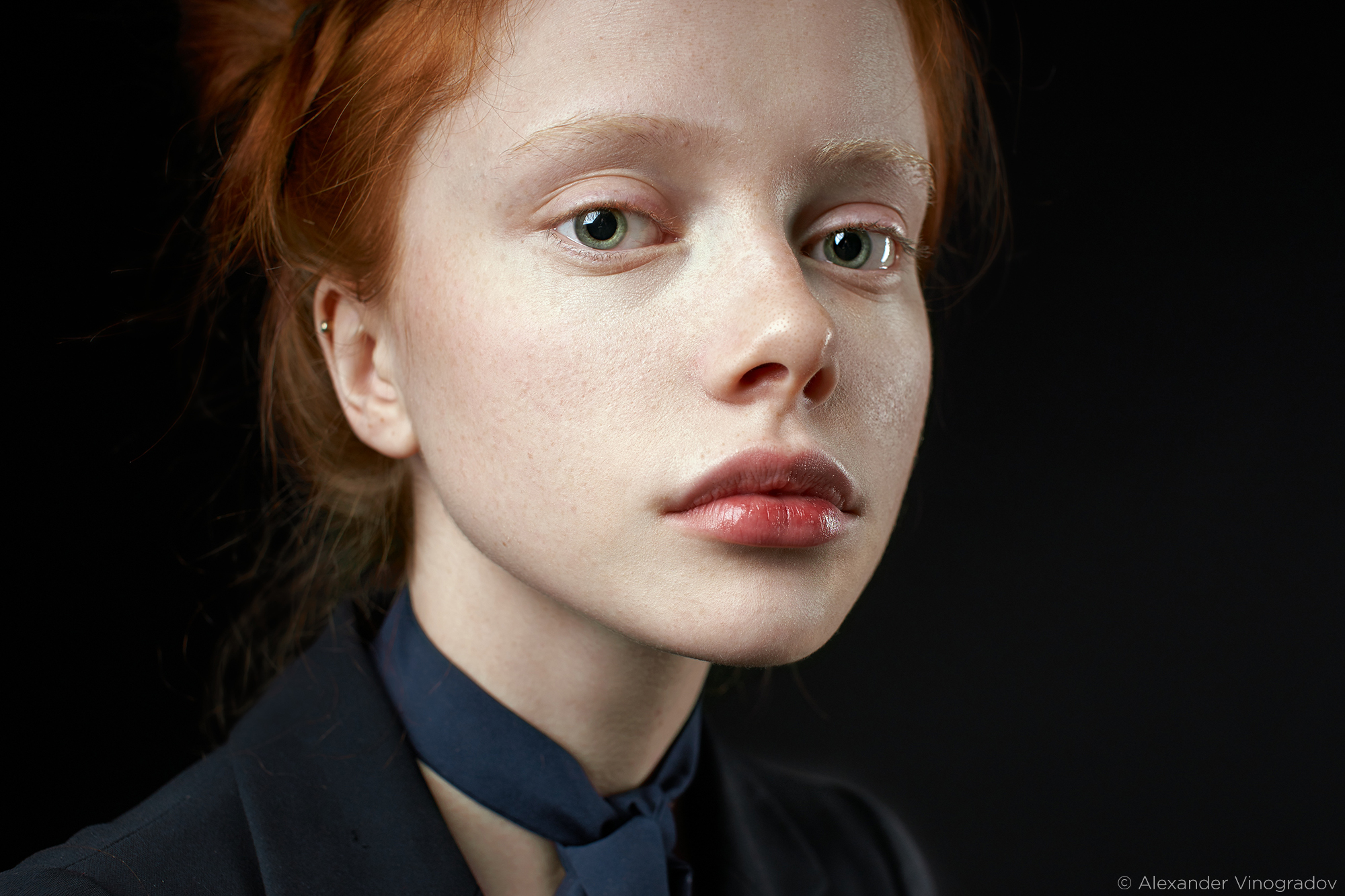 I like to look straight to the model's eyes. So I often shoot large-scale portraits. I like to get close and look at every detail of those beautiful eyes. Capture One helps to show the right skin tone and makes it very natural. Tip: Remember to include the neck in the frame when shooting headshots. A long neck helps to make it more elegant and graceful.  Photo: Alexander Vinogradov  Model: Katya  Equipment: Sony SLT-A99, Sigma 50 / 1.4, 1/160 c, f / 5.6, ISO 160
The background is important in portrait photography. It emphasizes and highlights your model. Therefore, the selection of the background should be as important as your choice of the model. I like to use the darker background color to emphasize the skin of my model. I also use a smooth or slightly textured background.
One of the significant features of my portraits is light – natural retouching. I believe that retouching should not be a dominant factor in the final picture, but simply emphasize the individuality of your model, hiding everything unnecessary. I do not "smear" the texture of the skin, but only remove some of its flaws: pimples, specks, some wrinkles. The most difficult is a sense of proportion, you need to stop in time, without turning the face into plastic.
Capture One Pro allows you to get excellent skin tone without additional manipulation. It is important to get the correct exposure and white balance, so take pictures in RAW format. To eliminate color reflexes on the skin of the model, do not place your model next to the colored surfaces. Photo: Alexander Vinogradov  Model: Daria Milky  Equipment: Sony SLT A99, Sony 135/1.8
I began using Capture One six or seven years ago because I liked the correct and beautiful skin tone you can obtain without the need for adjustments. By default, the picture from the camera looks very good. I just correct the exposure, contrast and white balance. Capture One is an excellent tool for working with color: you can carefully choose any color shade and change it if necessary. One of the latest innovations, Luma Curve, is very helpful in correcting contrast and adding volume to the portrait. It allows you to change the contrast of the image, almost without affecting the color, which is not possible with a standard RGB Curve. I almost never add sharpness to Capture One – if the camera is focused correctly – then this is absolutely not required, the editor himself chooses the optimal sharpness.
Download a free 30-day trial of Capture One Pro or Capture One Pro (for Sony).
"Simplicity, truth and naturalness – these are the three great principles of beauty in all works of art" – said the Austrian composer, Gluck. So, I advise not to complicate the picture with pretentious poses, ridiculous images, or spoil with bizarre skin tones and excessive retouching. Instead, try to shoot classic portraits, which in my opinion will always remain timeless and will be relevant in many years.
As an example, my picture 'Matilda', was the best in the Open category of the largest international competition: Sony World Photography Awards 2017. I did not use complicated light, scenery, and make-up.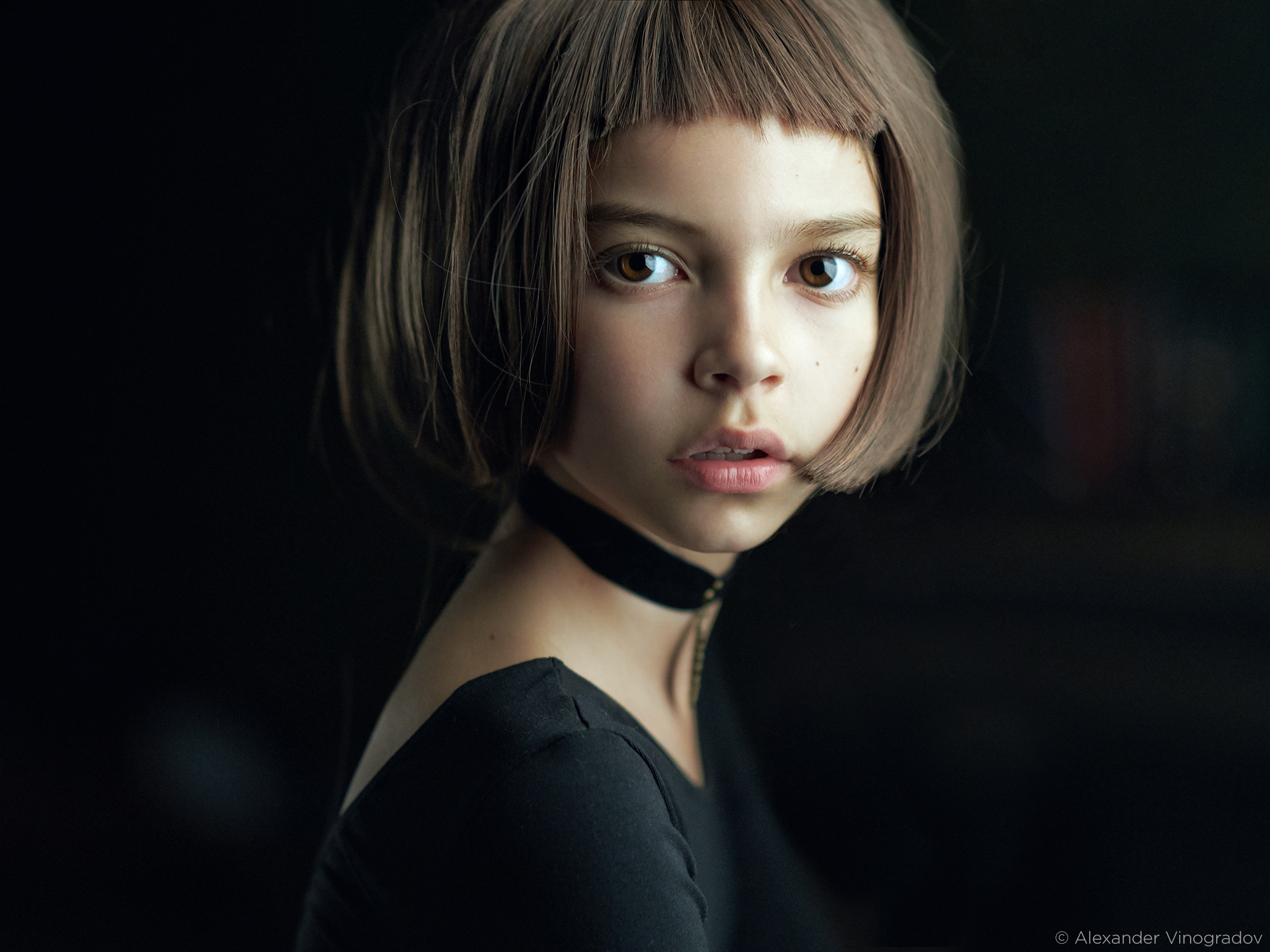 The best picture in the Open category of the largest international competition:
Sony World Photography Awards 2017. I'm not a cosplayer, but when I first saw Nastya Marinina, she reminded me of Mathilda from the movie Léon so much! We decided to find a choker necklace and a wig to achieve this Mathilda look.
Tip: Anastasia has a very childish attitude. It can instantly change from cheerfully laughing to seriously looking at you with her piercing dark eyes. To capture the perfect moment it's crucial to just communicate on an equal level and to press the trigger at the right time.  Model: Nastya Marinina  Equipment: Sony SLT-A99, Samyang 85 / 1.4, 1/160 c, f / 2, ISO 1600
I hope you found this useful and I wish everyone lots of inspiration! Below you'll find more photos.
Best regards,
Alexander