Nearly everyone has their own take on the "perfect" workspace and so far, I am sure this blog series has demonstrated that.
My changes to the default workspace are simple, but enough for me to be able to navigate in a way that I think is more logical.
Here are my recommended steps:
Remove the Capture tool tab as I rarely shoot tethered (simply right-click on the Tab and choose Remove XXX tab)
I always adjust Exposure and White balance first, so I move the Exposure tool tab in before the Color tool tab. If you hover over the Tool Tabs, a tool tip shows you need to press the modifier key to move them.  For the Mac, it's a Cmd and drag.
In the Exposure tool tab, I add the White Balance tool by right-clicking on the tab and choosing Add Tool.
Next, I rearrange the order of tools in the Exposure tool tab to what you see in the screen grab.
Other than that, I am pretty much on the default. I quite often hide the Viewer Labels (View>Hide Viewer Labels) as I find them distracting. The Labels are the metadata indicators at the bottom of the image in the viewer.
Finally, I tend to have Proof View turned on (circled in the screen shot) as I like a little more space around the image for viewing.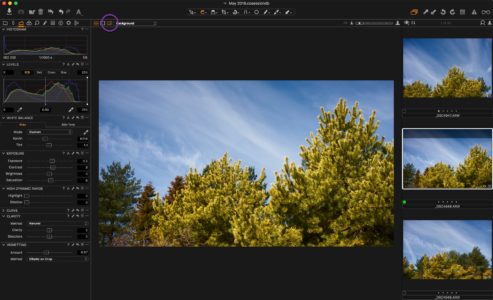 Download my Workspace
Mac:
Download my workspace for Mac here.
To install it, follow these simple steps:
Close Capture One Pro (if open)

Open Finder

Open the 'Go to Folder…' dialog (CMD + Shift + G)

Insert path: ~/Library/Application Support/Capture One/

Click 'Go'

If you previously have created a custom workspace, go to 'Workspaces' folder.

If not, create a new folder and name it 'Workspaces'.

Copy workspace file (.plist) to this folder

Start Capture One Pro

Select the new workspace from Window -> Workspace…
Windows:
Download my workspace for Windows here.
To install it, follow these simple steps:
Close Capture One Pro (if open)

Open Explorer

Go to /*user*/AppData/Local/CaptureOne/

If you previously have created a custom workspace, go to 'Workspaces' folder.

If not, create a new folder and name it 'Workspaces'.

Copy workspace file (.xml) to this folder

Start Capture One Pro

Select the new workspace from Window -> Workspace…