NOTE: This article discusses an outdated version of Capture One. To learn more about our latest version, click here.
Introduction
Two years ago, I decided to jump ship from Lightroom to Capture One Pro. At the time, it seemed like a brave move, but after an afternoon of testing I felt somewhat confident, so jump I did. Two years on, I can confirm that this has been the best thing I could have done for my photography.
Recent changes to the Lightroom product strategy have lots of people asking for help, so when my friends at Phase One asked me to write a post outlining points to consider when migrating from Lightroom to Capture One Pro, I jumped at the chance.
Preparing to Migrate
In case anyone recalls my original post on jumping ship, I'd like to mention that Capture One Pro now supports Photoshop PSD files, so it's no longer necessary to convert any PSD files that you might have to a different format. You can keep them in your library as they are. I also talked about cleaning up Catalogs, to avoid extra work after the migration, but this is no longer necessary either, although a bit of spring cleaning doesn't hurt.
Export Your Lightroom Catalogs
When I was using Lightroom, I had every image I've shot since 2000 in a single catalog, but Capture One Pro does not work well with this many images in a single catalog, so it's best to split images into multiple smaller catalogs.
Note that in both Lightroom and Capture One Pro, I do not keep my images inside the Catalog. I think this makes backing up hard work, and is less transparent and therefore error-prone than referencing images in a separate folder structure.
My main archive of raw images lives in a folder called Photo Originals, and at the time that I migrated, had a one catalog for 2000 to 2005 images, and then a separate year catalog for all years from 2006 to 2015.
To prepare to import these years into separate Capture One catalogs I right clicked each year folder in Lightroom and selected Export This Folder as a Catalog. I was able to select multiple folders and export them as a single catalog for years 2000 to 2005.
I have one special folder that I call Finals, and this contains a copy of every image I've ever shot that is worth a hoot. It's like my Keepers folder and has images just in year subfolders. I exported this as a separate catalog as well, in preparation to migrate.
If unlike me, you already have multiple Lightroom catalogs, you will need to decide how you want to organize these in Capture One Pro, and export your various catalogs accordingly.
In the Export dialog in Lightroom, uncheck the three checkboxes to Export negative files, Build/include Smart Previews and Include available previews in the new Catalog. The export process is quick, and once you have your bite-sized Catalogs exported from Lightroom, you are ready to import into Capture One.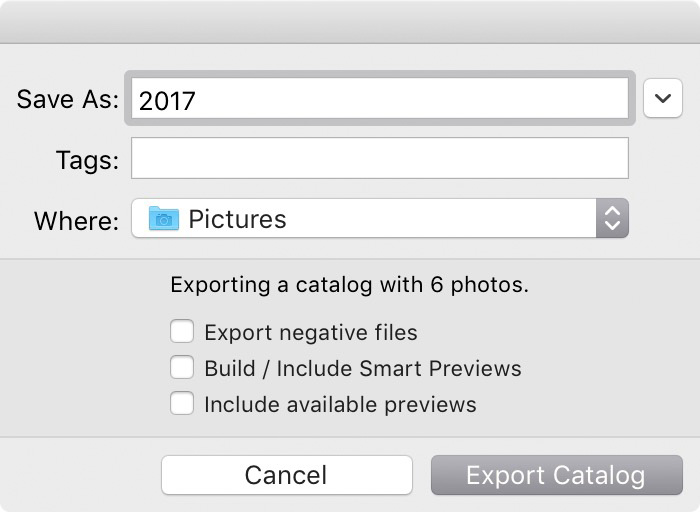 Importing Lightroom Catalogs into Capture One
To import a Lightroom Catalog, open Capture One Pro, and if you don't already have a catalog to import to, create one from the dialoag that is displayed. I personally prefer to work with Catalogs rather than Sessions.
If you are creating year catalogs like me, just give your catalog a name like 2018, or whatever year you need, then from the File menu select Import Catalog > Lightroom Catalog. The following dialog (below) will tell you what settings will be imported, which includes Collections, Crop, Rotation, and Orientation information as well as White Balance, Exposure, Saturation and Contrast settings, and Metadata, including IPTC, Rating, Color Label and Keywords.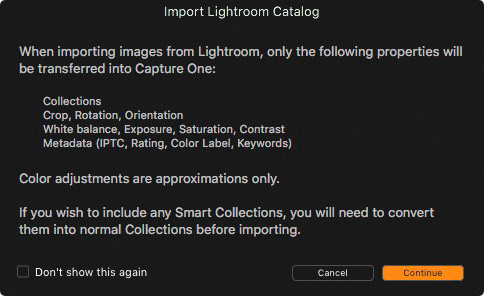 Catalog Considerations
Capture One Pro stores more information and previews inside the Catalog than Lightroom does, which I imagine is the main reason that Catalogs can't contain that many images. I have found my strategy of keeping my original raw files for each year in single year catalogs to work very well.
My 2016 original photos catalog, the year that I jumped-ship, ended up a little over 30 GB, and my 2017 catalog was 40 GB, each containing around 22,000 images. I can't say if Capture One Pro has got better at handling large catalogs since then, but I have grown to like having each year's original raw images in a catalog of its own, so I've had no reason to try larger catalogs at this point.
My Finals catalog for my final selects for all of my shots is just over 11 GB, and only grows gradually, so this strategy has worked out well too.
Metadata Settings
Note that in the Image tab of the Capture One Pro preferences, I have my Metadata settings set to Full Sync for the Auto Sync Sidecar XMP option. I turn off Prefer Embedded XMP over Embedded IPTC and turn on Prefer Sidecar XMP over Embedded Metadata.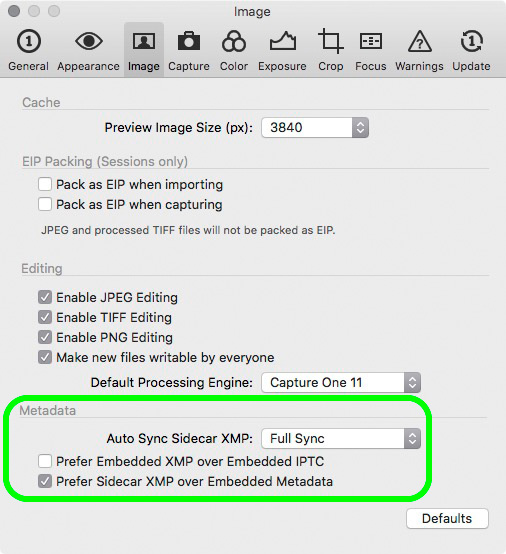 These settings enable me to get the most basic metadata from sidecar files into Capture One, as well as synchronizing back to the xmp files to enable other editors to read the changes to metadata I make in Capture One. Since Capture One stores the image adjustments either inside the Catalog or in .cosetting files in Sessions, these are independent from the xmp files. If I need copies of my raw files outside of my Catalog, I right click the images in Capture One Pro and select Export > Originals, select a folder, and make sure to include the adjustments. These can easily be imported in another Catalog if needed – including the adjustments.
When using this method to copy images to my Finals Catalog for example, after making a copy I go to my Finals Catalog and right click the folder that I exported the images to, and choose Synchronize. Note though that to Synchronize adjustments you have to turn on the Show Importer checkbox, select all the images in the Import dialog, and make sure to tick 'Include Adjustments' within 'Adjustments' for this to work.
Working on Multiple Computers
I like to keep my images and catalog on an external drive so that I can move from computer to computer by just moving the drive. I was able to continue to do this with Capture One Pro, although my method is not entirely sanctioned by the Phase One Team, so try what I'm about to tell you at your own risk.
I achieve this by storing my Capture One Pro settings folder in Dropbox, with a symbolic link to the settings folder in the Library (on Mac OS). This way, all of my presets and settings automatically synchronize between my computers, so just moving my drive with my images and catalog on it from one computer to another works seamlessly. Rather than bloating this post, you can check out my post on how I do this, along with my backup strategy, etc. on my blog here.
Conclusion
From a Lightroom user's perspective, you will notice some differences in how Capture One Pro does things, but in the two-plus years since I switched, not once have I been disappointed by my decision.
If you want an application that works the same as Lightroom, then stay with Lightroom. But, if you want the ultimate image quality, and you are willing to make a few changes to your workflow, I think it's worth the effort to change.
If you don't already own Capture One, you can download a 30-day trial and try it out!
Martin Bailey
Martin Bailey is a nature and wildlife photographer based in Tokyo. He's a pioneering Podcaster and blogger, Craft & Vision author, Capture One Brand Ambassador and X-Rite Coloratti member. Fueled by his passion for nature and travel, and a tireless desire to share his knowledge and artistic vision, Martin is a popular international tour and workshop leader, helping photographers from around the world to experience and capture the wonders of this awesome planet we call home.
Follow Martin Bailey