My wedding workflow is all about fine-tuning individual images and copying adjustments across many images. Capture One Pro offers the full range of tools in the default workspace, which can be overwhelming. Removing unwanted tools from the workspace helps ease the eye and strengthen focus. Re-designing the interface and assigning custom keyboard shortcuts also have their benefits.
Tools
 The first thing I would remove for a wedding workspace is the Capture Tab. You don't shoot tethered, so why have it take up space? Right Click > Remove Capture Tab.
 Remove histogram from Exposure tab. It's already present in Color Tab, and I don't need it both places. In fact, clean up by removing all tools you don't expect to use. For e.g. LCC Tool.
 Move White Balance from Color Tab to Exposure Tab. I use that along with the other exposure tools all the time in wedding editing.
 Create a custom tool tab; right click a tool tab > Add Tool Tab > Custom Tool Tab. Fill this up with three Color Balance Tools, allowing you to have Shadow, Midtone and Highlight open at the same time. Remove the original Color Balance Tool from Color Tab.
Keyboard shortcuts
My single most used custom keyboard shortcut is for the viewer:
Cmd + 1: Toggle Proof Margin – I often like to have some space around my image. I have changed this to 70 pixels in the Preferences.
The rest are memorized default shortcuts, mostly for cursor tools and copy/apply. 
Interface
Hiding viewer labels and the viewer toolbar quickly cleans up the workspace. In fact, I also hide the general Toolbar as well as Browser Toolbar (remember to memorize keyboard shortcuts, otherwise this might be tricky). The browser is to the right. All of this is done from 'View'.
I also change the viewer background to white. Having to evaluate exposure on many shots for a bright white dress needs a good reference when editing, and a pure white background with a proof margin simply works wonders. All this leaves me with a clean, effective workspace with plenty of room for the image in focus and relevant tools at hand.
Read more about a full wedding workflow in this blogpost.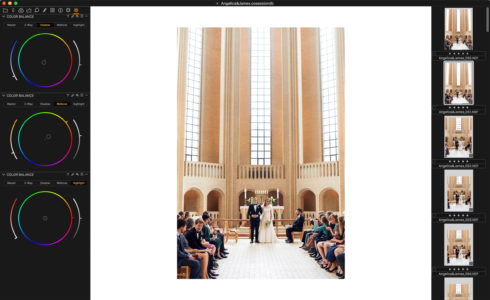 Download my Workspace
Mac:
Download my workspace for Mac here.

Installation guide for Mac:
Close Capture One Pro (if open)

Open Finder

Open the 'Go to Folder…' dialog (CMD + Shift + G)

Insert path: ~/Library/Application Support/Capture One/

Click 'Go'

If you previously have created a custom workspace, go to 'Workspaces' folder.

If not, create a new folder and name it 'Workspaces'.

Copy workspace file (.plist) to this folder

Start Capture One Pro

Select the new workspace from Window -> Workspace…
Windows: 
Download my workspace for Windows here.
Installation guide for Windows:

Close Capture One Pro (if open)

Open Explorer

Go to /*user*/AppData/Local/CaptureOne/

If you previously have created a custom workspace, go to 'Workspaces' folder.

If not, create a new folder and name it 'Workspaces'.

Copy workspace file (.xml) to this folder

Start Capture One Pro

Select the new workspace from Window -> Workspace…