NOTE: This article discusses an outdated version of Capture One. To learn more about our latest version, click here.
Whether you use Styles and Presets as a large part of your editing process, or simply browse through them occasionally for inspiration, they can be hugely beneficial to any workflow. This blog post will describe some best practices to make your Styles more useful and broadly applicable for optimal results.
If you don't already have Capture One, you can download a free 30-day trial.
Before we move on to the technical tips and tricks, let me just quote a previous blog post about Working with Styles:
Technically speaking, a Style in Capture One is simply a set of pre-made adjustments that can be applied to one or more images with a single mouse click. A Style can include as many tools as you like, thus enabling photographers to create an extensive bank of ready-to-use adjustments for any workflow. 
It is important to differentiate Styles from Presets, which also exist in Capture One. A Preset is also a pre-made adjustment, but only for a single tool. This enables Presets to be instantly available from the tool included. If you for example make a Film Grain Preset, it will be available from the Film Grain Tool as well as the Styles and Presets Tool. To summarize:
Styles: Pre-made adjustments including one or multiple tools, only available from the Styles and Presets Tool
Presets: Pre-made adjustments for a single tool, available both from within the Styles and Presets Tool as well as the tool included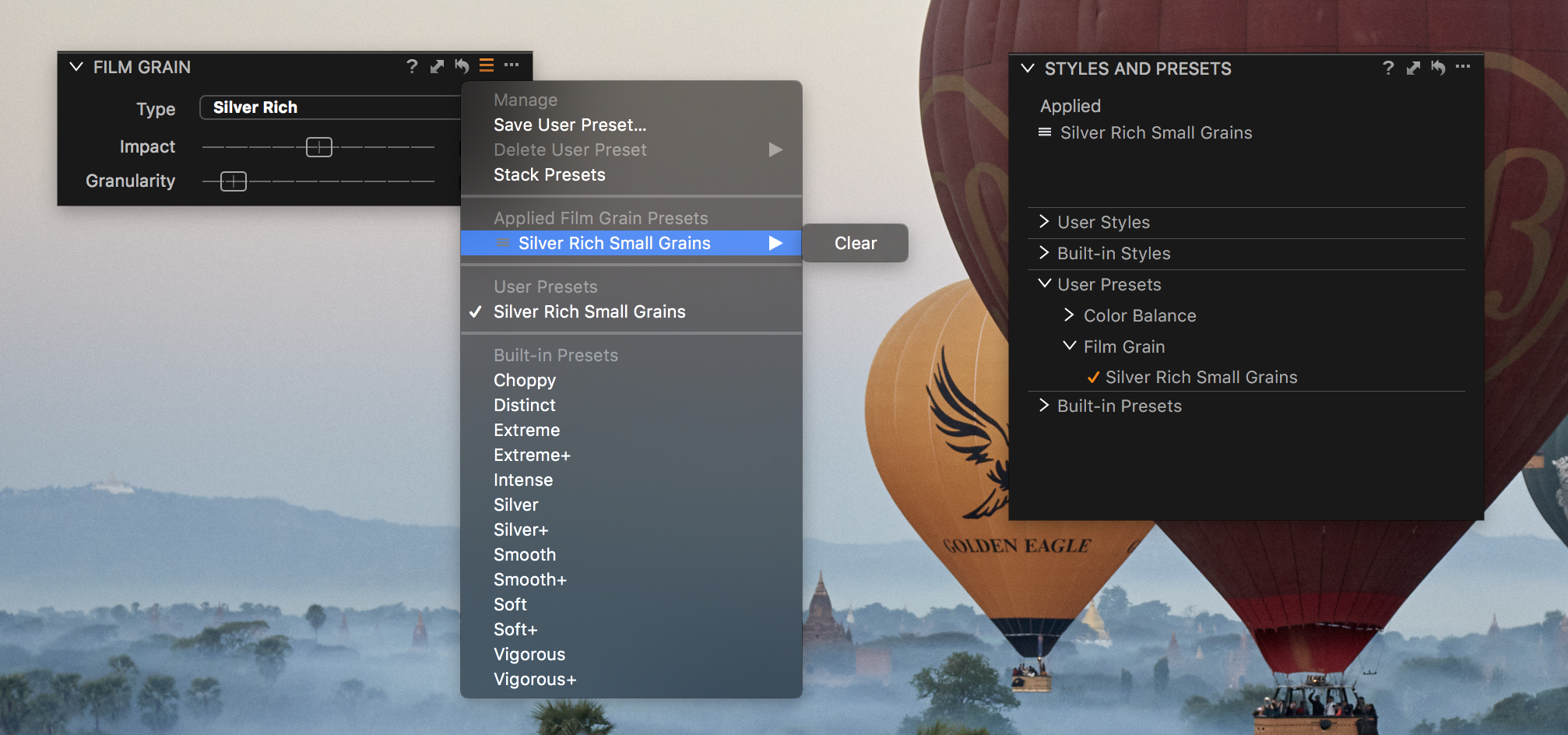 The Preset 'Silver Rich Small Grains' accessed from both Film Grain tool and Styles and Presets tool
What to think about when creating a Style
Since photography operates within many different genres and styles, and the conditions of shooting might even vary from shot to shot, you will want your Styles to be as broadly applicable as possible. As a rule of thumb, I always assume each shot I apply a Style to is correctly exposed and has a neutral white balance. This makes it easier to pull the adjustments in the direction I want. Any White Balance or Exposure changes should therefore not be part of the Style.
Instead, if I want a color shift towards warmer or cooler tones, I use the Color Balance Tool and simply adjust the Master tab. If I want the image to be brighter or darker, I use the curves. In general, I try to keep clear of using slider tools as much as I can. This makes it easier to tweak the image further after applying a Style, while keeping the adjustments of the Style intact.
Recommended tools to include in Styles:
Curves
Levels
Color Balance
Color Editor / Advanced Color Editor
Highlight and Shadow Recovery
Clarity and Structure
Film Grain
Vignetting
I will also include a list of tools that I recommend that you do not use in a Style:
White Balance
Exposure
Crop or any other composition corrections
Contrast, applied with the slider
Rating and Color Tags (these might accidentally be included if you're not careful)
You can of course experiment and include anything you want in a Style, but my guess is that you will quite quickly agree that the tools above should be excluded from any Style you create.
Finding that global spread
It's tempting to save your adjustments immediately when they look amazing on your image. Hold on, freeze! This is a crucial stage. You need to test your Style! Find a handful of other images shot under different conditions, maybe even different cameras if you use more than one, and apply the adjustments on these. This can be done using 'Cmd/Ctrl + C' for copying adjustments and 'Cmd/Ctrl + V' for applying them.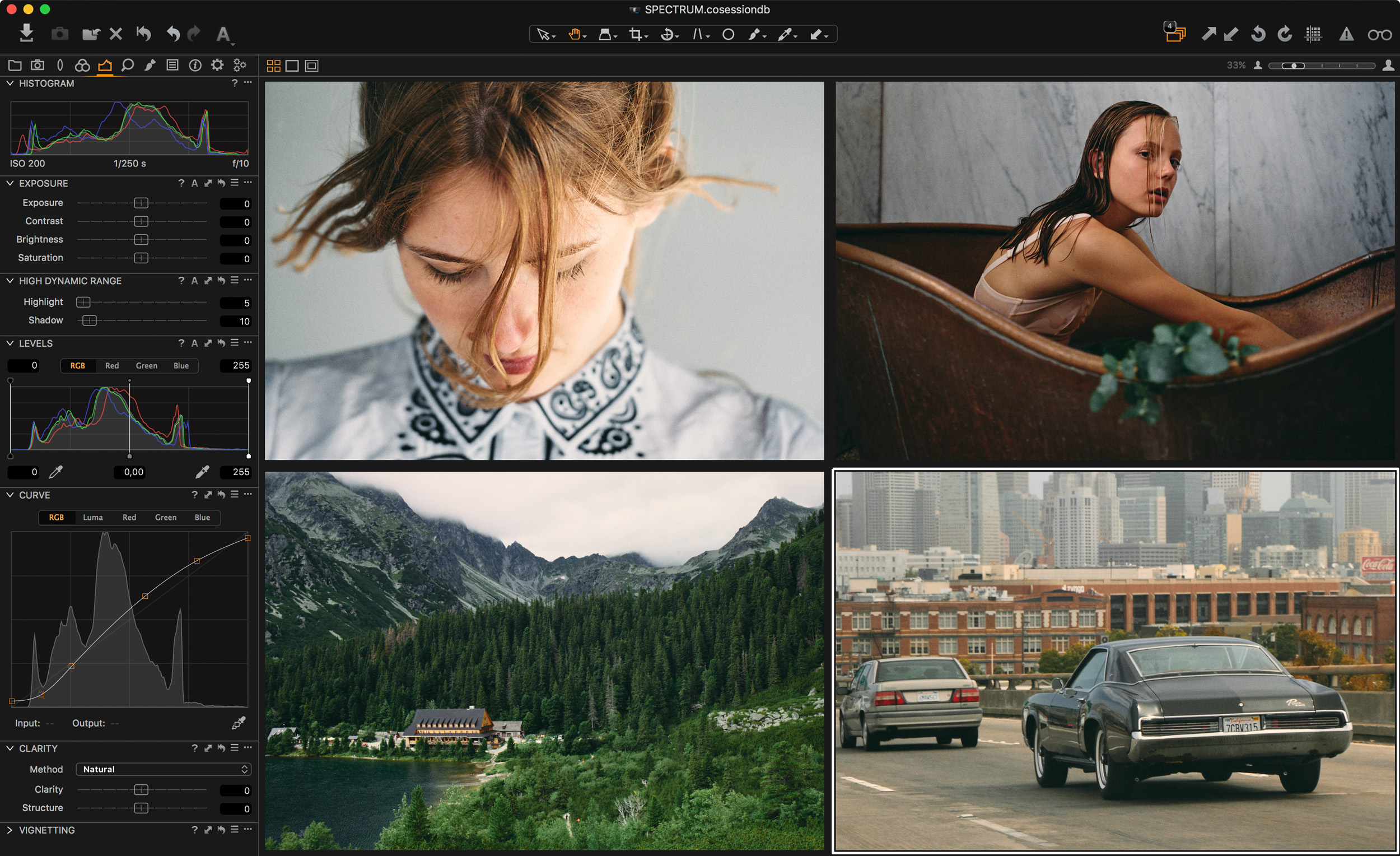 Identical adjustments applied to different images. © Ausra Babiedaite
Do they still look amazing on the other images? If yes, then you're good to go! Save your new Style and give it a fitting name. You can even create subfolders within the Styles folder to organize your Styles.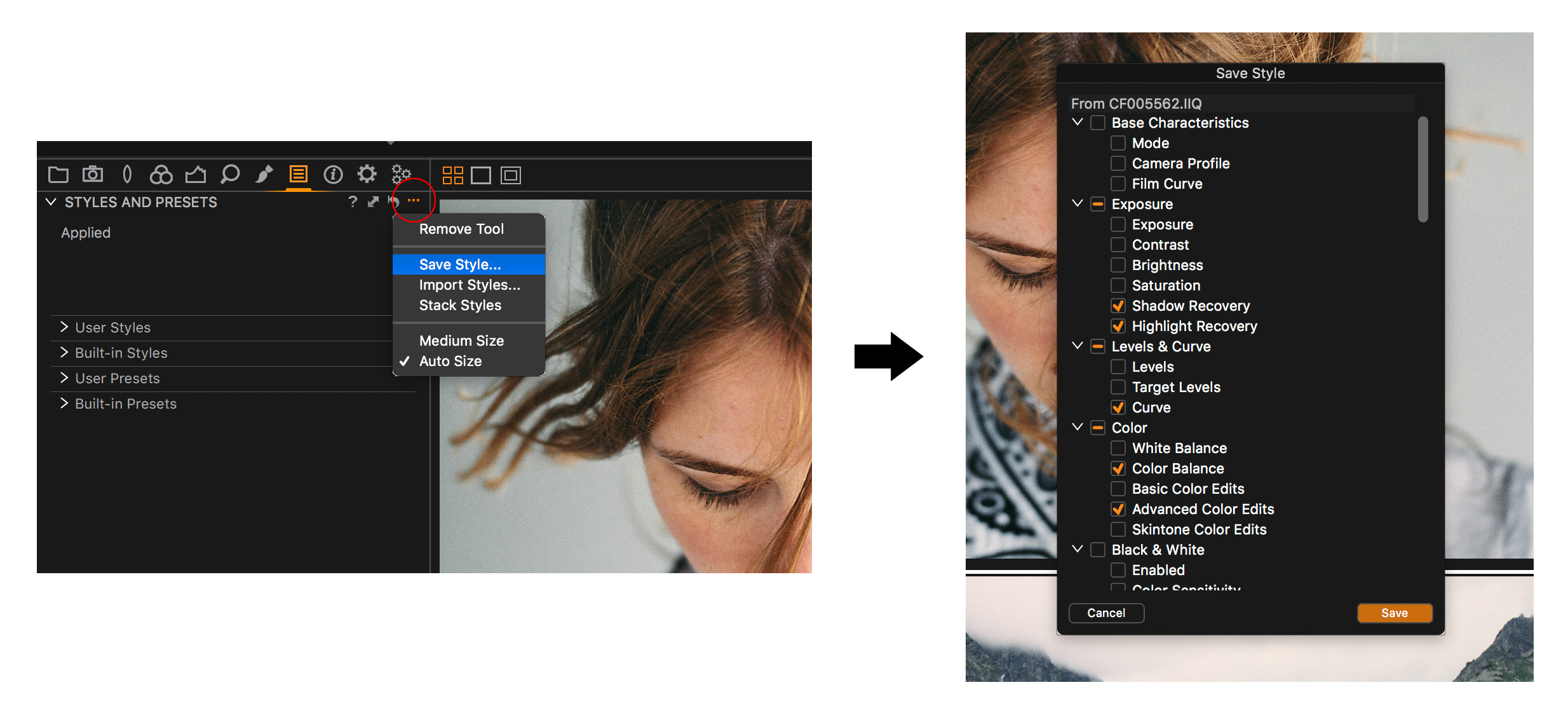 Saving the adjustments as a Style from the Styles and Presets Tool
If the adjustments don't look amazing on the rest of the images, figure out what to tweak to make them more useful – without sacrificing what you're aiming for. It might be a little less contrast in the curves, or a bigger change in the blue hue to affect the sky.
Less is more
I have found that understated adjustments that can be enhanced after applying a Style work better than overly adjusted Styles that I need to tone down. They are simply more broadly applicable.
Let the creative juices flow and see what you can achieve with Styles! You might be surprised how it can save you time in the long run.
Visit our User Guide to learn more about Styles and Presets in details.
Alexander Flemming
Alexander works as a Product Manager at Capture One. Previous experience as a Test Engineer along with 10 years of photography have provided Alexander with a broad understanding of the many technical advantages of Capture One Pro.