Capture One just introduced a Panorama Stitch feature in the recent launch of Capture One 22. The new feature allows photographers to stitch several RAW images into a large panorama and opens the door to new possibilities. We asked our in-house experts how they use the feature to create striking images and go beyond the traditional panoramic look.
How to use Panoramic Stitch to create super high resolution for large prints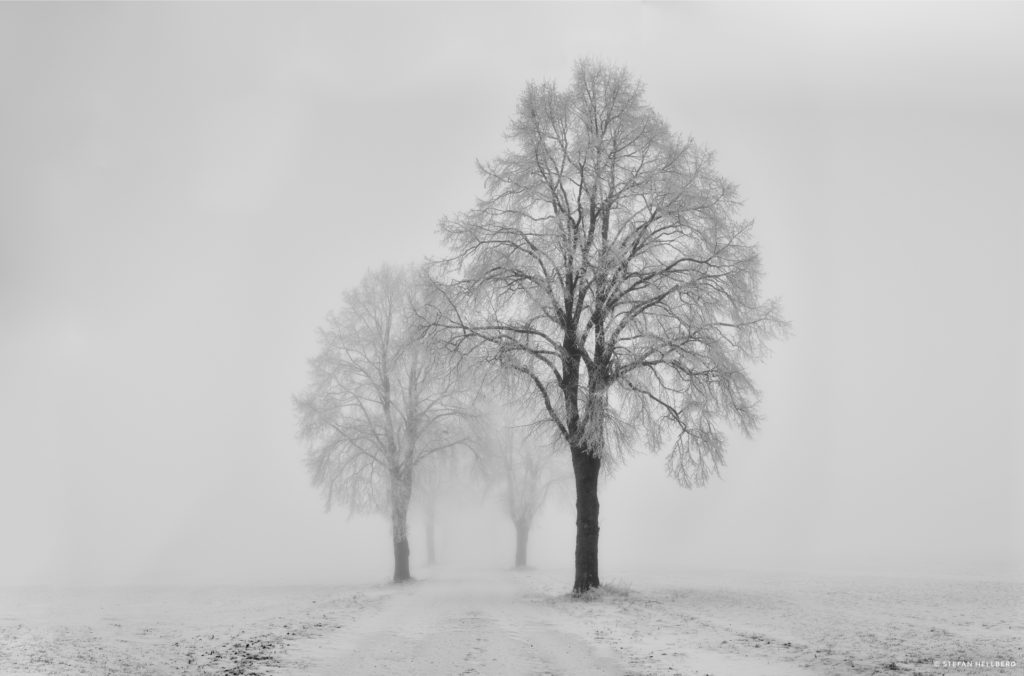 "I'm constantly drawn to large minimalistic scenes that will calm the mind. The scenes I photograph are for large printing, creating a window into another reality captured in time," says Capture One Senior Product Manager and photographer, Stefan Hellberg.
"To do this there needs to be a lot of information and resolution to work with and a clean image without distortion."
"I'm often travelling light and do not want to let gear get in the way of work. At the moment of this photograph, I had one 63mm lens for my Fuji GFX camera with me. Because of the surrounding area, the scene I wanted to catch in front of me was impossible to get in one frame with my lens. Instead, I shot six portrait format images to cover the scene. This allowed me to get a wide scene without the downside of distortion in a wide lens. I ended up with a super high-resolution image (135MP) very well suited for large printing."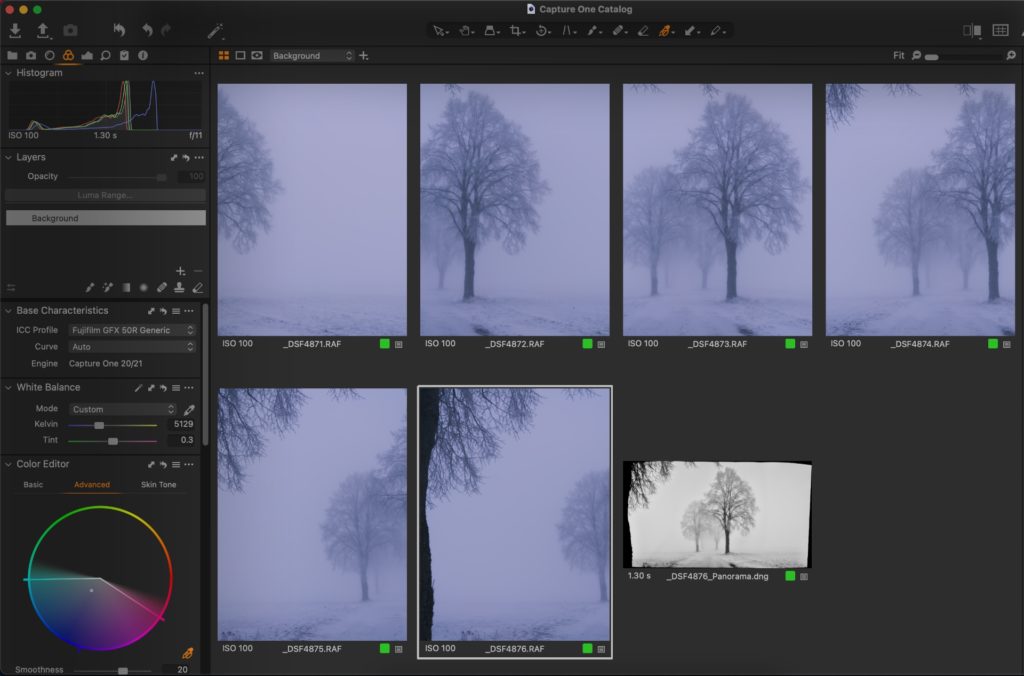 How to get wide-angle images without wide-angle distortion
Many photographers have encountered the issue of wide-angle distortion. The Panorama Stitch solves this and makes it is possible to achieve significant image quality improvement in a wide-angle image compared to a single image made taken with a wide-angle lens, according to Capture One's very own image quality professor and Senior Principal Software Engineer, Niels Knudsen.
"I was inspired to take this image because of the dramatic sky developing over this typical landscape from the west coast of Jutland in Denmark. In this wide view image, I needed to place the horizon low to show the dramatic sky," explains Knudsen.
"The challenge when using a wide-angle lens is that it shows an increasing amount of unavoidable distortion the closer you get to the corners. When I place the horizon low in the frame, I will not only be hit by this strong distortion but also by the falling lines of the perspective. On top of this, I am also hit by the typical sharpness drop near the edges of the lens."
"The quality difference is obvious when using the Panorama Stitch. The image using the Panorama Stitch looks sharper and the distorted view is gone."
Here is how Niels did it:
 Shoot several RAW images. These are shot with a 24mm lens (APSC camera).

Select the images in the browser, right-click on one of them, and select the "Stitch to Panorama" feature.
In this example, the spherical projection is used achieve the best look. The 100% scale is also used to get the highest possible quality.


Crop the image to see the full

blue 

opening 

in 

the 

sky.  This results in

 black corners. F

ix this by

adding a

few strokes with

 the Clone and 

H

eal brush

.

 



Finally, add some contrast, clarity and change the White Balance to achieve the final image.

How to capture wide-angle images using only one lens or a fixed lens camera.
Some photographers like to travel light and only bring one lens with them. With the Panorama Stitch feature, shooting wide-angle images with a single lens or fixed lens camera is no longer a problem.
"I always try to bring a camera wherever I go and one of my favorite cameras to bring with me is the Fuji X100 camera with a fixed 23mm lens (APSC)," says Knudsen.
"Here is an example where I created a wide-angle look with my fixed lens camera. I was inspired by the thin white strokes of clouds in the sky that played so nicely with the white patches on the façade of the blue glass building. With my fixed lens camera, the only way of catching this scene was by taking a row of five portrait-oriented images for later stitching in Capture One."

"When stitching the images, I selected the panini projections as it, in this case, gives me the best compromise between the largest image frame and minimum distorted lines. I also chose 50% scaling as my purpose was to generate a wide-angle image and not necessarily a super high-resolution image."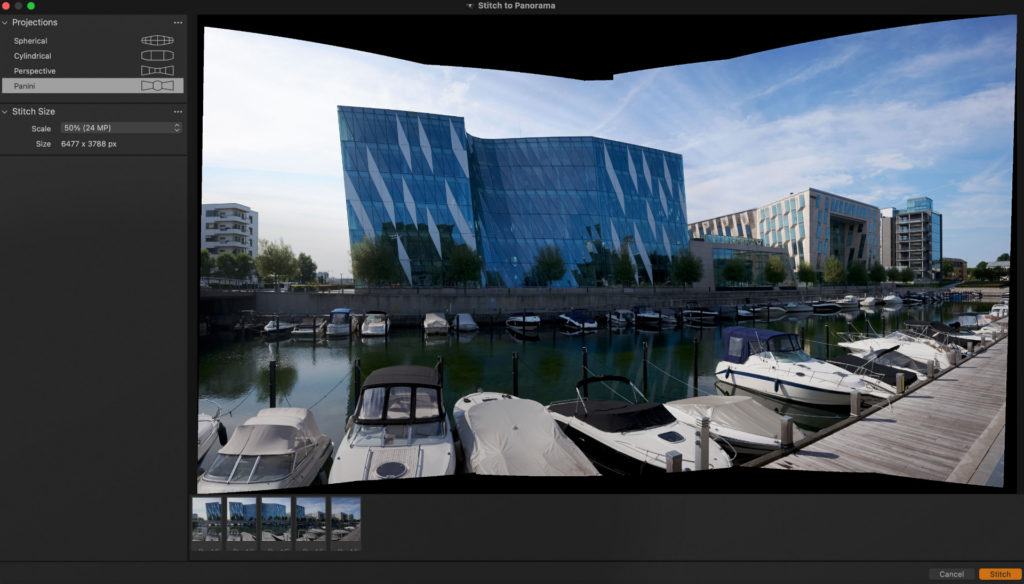 How to create extreme wide-angle images stitched from several wide-angle images.
In addition to allowing for wide-angle shots, the Panorama Stitch feature can take your images to the extreme. In the example below, Knudsen used the Panorama Stitch to create an image with an almost 160 degree field of view with five wide-angle images.
"The Danish Radio Concert Hall is a spectacular venue and is unique as the spectators are located all around the music scene. The whole concert hall with all its sound-engineered constructions and the spread-out balconies is an extremely fascinating view, especially from the top balconies. Even my super-wide zoom 10-18 mm (APSC) would not cover the whole view."
"To cover the view, I shot five portrait-oriented images at 18mm. This is still a rather wide view, but I wanted to take it even further. Being able to use this wide focal length I could cover the view with only one row of images."
How to get a crazy shallow depth of field (Brenizer Method)
Imagine shooting portraits in a beautiful location with a 35mm f/0.7 (if such a lens existed), completely separating your subject from the surroundings and a shallow depth of field, keeping the high image quality you love without any distortion. With the right technique, this is possible using panorama stitching.
"Think of this stitching method as a jigsaw puzzle; Multiple rows and columns of images stitched together into one large image," says Alexander Flemming, Product Manager at Capture One.
"The benefit of this method is that you can choose the number of rows and columns yourself to cover your composition and get really close to your subject. When you get closer to your subject, the depth of field gets shallower."
"Shooting multiple photos with overlap between each shot, pointing to the left, right, up, and down, and eventually covering your desired composition, is what provides you the raw material. Stitching all these images together in Capture One 22 gives you a truly remarkable result – if the raw material was shot correctly. A super high-resolution DNG file with a crazy shallow depth of field, ready for editing."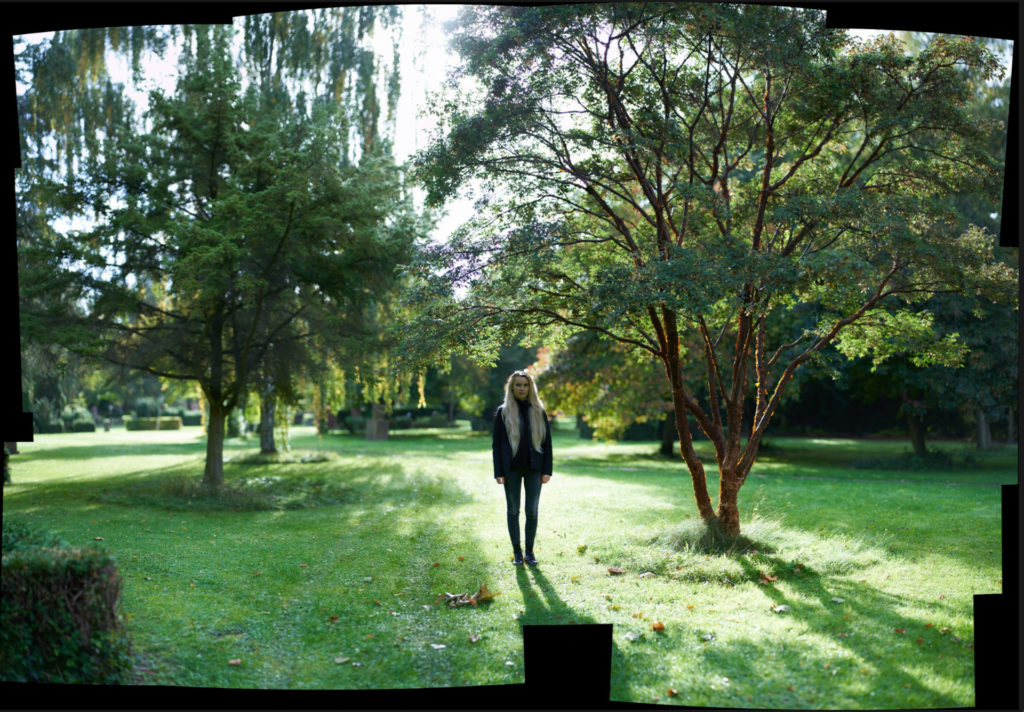 Read more about how to prepare for and shoot with this method in The Brenizer Method.
Watch the tutorial on how to use the Panorama Stitch.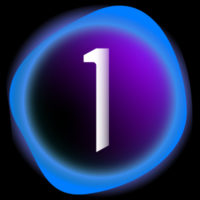 Capture One
Born out of a passion for photography, Capture One provides photographers with the tools to collaborate with clients and creatives, achieve the highest quality photograph, and bring their visions to life. Today, Capture One offers the fastest tethered shooting in the industry, an intuitive and efficient workflow, unparalleled image quality with support for over 600 camera and lens profiles, true-to-life color processing, and precise editing and collaborative tools. We are on a journey to become the most powerful ecosystem of creative and collaborative tools with workflow freedom spanning across multiple devices, letting professional photographers work from anywhere with anyone.
Follow Capture One