NOTE: This article discusses an older version of Capture One Pro. To learn more about our latest version, click here.
What's New
The first tab is "What's New." Use it to stay up-to-date with the latest photo editing software updates, Styles, webinars and other Capture One news.
Tutorials
Click on the "Tutorials" tab to access the Learning Hub, packed with blogs, tutorials and webinars covering different topics and learning levels. Explore the possibilities and discover new tricks and tips or use the search filter to find exactly what you're looking for.
Key tip – you can filter your search to find tutorials catered to your specific photography style, whether that's weddings, portraits or landscapes.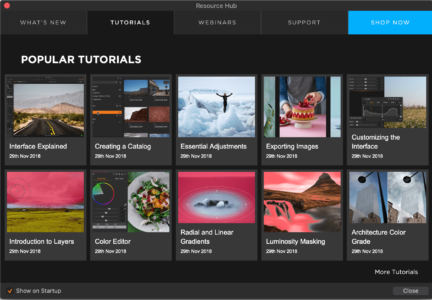 Find a huge selection of Learning Hub tutorials under the "Tutorials" tab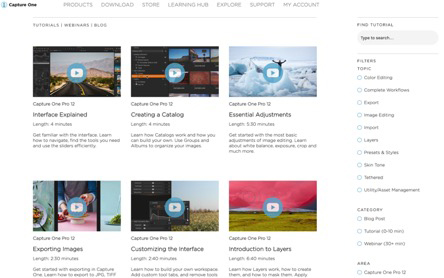 The Learning Hub. Filter by criteria in the column on the right-hand side.
We are constantly adding new resources to the Learning Hub to keep up-to-date with our latest releases and in response to your requests.
Webinars
Join our Capture One expert David Grover as he breaks down different aspects of the RAW editing process and offers tip and tricks for creating amazing photos with Capture One.  Under the "Webinars" tab, you can access recorded webinars or sign up for a live webinar.  Each live webinar has two time slots and is uploaded later if you miss the live event.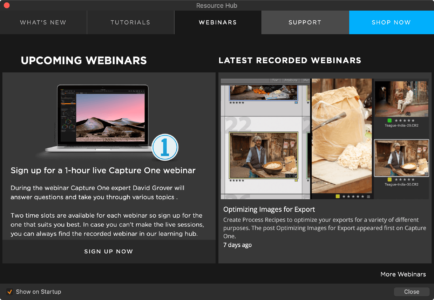 The Webinar tab
Support
Need help? Click on the "Support" tab to get in touch with our Support Team or access helpful resources such as the User Guide, Learning Hub, FAQ and Forum.
Shop Now
Browse the "Shop Now" tab to get exciting offers on Capture One software upgrades, Styles and more.
I can't see the Resource Hub
Go to Preferences > General > Resource Hub and selected "Show on start-up."
What would you like to see on the Capture One Resource Hub?
Don't have Capture One? Download a 30-day trial.
Jakob Boie Sørensen
Jakob is a portrait and wedding photographer who also works as a Marketing Consultant with Capture One – his must-have tool for his professional work. Jakob is passionate about sharing his technical expertise and helping others discover the benefits of editing with Capture One.
Follow Jakob Boie Sørensen