For our Capture One 21 launch, we challenged fashion photographer Michelle Watt to tell us about her experience of the pandemic – using only one color. In this blog, Michelle shares the story behind the shoot and how she created powerful photos under limitations.
Color is one of the most powerful visual tools in photography. A single color can express so much – and during a year like 2020, it felt like there was so much to say.
This year I found myself challenged both in my personal life and professionally. As a photographer I needed to find new ways of working. So, when Capture One challenged me to share my experience of the pandemic using only one color, it felt like an exciting way to explore the creativity that can arise under limitations.
The story behind the shoot
My red photo series, Solaris, is inspired by Stanislaw Lem's science fiction novel of the same name. With similar themes to the book, it follows a woman trapped on a spaceship orbiting a mysterious planet.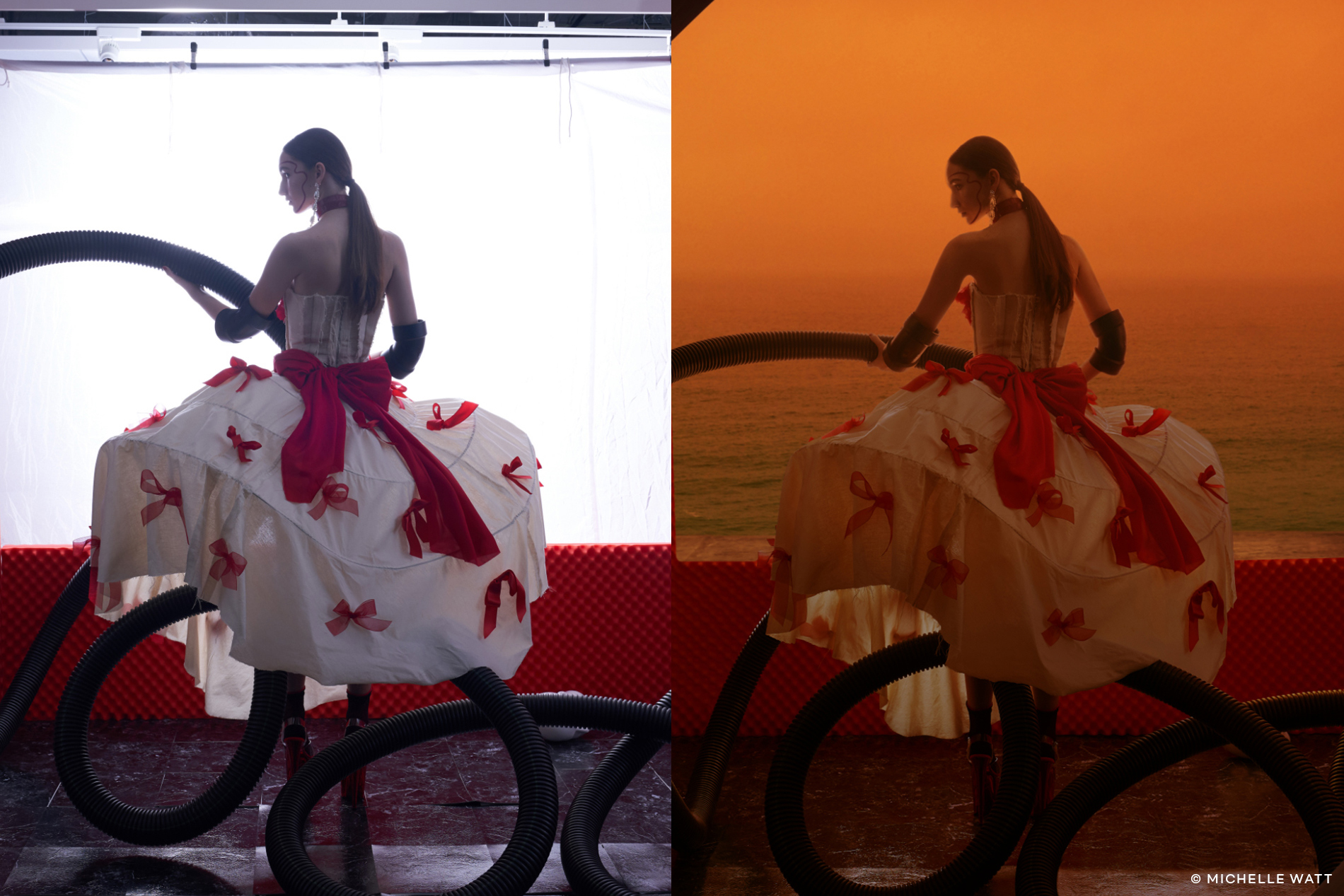 This planet has a strange effect on those who come near it, causing them to see perfect simulacra of themselves and loved ones from their past. It is unclear if these figures are real or in her mind, but she feels the solitude of countless years in outer space. Stripped of belonging, there is only longing.
This story echoes how I felt about being displaced by the COVID-19 pandemic. I put my life and career in New York on hold for family responsibilities in San Francisco. As wildfires ravaged California, social unrest swelled and the pandemic continued, I felt alienated and trapped inside a sealed space far from home. Meanwhile, the world outside felt harmful and toxic. My aim was to tell a visual story to evoke this feeling.
Without those structures in my life providing belonging and protection, I have felt naked and groundless. New and old versions of me stand in stalemate, struggling with the uncertain future. This is represented by the clones.
How do we embrace the new normal and stay grounded? The color red represents the rawness of that yearning. Sometimes it's an ember stinging from one point within, and other times I'm enveloped by its warm fleshy walls. Red is heat that stands strong even when the air is cold. It is the feeling in your heart that someone you love is nearby, even though in real life they are far away. Red is sometimes unbearable. If blue is protection, red is strength.

Creativity with limitations
I am only as good as my team and resources. During the pandemic, the greatest limitation to my photography work has been a lack of access. I've been unable to work with my usual collaborators, my equipment and my studio in New York. I also missed the large network of agencies I relied on in the city.
Instead, I held this shoot in a deserted office space in San Francisco. I found new, local collaborators and kept the team small. I also used editing to composite images of orange skies from the wildfires – shot separately on my own – into the final scenes. This helped me bring more out of the set.
Photo editing tools also helped me transcend the limitations of the shoot. I frequently use Capture One's High Dynamic Range feature to adjust lighting extremes, and it especially helped here where my physical lighting was limited. I also relied on the Color Balance tool in Capture One to coax out "feelings" in shadow and highlight details. This allowed the colors to express themselves even more.
I shot tethered with Capture One during the shoot so I could get an instant overview of my vision coming to life. I also relied heavily on the White Balance tool to help bring out the "red" warmth in each shot.
The new Speed Edit tool in Capture One 21 was also amazing. It allowed me to edit multiple photos at once. This made the overall creative process smooth as I wasn't slowed down by playing with sliders.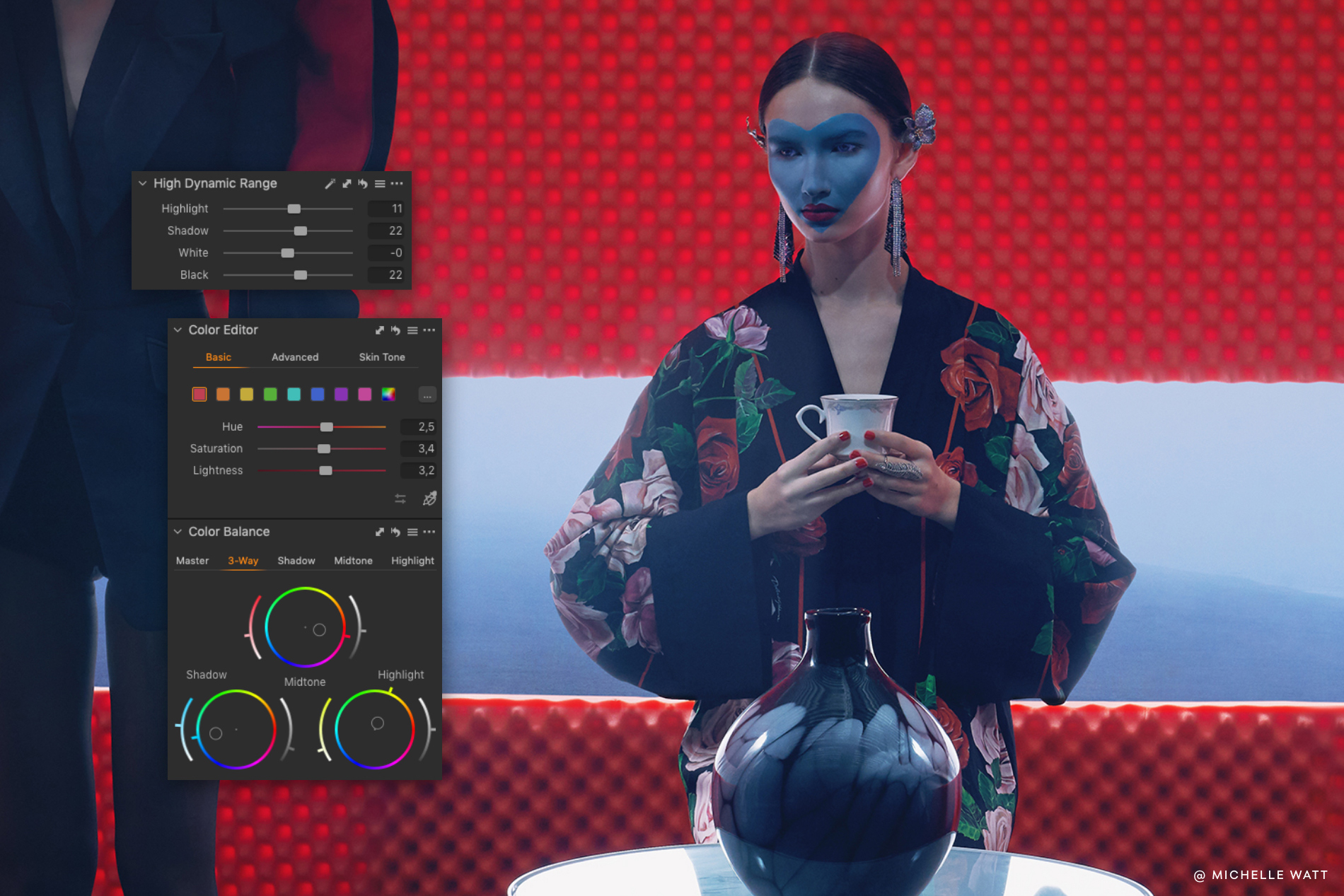 The experience of the pandemic – and this color shoot – has opened my eyes to the way I can create powerful photography and tell visual stories without my usual resources. And the way that the challenges we experience can form part of the stories we tell. I'm looking forward to exploring the community images and discovering your own red stories.
Inspired to create a red story just like Michelle? Upload it to Instagram with the hashtag #capturecolors for the chance to be featured in our community gallery. And explore Capture One 21 to discover the latest color editing tools to help tell your story.
If you don't already have Capture One, download a 30 day trial and try it out.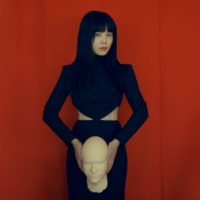 Michelle Watt
Michelle Watt is a fashion and portrait photographer known for her surreal narrative style. Her work often addresses themes of freedom and restriction within presupposed conventions of female grace and beauty.
Her editorial work has been published in The New York Times, USA Today, Vogue Italia and Blanc Magazine. She has worked with commercial clients such as Cadillac, The North Face, Capture One, Scotch & Soda, LG and Arcteryx.