NOTE: This article discusses an outdated version of Capture One. To learn more about our latest version, click here.
In Sessions 101 we looked at an overview of the Session concept. In this post we'll take Sessions to the next level.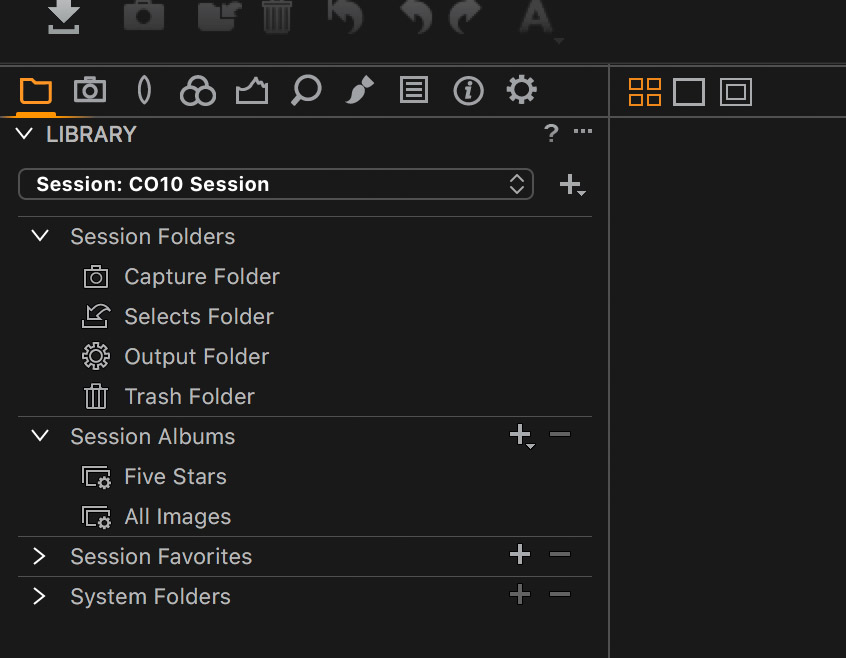 While it solves a very simplistic workflow in its basic out-the-box form, the modern high volume shoot needs a bit more management. Fortunately, Sessions are super expandable when things get bigger. There's a couple of good reasons for pushing beyond the standard Session – especially when dealing with serious volume.
Shooting 100's of GB's of files to a single directory is a big mistake. The words of wisdom here are "expectation management". Although not technically wrong, and although it does work, performance and stability will start to fall off after a couple of hundred 60Mpix files. It's common sense not only to keep your viewing and load times speedy (and client happy) but also to organise a bit for sanity.
So, don't dump 5 days worth of pictures in one place and expect zero problems; Being a bit more modular will also help you if something were to (and it does occasionally) go wrong with a back-up, or to do a reprocess on image X for the client.
The revolution will be organized
By leveraging the proper organisation tools, you don't need to move any files. Moving files out of a capture sequence to selects is, in my mind, a big mistake. Personally, I avoid the idea like the plague. I much prefer to keep chronology and timeline in the shot folders for proper review. To extract the keepers, I use other methods. Note there is a heavy slant here on "I". You can of course do what you like if this doesn't jive with how you like to work.
Ok, sounds reasonable. How do I do that?
First, we need to rewind back to the Session and the default Capture folder within it. From a new session, select the Capture folder in the "sessions folders" area at the top of the Library (this is a shortcut to the currently assigned Capture folder), then right click > show in library. This will open the library's system folders to show you the current location of the current Capture folder in the file system.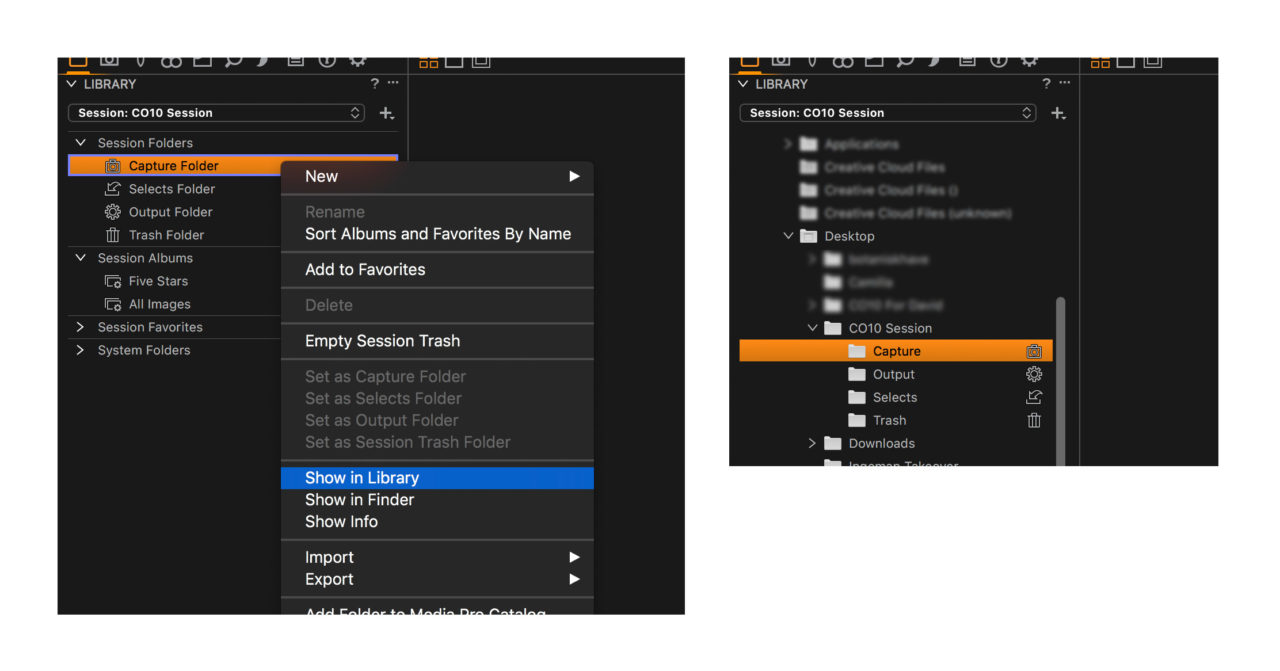 Now you can do this bit how ever you like (and believe me I've seen users do this just about every way possible) but I suggest sub-foldering "Capture" to hold all the shot folders. Some people put folders in the session folder (in the same directory as "Captures"), but I find this counter intuitive to the concepts discussed in Sessions 101. By organising inside Capture, I know any and all RAW captures will be inside Capture (a sort of logical drill down) and not end up in some random Capture 2 or untitled folder in the session.
Right click on the Capture folder in the system view and choose "new inside". This will allow you to make a new folder inside Capture. Typically, you get a pop up asking if you want to add the previous Capture folder to favourites. You can ignore this for now.

The idea of subfoldering the Capture folder into shot folders is to look for natural breaks in the day. This might be product ID, model changes clothes, every hour, or any divider you can think of that helps with breaking up the volume of images. Not only does it help you organise, it reduces system resource pressure on images per directory.
Naming of these folders is thus a bit dependent on the above, but something descriptive (like "Shot 1") or logical (like date) – or a combination of the two – is good.
If you are shooting product, maybe the SKU or product code for the item is also pretty sane. The reasoning here is in the pipeline of production we can then leverage the Next Capture naming tool. This uses the Token concept, and with the correct tokens in place, you can extract the name of the current Capture folder up to the "Capture Name". This sets up the naming based on the folder name as they land in it. If you change Capture folders, the name follows with it. This creates a wonderful sense of automatic order and organisational relationship for assets and parent directory – and also means reduced input and user error when setting up collections.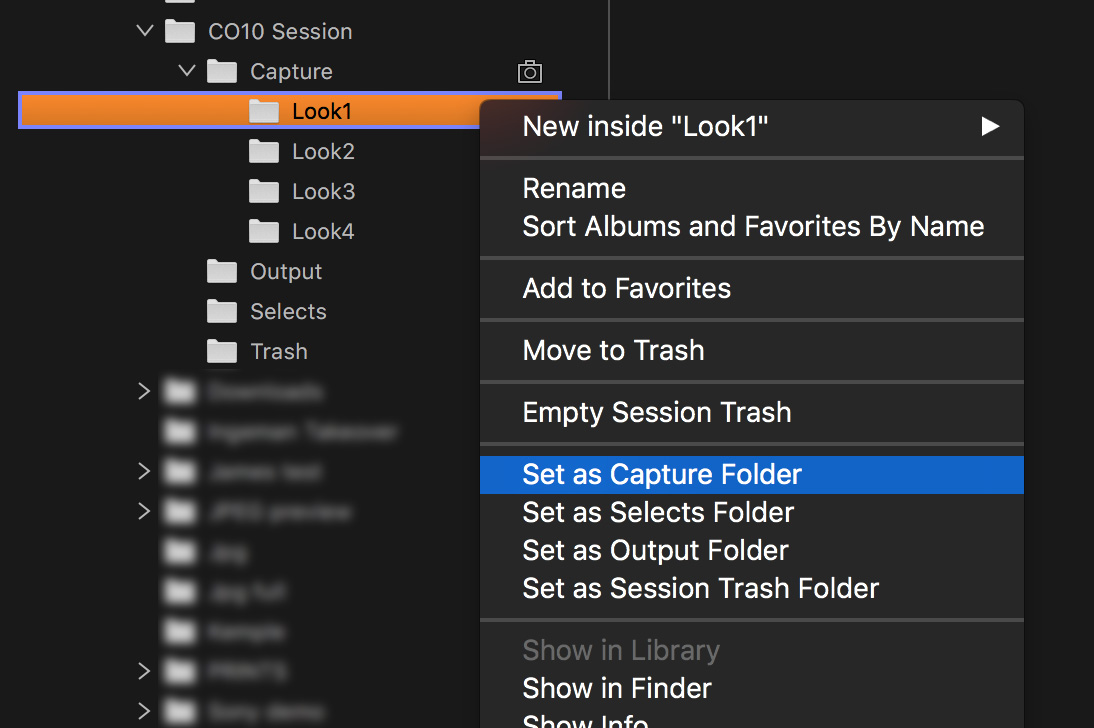 Once you have set this up, try to create a new folder, select it and again right click "set as Capture". You should now see the Camera icon move to this new folder, indicating the current Capture folder has moved. This is now the new "Capture folder" – note this is distinctly different from the folder called "Capture"! Repeat this process to make multiple "Capture" folders and you can quickly start to build up an organized shoot as the content changes through the day. If you float the next Capture naming tool out, you can see the name update as you change folders.

Now you are properly on your way to a professional session user's workflow.
Next up we will look at how to leverage higher level session concepts for thing like organising and culling: Favorites, Albums and Smart albums. This bit can take a chunk of the work out of the traditional workflow of moving to selects.
The Favorite
This is a marker in library (small heart icon) and you can use it on folders. It has three uses: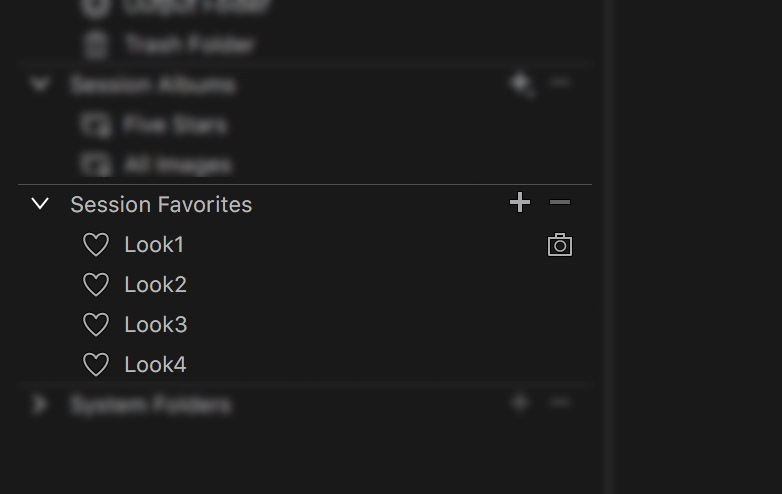 One: it makes a small heart on the folder in the library. The folder is then represented in Favorites area and clicking on it is effectively now a shortcut to the actual folder. This is for the most part purely UI for organisation and allows you to view the folders in the session as a flat list (which helps keep the UI tidy with deep folder structures or lots of Capture folders). You can also set Favorites as Capture/Selects/Output/Trash like it's the actual folder, without having to find it in system.
Two: it indexes the content of that folder in the session database file, making it faster to load and opens up the contents for search. This is useful for Smart albums. Adding more folders to Favorites means more folders to search across.
Three: Folders marked as favorites (and their relative position to the session) are remembered when making custom templates.
Back to search, in chapter one we talked about how the Catalog worked; To view and index files in the Catalog, you have to import – then the catalog can search them. In sessions we use the Favorite concept as a tag to tell the session to "include this folder" in the index. You can also remove the folder from the Favorites list to exclude the contents from search. Once indexed, the smart albums can be used.
To make a folder a favorite, select it in the Library and right click -> Add to Favorites.

Smart Albums
Albums and Smart Albums are concepts that both require a bit of a disconnect from the physical ideas of files and folders we have dealt with so far. They are in effect "virtual" folders – meaning they can hold and show you an image but it's just a reference to the actual file which is somewhere else. For albums, the main use case is something like "my best images" as you can drag in your picks from several folders to show you a collection of your awesome. However, the Smart Album is altogether… smarter. Obviously.
Smart Albums are to pictures what junk email filters are to Outlook. You specify rules for it, and if it finds images in the favorites that match, it will show it in the Smart Album. Remove the qualifying criteria from the image, and the image will  from the smart album. This is especially cool for rating and culling.
To make a Smart Album, find the Session Albums section in the Library tool and click "+" then -> Smart Album. Name it "Rejects", then choose the preset for "red". Press Done to save. In the old days of Capture One 3, one used the "traffic light" logic of tagging images (much like Lightroom's flagging method) with a red cross for "reject", yellow question mark for "maybe" and green tick for "pick". I still do this today (or at least something close to it) by using colour tags.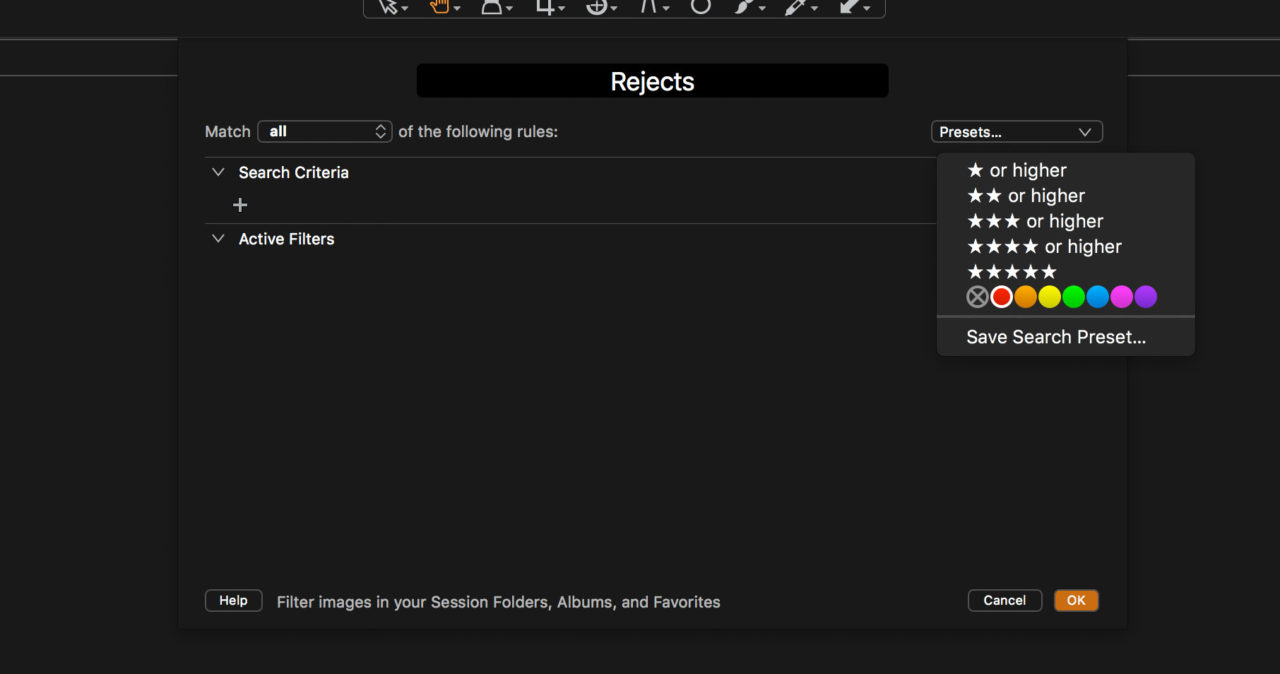 For every Session, I repeat this process 4 times to make four Smart albums. One to show me images with a red (rejects) tag, one for yellow (maybe) tags and one for green (picks). Lastly, I make an additional Smart album that I call Green4+ (which shows me green AND 4 or more stars). How all this comes together we will review in the final Sessions post later this week.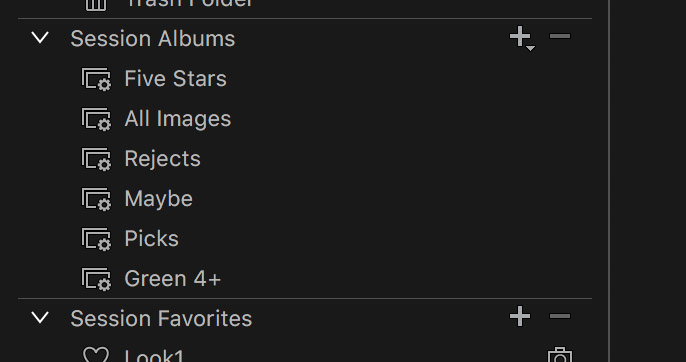 Supposing I do this kind of thing a lot. Can I make set up quicker? The last tip for today is templates.
Templating a template
As we discuss in 101, a session is a (very basic) template. Making something a little more useful for bigger shoots is a good time saver. Custom templates is possible in Capture One 8 and later.
A custom template primarily remembers 3 things in the template. Folders which were favorited, albums/smart albums, and the Next Capture naming set up. Once you have set up everything (as above), go File > Save as template.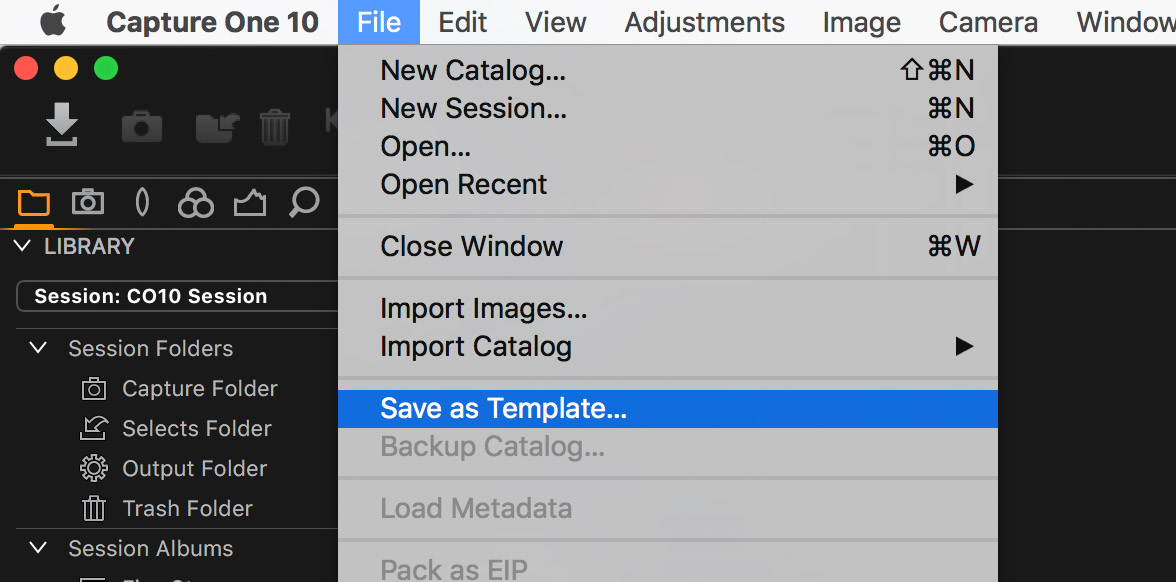 Next time you make a new Session (File>New Session) from the dialog, you can choose a Template from your custom list. A new session (with new name) will be made with all the shoot folders and albums. This considerably reduces time configuring your workflow for the shoot!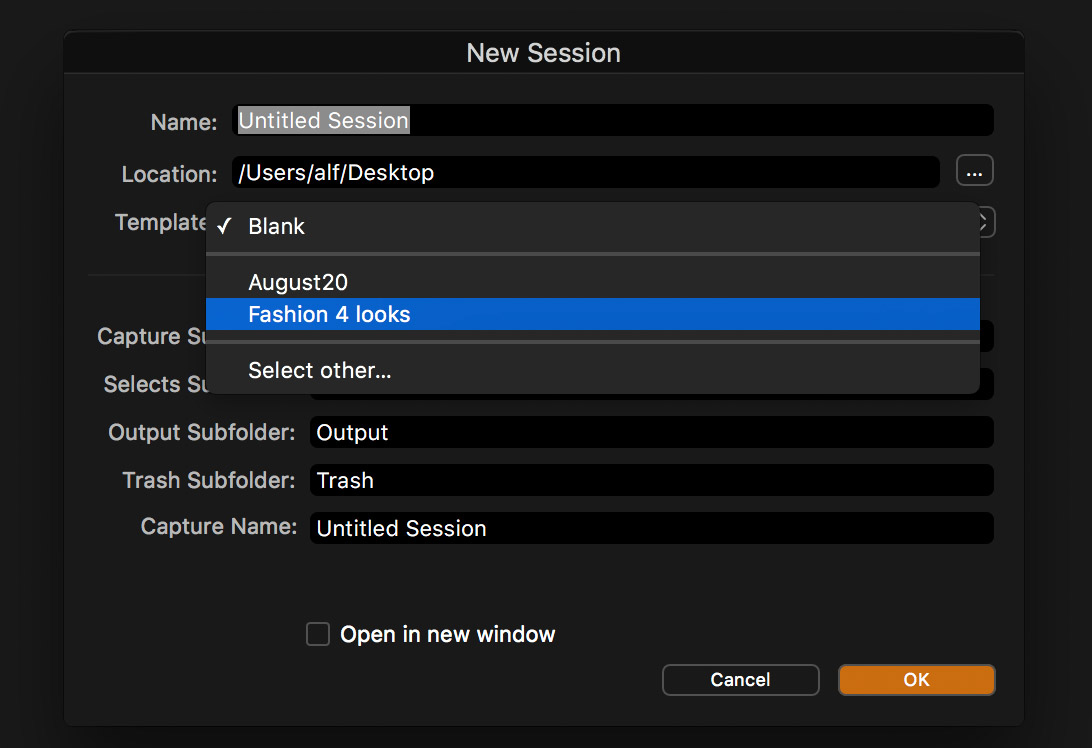 This is in a good point to end on a bit of advice. It's not an inconsiderable amount of work to get to this "ready to shoot" stage. What I have described so far is a typical amount of prep for any big shoot and when it gets to pre-light most operators or technical producers will build collections in advance so time spent noodling around in software during the high pressure shooting phase on the day is reduced. So – be ready, and make the shot folders ahead of time if you can. Anything you can do to reduce fiddling around with naming and folders when under pressure will help you immeasurably when its hammer time and seven agency bods are looking at you wondering why the shoot stopped. That's not a good feeling.
In the third and last post of the Sessions series, we'll discuss how to bring the Capture One Pro workflow together on set. More specifically, we'll cover how to cull in the Pro Session workflow. Read it here.
James Johnson
James is Software Product Manager at Phase One.