There is no question that Lightroom is the most popular RAW-converter on the market: It's quite comfortable, cheap and easy to learn. The problem is that many photographers are not aware of the number of opportunities that they are missing. A RAW-converter should be considered photography gear – just like a camera or a lens. It would be weird to hold on to the 18-200mm kit lens you got in the box and never look for anything better.
Meanwhile, this is what's happening with some RAW-software users: They're stuck on the first step of the great RAW-processing ladder.
In this article, I'll show you my reasons for my choosing Capture One after almost a 10-years of using different RAW-converters. If you're totally fine with your converter of choice – well, good for you. If though, you feel that there is something missing, that some guys should really find a better way to deal with RAW formats; If you're looking for something more – this article will help you find it.
10. Color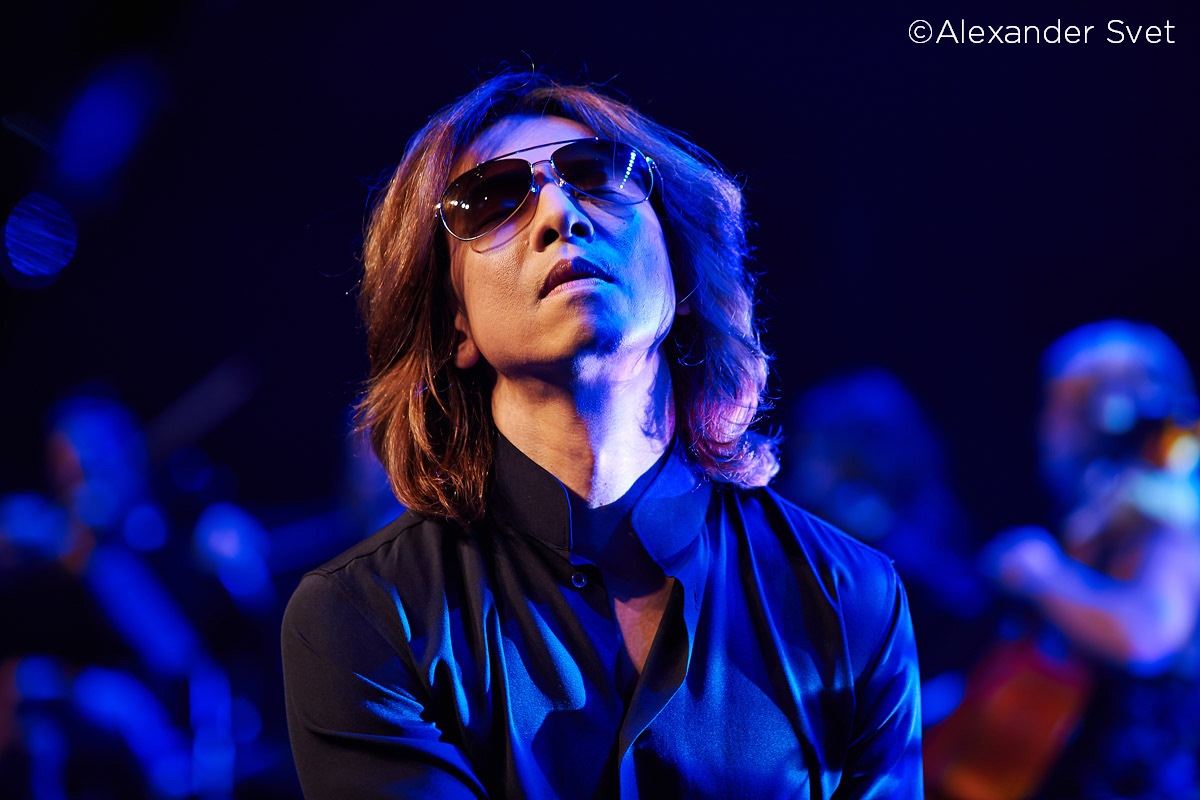 Actually, that should be the reason number one since for many professionals realistic and clear color "rendering" in Capture One is the primary cause for switching. On the other hand, color is always quite a subjective matter, and that is why it's meaningless to argue about that. But there are a few objective reasons, why Capture One deals with color better, than any other software.
First of all, it uses unique color profiles designed for each particular camera model.
These particular profiles provide that accurate, precise, realistic color in Capture One. If you wish, you can also edit them to taste and re-save them as your custom color profiles.
Second reason is not quite evident, but crucial. Phase One (the company that develops Capture One), is not just a software company.
Their main business is to produce hi-end digital backs and medium format cameras; they also have an industrial division developing professional solutions for aerial and cultural heritage photography.
The High-quality image processing algorithms in Capture One are a logical result of their many years of experience in that field.
Third reason is not about color itself, but about the primary rendering of the image in general.
In Capture One, at the very first stage of image rendering, you can choose the type of Base Curve, which will affect the image and it may give you a mass of editing possibilities.
For example, with Linear Base Curve you will get the "real" RAW image, almost without any initial corrections, which all the popular RAW converters do without your permission.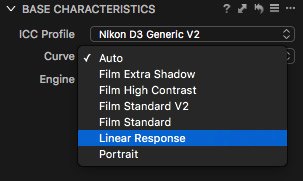 At the first glance, the image with Linear Curve may look quite flat, but behind that you'll find some amazing RAW editing capabilities.

If you're looking for something more than a simple contrast and exposure sliders – it's a great place to start.
9. Customizable everything
One of the main advantages of Capture One workflow is that you can customize almost anything:
A) Reorganize and resize each workspace element.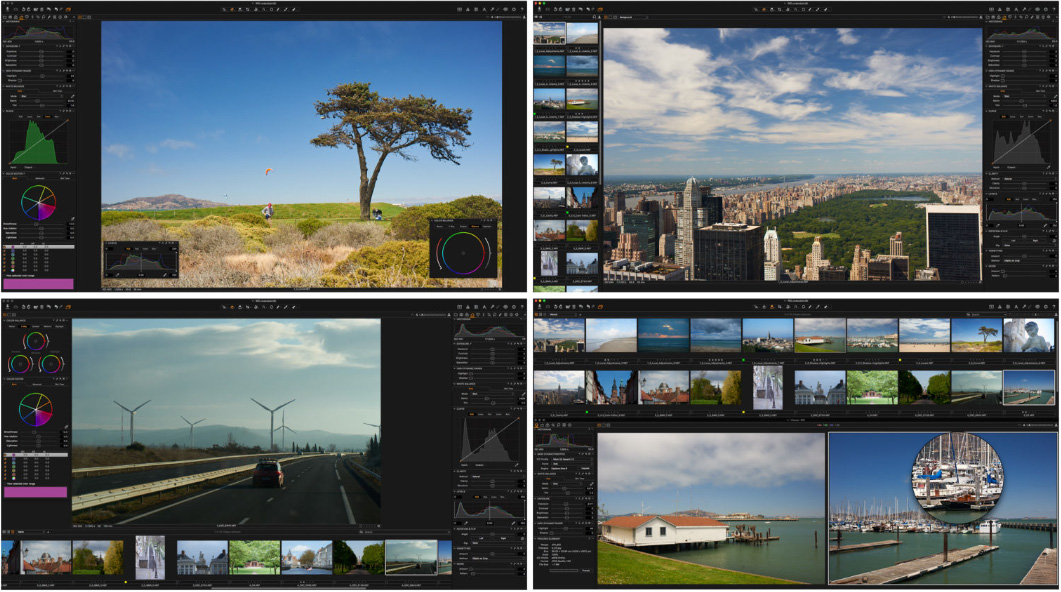 B) Put any tool in any place on the screen or duplicate tools and create custom tool tabs – for example did you know you can duplicate the curves tool 3 times to see Red, Green and Blue channel Curves?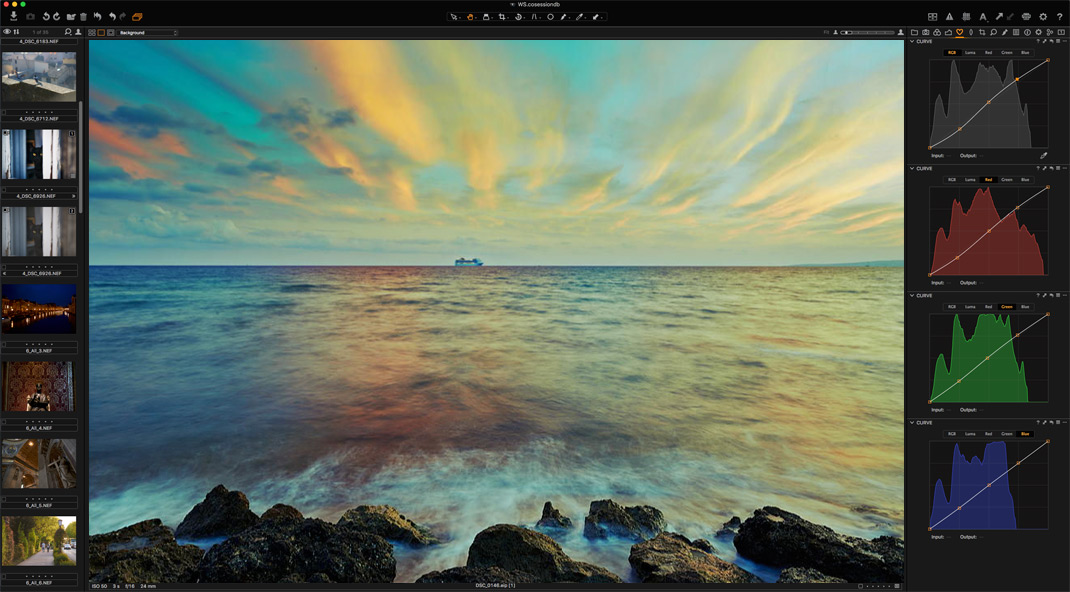 C) Set a custom default settings for all the main tools for one particular camera model
For example, if you have a few different cameras you can set default Sharpening and Noise Reduction settings for each camera.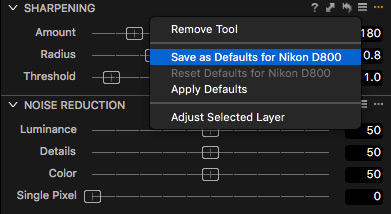 8. Image organizing
What I truly like in Capture One's image organizing approach is that it gives you a choice.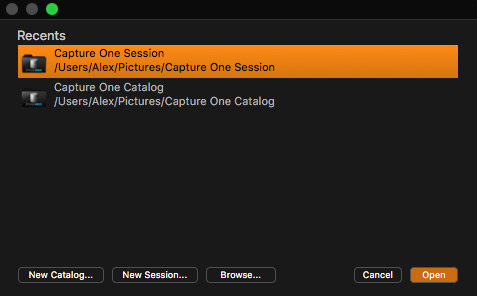 There are three alternative ways to work with your files:
A) Open files directly on your hard drive, without import or any additional action
Simply open a folder and you're ready to work.
B) Create a new session for every new shoot
Best suited for commercial photographers with project-based workflow. That way, you will have all the images that are related to a particular shoot in one place.
C) Organize images in Catalogs
Capture One Catalogs have all the popular DAM (Digital Asset Management) features: ordered structure with folders and projects, albums & smart albums, searching filters and keywords. You may also decide where to store RAW files – inside the  Catalog or on any attached storage to the computer.
If you have tried Capture One 7 and weren't satisfied with its catalog features – it's definitely worth to give Capture One 9 a second chance. Since the first release of Catalog in Capture One 7 a bunch of features have been changed and improved. Now we have great Keyword Libraries, Folder Synchronization, Dynamic Locations and much more.
It is still the Capture One approach to cataloging images and organizing and different from Lightroom. A good analogy would be that it is like Mac is different to Windows. Take your time to get used to it and let it work for you.
7. Different processing recipes
In Capture One, you can easily create custom processing recipes and convert images into different formats with one click.
Let's take the most common case: processing images into Full-size JPG, Tiff, and small-size JPG for the web.
We've created three recipes with different formats, sizes, quality and embedded metadata settings. Now you can convert all the files to different formats and locations with just one click.
By the way, here is another example of how you can automate processing using tokens: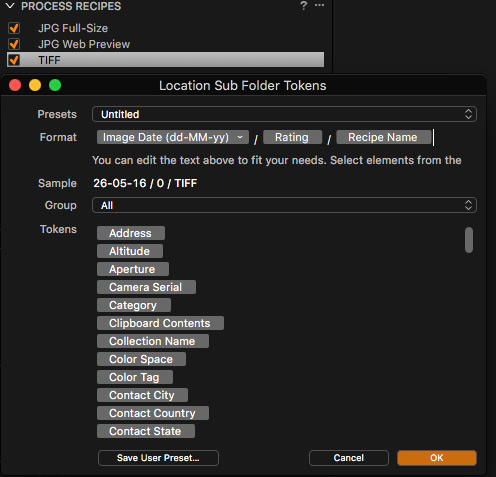 With that set of tokens, Capture One will create new folders with dates when images were taken. Inside each folder, it will create folders by image ratings and inside them – by format names.
In my case it looks like this: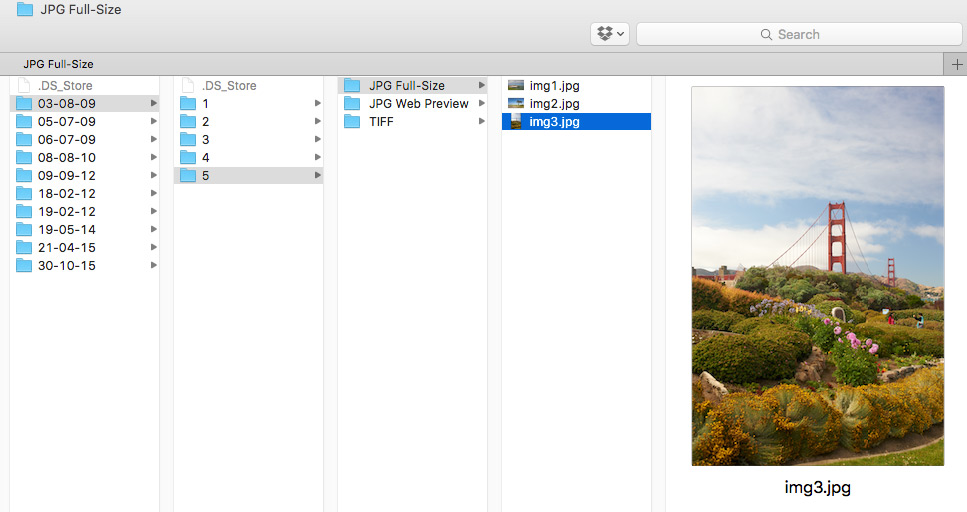 Again – all that folder structure will be generated automatically for any new process with only one click. And you have dozens of tokens to choose from and to create unique processing paths.
6. Tethered shooting with Capture One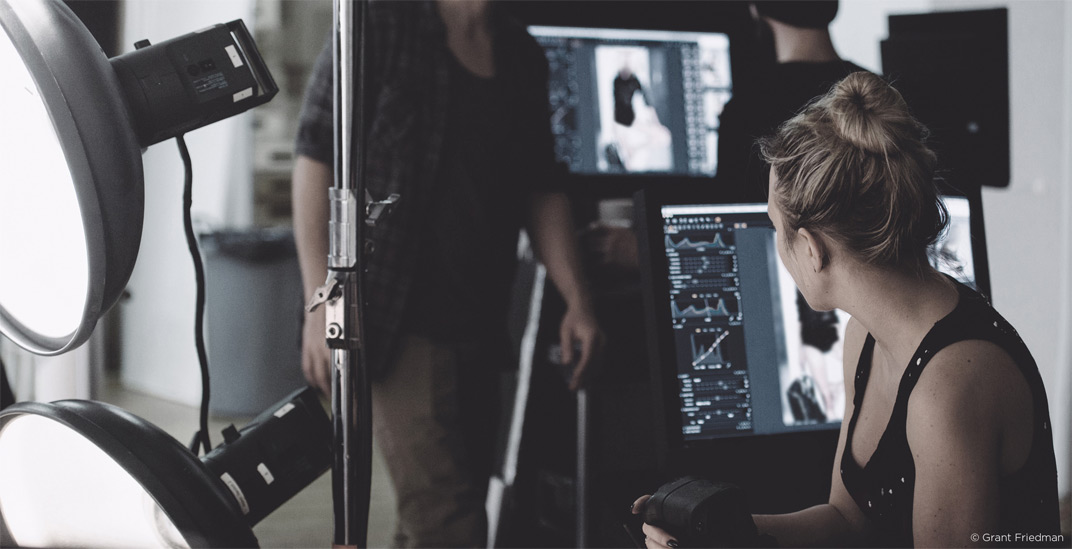 If you work a lot in a studio on portrait, commercial or product photography – tethered shooting software is one of your main tools.
In modern photography tethered shooting isn't a new fancy feature anymore, it's a professional work standard.
And in this area, there are no competitors to Capture One. The reason is that Capture One provides all the features, which you may need for tethered shooting and even more.
A) Full control over the camera settings and image adjustments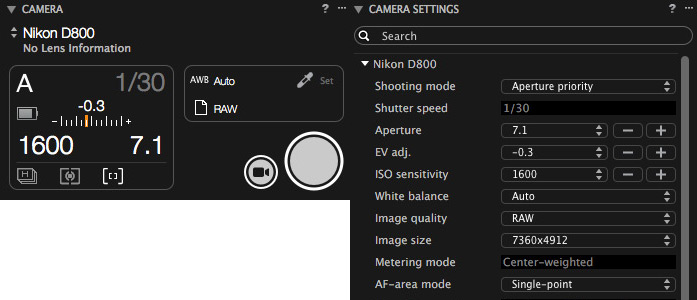 You can change almost all the camera settings directly in Capture One: Starting from aperture, shutter speed and ISO to focusing, synchronization, bracketing and dozens of other camera settings.
It allows you, literally, to not touch the camera during the shoot. Unfortunately, Capture One can't move your camera and product in the frame, yet. Perhaps in the bright future, special photography robots will surely help us with that; today, however, we still have to use human assistants.
You can also decide which adjustments will be applied to the next captured image. They could be adjustments from any previous image or from saved presets.
Actually, this is one of my favorite features, because my clients will never see "raw" image during the shoot. Each new image shows up immediately with the right color, Curves and exposure corrections.
B) Great composition features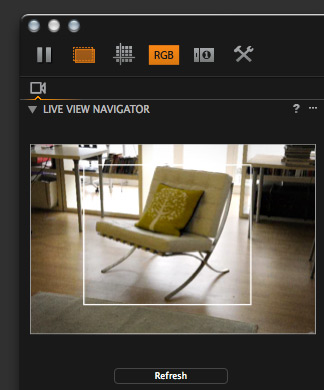 Picture: Phase One
Live view – allows you to see "live" pictures from your camera, to set composition and focus.
Composition mode – while this option is on, only the last captured image will be saved on your drive. Excellent feature for the pre-shoot tests.
Overlay – adds any picture over the main image. It's really convenient when your image should fit a specific design layout or magazine cover (for example.)
C) Remote camera control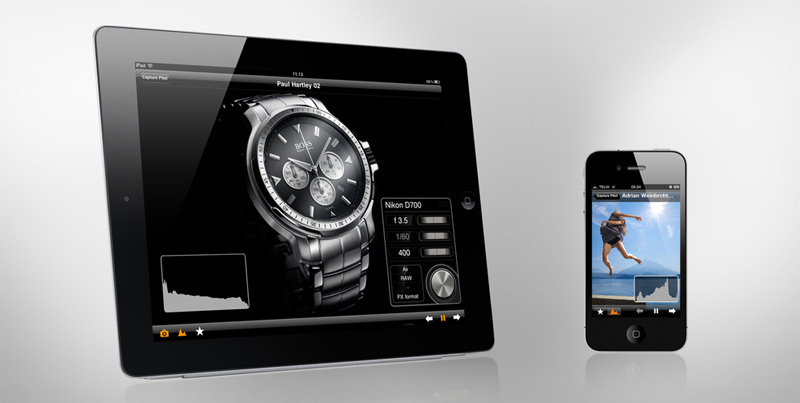 With Capture One Pilot app you can control your camera from any iOS device. For example, you can connect your iPad over Wi-Fi to your laptop with Capture One and fully control your camera. Take images*, change exposure and quality settings – right from you iOS device.
You can also select images, rate them and set color tags during the shoot. This feature works not only with iOS but with any internet browser on any device.
Here are some videos on how it works:
Using Capture Pilot for iOS and Web
Camera Control:
Introduction to Capture Pilot photography app
My favorite trick in a commercial session is to connect client's laptop to my Capture One server and watch the reaction when images start to display on client's machine.
It really impresses people! And it's also quite convenient that client may rate the best images while you shoot.
Of course, you may find separate applications for each of those tasks, but you'll never find all of them in one solid and easy-to-use solution on the market.
Best regards,
Alex Svet
To get to know Alexander's top 5 reasons for choosing Capture One Pro, check out Top 10 reasons to switch to Capture One Pro 9 – Part II
Alexander Svet
Alexander Svet is a professional photographer and image processing specialist. Moreover, he is Phase One Certified Professional and experienced Capture One trainer. As a commercial photographer, Alexander worked with many world-famous companies: «Mars», «Kaspersky Lab», «Renault», «Siemens», «Lancome», «L'Occitan», «Deutsche Bank», «KFC».