New Capture One 9 Image Processing engine:
Capture One 9 has introduced a new image processing engine.  This new engine has a number of improvements in regard to image quality as well as the ability to satisfy an even more creative workflow approach.
The new Image Processing Engine has 3 main improvements:
Handling of Curves, Contrast, Color and Saturation.
Additional possibilities in Local Adjustment using Layers
Resizing/rescaling of images.
Capture One Pro 9, by default, uses the Capture One 9 Processing Engine for all new images.  For images which have previously been adjusted in Capture One 8, or an earlier version, Capture One 9 will respect the older, existing engine to ensure the images are displayed exactly as if viewed in an earlier version of Capture One.
Upgrade older images to the Capture One 9 Processing Engine
If you want to use the new engine on a previously adjusted file, you can use the upgrade button under the Base Characteristics Tool.  Alternatively you can simply create a New Variant, which use the Capture One 9 Engine per default.


       Image straight out of the camera                                    Image adjusted in Capture One 9
Luma and RGB Curves in the Capture One 9 Curve Tool
The new Processing Engine in Capture One 9 now provides you the option of working with a Luma Curve.  When using a Luma Curve your corrections only change the density of the image while keeping the hues and saturation of the color constant.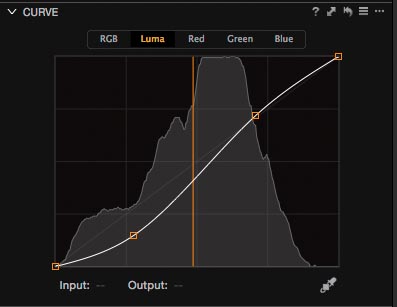 There is quite a big difference between the RGB Curve and a Luma Curve options.  If, for instance, you apply a standard S-curve to both curve options, contrast will be added to the image.  However, with the RGB curve tool, you will also add a good deal of saturation and see some slight color shifts.  For minor adjustments with the RGB curve, this extra saturation and color shift may be just what you were trying to achieve, but for stronger corrections it can begin to detract from the image.
Doing the same level of correction using a Luma curve will provide the contrast you are looking for with the S-curve, without changing color hues or saturation.   In the real world if light changes from diffuse to direct you will see the scene with more contrast but as there is less scattered light, colors will also appear more saturated. When adjusting contrast using a Luma Curve, where you don't add saturation, your brain may believe the image lacks saturation.  So a Luma Curve correction may not be something that mimics reality but will certainly provide you a creative tool when it's required.
Having the choice of working with Curves, both in an RGB channel and a Luma channel, gives you a lot of creative freedom for controlling contrast and saturation in an image.
Use the Curve tool in an Adjustments Layer:
When using the Capture One 9 Engine you can now use the Curve tool within a Local Adjustment layer.  You have full freedom to use any the curves; RGB, Luma, R G and B and in any combination.  For landscape images like the images used in this post, this feature provides extensive creative possibilities.
Contrast and Brightness:
Another new feature in the Capture One 9 Engine is a change to the algorithm behind the contrast and brightness sliders of the Exposure tool.  As explained above regarding the Curve tool, there is potential for some side effects when working with either RGB Curves or Luma Curves. This is exactly what has been taking into account when developing the new algorithms for the Contrast and Brightness sliders of the Exposure tool.
These 2 sliders provide you the ability to add Contrast and Brightness in a much more natural and appealing way, keeping the appearance of image saturation much more constant.  This enables you to add much stronger corrections to your images without adding potentially distracting color artifacts.
Whether you work with Landscape images or images of people, these new sliders provide a much easier and natural way of adjusting images.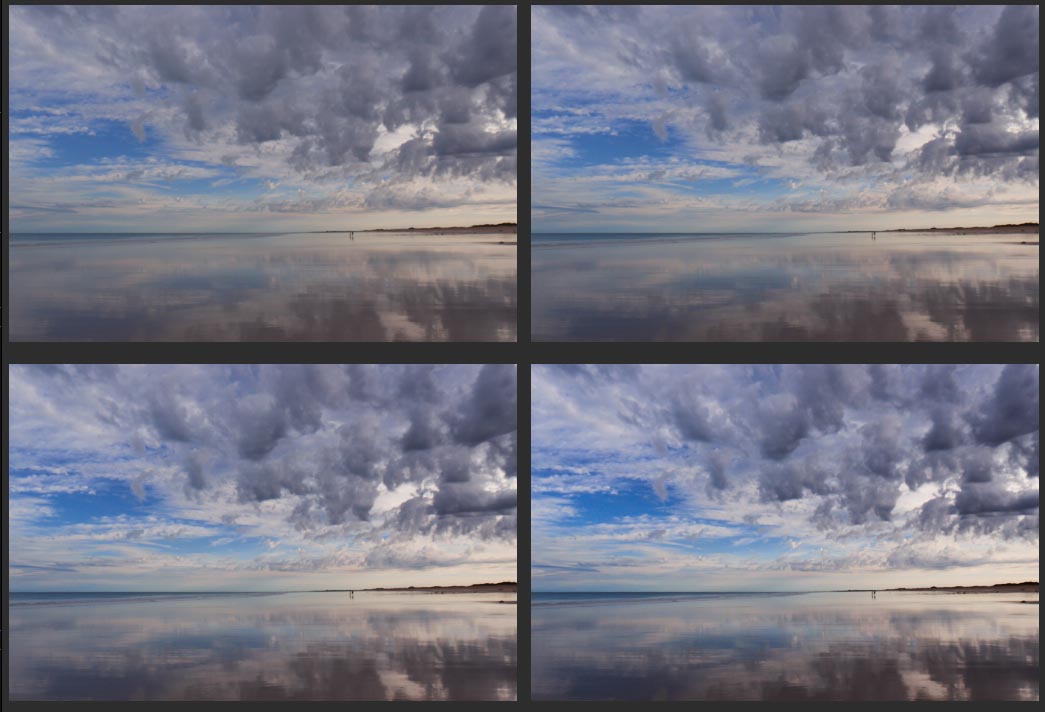 4 Variants of the same image with contrast from 0% to 30%.  As you can see, the new contrast slider adds contrast in a very natural way, adding just a bit of extra saturation to make the image shine.
New Resizing Algorithm
The new Capture One 9 Image Processing Engine also includes a totally new algorithm for resizing images.
Resizing images actually takes places even when you may not consider it.
If you are using a wide-angle lens, the lens tool will typically be correcting for some barrel distortion.  You may correct the horizon a tiny bit or do some minor keystone correction to address this.  In all these cases of slight adjustment, the image needs to be resized.
The new resizing algorithm does all these geometric correction in such a way that pixel information in the original, as well as the resized image, is maintained the best possible way.  This makes it almost impossible to distinguish the original file and that which has been resized, even upon zooming into two such variants.
But resizing, of course, also takes place when you process images from of Capture One using the scale option in the Process Recipe or Export tool. This is especially critical when doing large downscaling, something you will typically do for images for the web. The new algorithm will render details from the original image with much more precision, keeping the apparent sharpness and overall look of the original.
Enjoy Capture One Pro 9,
All the best,
Niels
The Image Quality Professor
The digital pioneer, Niels V. Knudsen, is Phase One's Image Quality Professor and founder of the IQP blog. Moreover, he is responsible for breakthrough advancements in image quality both in Phase One's medium format camera systems and in Capture One Pro.