Capture One Pro has long been the industry standard for fast and reliable capture directly from your camera to your computer. Simply plug your compatible camera into Capture One Pro and begin capturing tethered immediately.
In this article, Capture One's very own Image Quality Professor takes us through the main benefits of shooting tethered into Capture One Pro and shares his advice and best practices for a reliable shooting experience.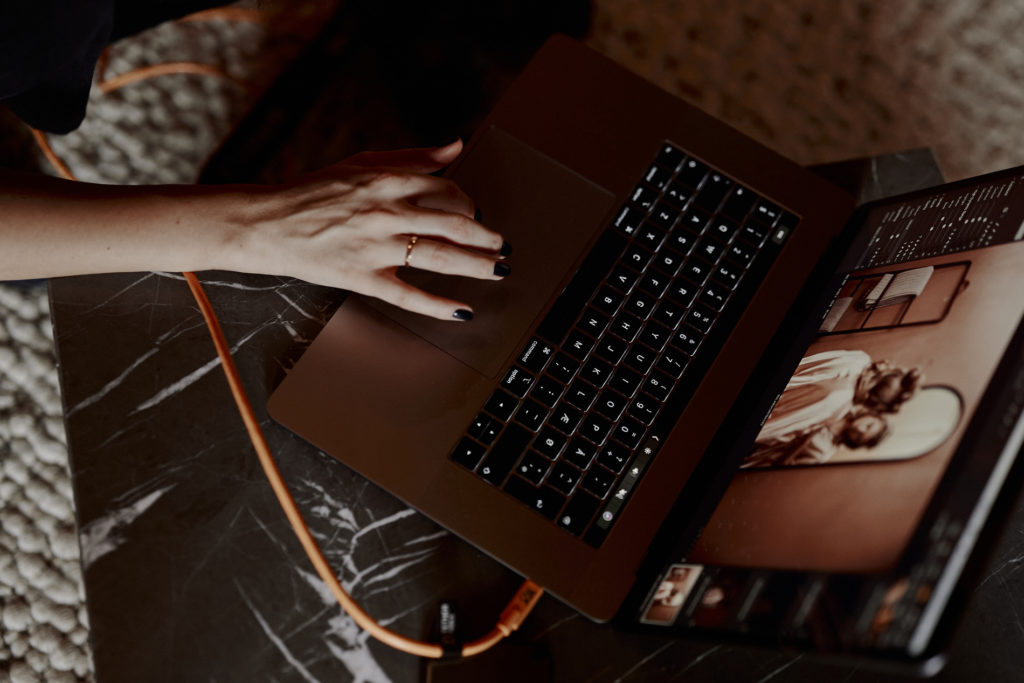 The benefits of shooting tethered in Capture One Pro
Tethered shooting is a key part of many professional photographers' workflow. Here are a few of the reasons why so many use Capture One Pro for their tethered shoots:
Instant capture with plug and play connection
Live View directly in Capture One Pro with remote focus control
Remote camera control with Mode, Capture Format, Aperture, Shutter, ISO, Exposure Compensation, Flash Mode and Metering functionality (where compatible)
Overlays in both live view and final capture
Composition mode to save storage when setting up for the shoot
Collaborations tools for allowing remote viewing of the shoot
For some of the newest DSLRs you can even shoot tethered over Wi-Fi avoiding cables to your camera, getting freedom to move around.
Learn more about Wi-Fi tethering to Capture One
Good Practice for USB tethered capture
A simple connection from the camera to your computer is all you need to get up and running for a tethered session. That being said, to be sure that your connection is reliable and won't give you trouble in the middle of your shoot, it is worthwhile to invest in a good quality USB cable.
The maximum length of a USB cable is normally limited to 5 meters (approx 15 feet) to obtain good transfer speeds and reliability. However, sometimes computer equipment may not be able to sustain a reliable connection even at that distance. Therefore, you should experiment to find the limits of your own system. In many cases, dropping down to 3.0 m (approx. 10 feet) cable lengths can solve connection issues.
If you experience this issue, add a powered USB hub or even an active extension cable. Good quality cables are available from many retailers. If you are unsure of which cable to use, you can check out Tether Tools' compatibility guide for USB cables. 
If the connection to the camera is not very secure, think about ensuring that the cable is secured in some other way to the laptop and camera. A tethering guard (like the JerkStopper Camera Support) is ideal for ensuring that the cable stays in and protects your camera from any stress or strain.
Wireless tethering
Wireless (Wi-Fi) tethering forgoes the USB connection cable, so if you have a supported Wi-Fi-enabled Canon or Sony camera, it's a highly convenient solution. Transfer times vary according to your particular set-up, but if your computer and camera are both using Wi-Fi then speeds can dip, especially with large RAW files. Connecting the computer to the wireless router by a network cable instead and positioning the router closer to the camera can make quite a difference. If there aren't any obstructions between the camera and router altering the frequency to 5 GHz, if your camera supports it, is another way of improving performance.
When on location, and away from mains power, a small battery-powered travel router can be used with impressive results . As I mentioned previously, connecting directly with a cable improves performance and using a USB-C cable will help keep the battery charged.
Setting up Capture One Pro
Before starting your tethered shooting session, check the Capture tab in the Capture One Pro Preferences and make sure your camera brand is the only option selected.
Capture One Pro uses the respective manufacturers' SDK (Software Development Kit) to enable the tethered capture functionality. The different SDKs can interfere with each other; therefore, it is best to deselect the others and enable only the one you'll be using.
Storage Options
We can often capture a lot of images when we work tethered, so make sure you have plenty of space on your hard drive to cope with the data. An SSD or a high RPM hard drive will help with speeding up the time from capture to the image being displayed on screen.
Captures can be shot directly into a Catalog or a Session. It is up to you what method you want to choose but most of our users choose to use a Session to work tethered. To find out more about Catalogs and Sessions, read some of my earlier tips:
Take control of your image organization with Sessions or Catalogs
Begin your tethered capture
After connecting your camera and deciding on which method of file management to choose, it is then a simple matter of looking at the tools in the Capture tool tab.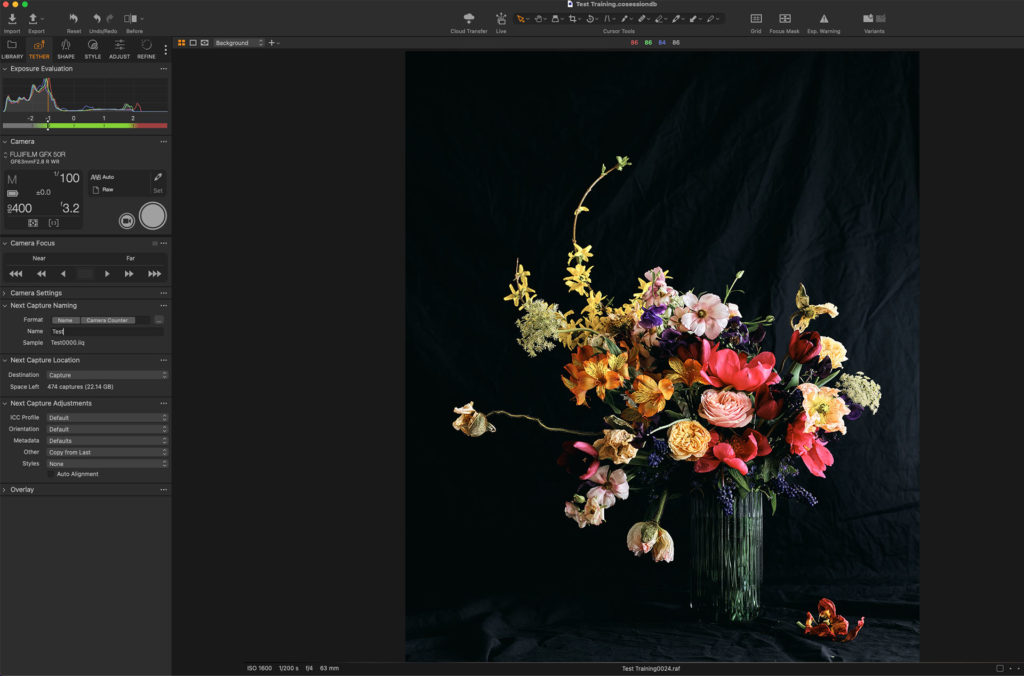 This tool tab contains all the necessary tools to control your camera, set file naming, and control how image adjustments are handled.
Learn how to improve your tethered workflow here
Use Composition Mode to save storage when setting up
Sometimes when you are setting up the shot, you are capturing many images you don't necessarily want to keep. Therefore, you can enable Composition Mode, which only keeps the last capture stored on disc. You can enable it in the Camera menu or you can add the Composition Mode control to you tool bar for easier access.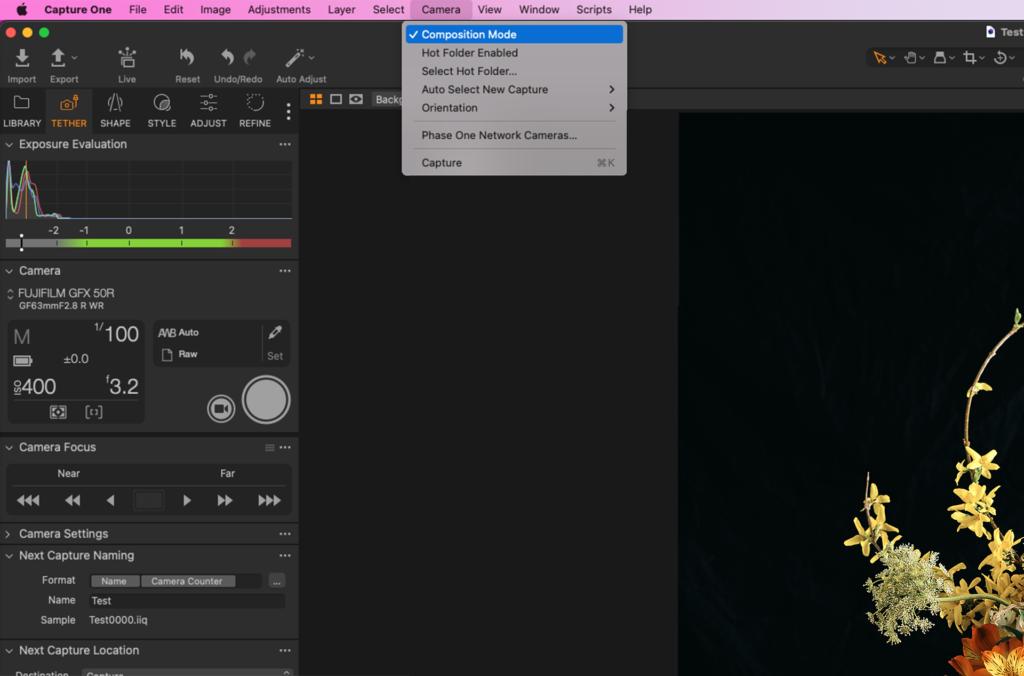 Warning signs are overlaid in the Viewer to make sure you are aware that Composition Mode is activated. Find the composition mode control in the toolbar.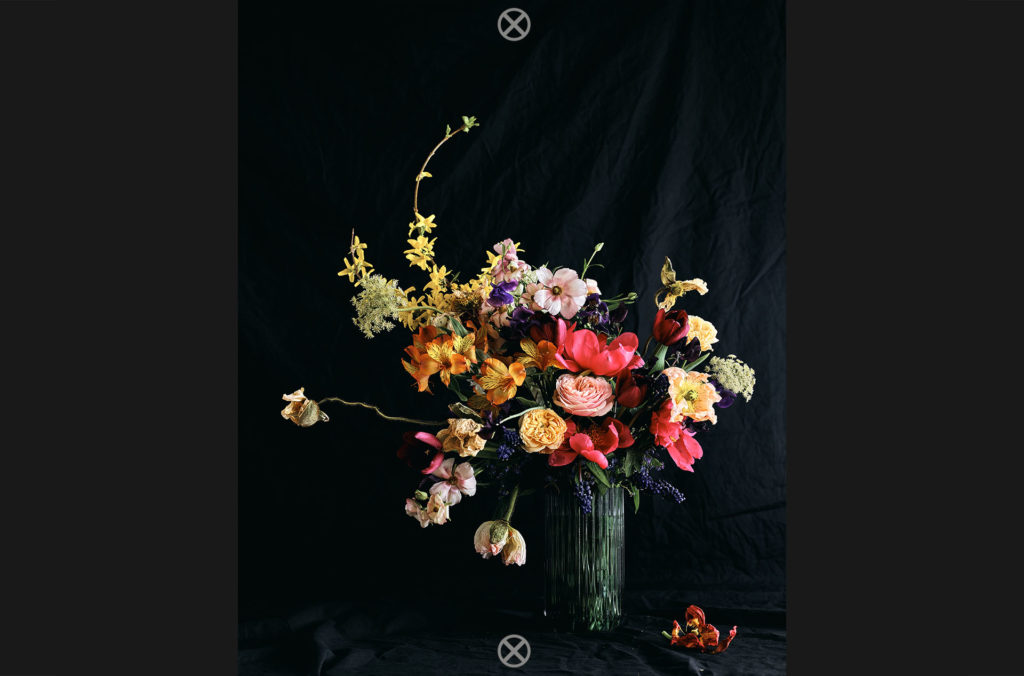 Control your camera remotely and get Live View
One of the strengths of working with Capture One Pro and a tethered camera is Live View and remote focus control. It is a huge compositional aid to be able to have a high quality live image as you are used to on the camera's LCD screen, shown in Capture One Pro. Start Live View by clicking on this icon in the Camera Tool.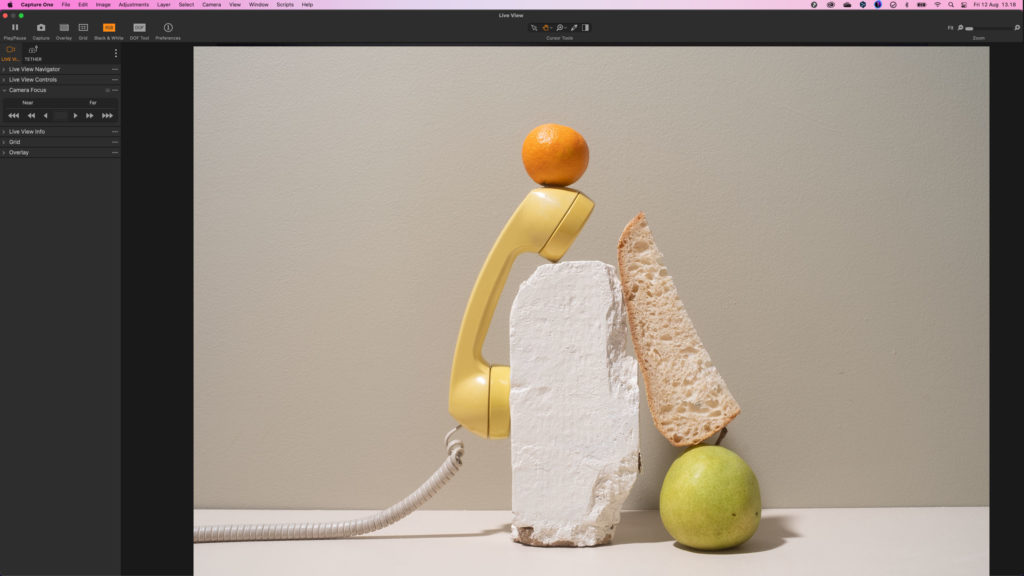 Use the controls in the Live View window to focus the camera accurately and aid your composition.
Compose your images accurately with the Overlay function
Another compositional aid is the overlay function. This is available directly in the Viewer and also in Live View. It allows you to super impose any image over the top of your current image. This could be a layout to fit a magazine cover, for example, or to help in capturing a series of similar images.
Extended collaboration with Capture One Live
With the introduction of Capture One Live, you can now easily collaborate with people on and off set.
Shooting fashion week in Milan for a client in Tokyo? Or maybe your art director couldn't make it to the set at the last minute? Too many people crowding the workspace in the studio? Capture One Live makes collaboration – both in real-time and post-shoot – faster and easier as it allows people working on or off the set to view and rate images as the shoot takes place.
By sharing a link from Capture One Live with clients and teams anywhere in the world, they can view, comment, rate, and color tag photos directly on any device immediately or on the timeline you set with longer post-shoot collaboration.
Find out how to use Capture One Live here.
RELATED: 8 reasons to use Capture One Live on your next shoot
More collaboration and remote shooting using Capture Pilot
Capture Pilot for iOS and web-enabled devices is another alternative for people looking for better ways of collaborating on a production. Capture Pilot allows additional people working on the set to view and rate images as the shoot takes place. Photographers can also use Capture Pilot as a remote capture device enabling control of the basic camera parameters. 
Like Capture One Live you can use Capture Pilot to keep clients away from your main capture station or as an extra preview for yourself and your subject. All you need is for your iOS device and Capture station to be on the same network. If you don't have access to an apple device then any web-enabled device can work with Capture Pilot, but with less functionality. 
I hope this summary has inspired you to try our feature-packed tethered capture solution.  Find the full list of compatible cameras for tethered capture here. 
All the best,
Niels
The Image Quality Professor
The digital pioneer, Niels V. Knudsen, is Phase One's Image Quality Professor and founder of the IQP blog. Moreover, he is responsible for breakthrough advancements in image quality both in Phase One's medium format camera systems and in Capture One Pro.