NOTE: This article discusses an outdated version of Capture One. To learn more about our latest version, click here.
When working in Capture One Pro 7 you now have 2 different methods of organizing your images and image adjustments:
Sessions
Catalogs
In previous generations of Capture One, you have only had the option of using Sessions, but with the introduction of Capture One Pro 7, you now also have the possibility of using Catalogs for organizing your images.
Why the two different methods?
Capture One originally started out as a RAW studio capture and workflow solution where you would always shoot tethered. The Sessions approach to organizing your work is specifically designed to meet the needs of such a workflow.
If you create a new session for each new job, Capture One will automatically create a folder structure to hold all the items for that shoot including RAW files, image adjustments, previews as well as an output folder for the processed images. At the end of a shoot, the Session folder will contain everything and can easily be moved from the computer in the studio to another computer for further editing or more permanent archiving.
Catalogs are the new organizing alternative in Capture One Pro 7. Catalogs have been designed to meet the needs of photography professionals and enthusiasts who shoot a lot of different images and want to easily search among a large number of images.  Catalogs also provide effective tools for organizing images into Projects and Albums based on themes, projects, specific customers etc. or for easier showcasing of for instance, a portfolio.
Catalogs in Capture One Pro 7 are very flexible and they even come with a great feature enabling you to display and edit files saved on file servers or external hard drives that may not be accessible at all times. This unique feature allows you to travel with a large Catalog, view the images and perform adjustments even though the images are archived on a hard drive at your home or your studio.
Below, you will find an overview of the advantages and challenges of using the different methods of organizing your images in Capture One Pro 7.
1)  You create a new Session for each new job / project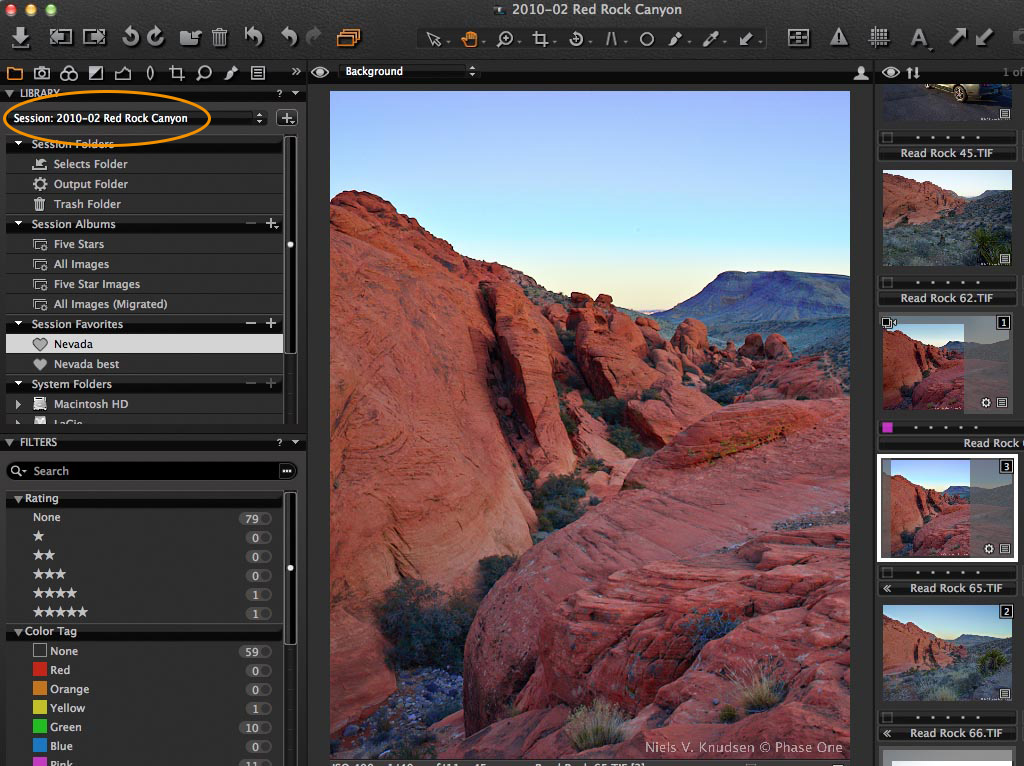 Advantages:
All inclusive folder structure for easy archiving.
All inclusive folder structure that can easily be moved to other computers including all adjustments and previews.
Automatic Capture Folder for collecting tethered captures.
Automatic Output Folder for the processed images.
The Trash Folder and Selects Folder allow you to easily nail down the important images.
No risk of mixing images from different shoots or clients.
Full search capability among images in a Session.
Easily move single images to another computer including adjustments by using the .EIP format.
Limitations:
No search capability between images in different Sessions
2) You use the Default Session and just browse to where ever you have placed your raw files
Advantages:
You can place your images in whatever file structure that works for you.
You can always move your image folders to other locations and they will still contain all adjustments and previews for Capture One.
You don't need to know all the details of how a Session works.
Limitations:
No full search capability as only the images in the Session Folders or Session Favorite Folders can be searched and filtered.
Capture One generates subfolders in all the folders you are using to hold the adjustments and the previews. This can be confusing when looking through the file system.
Processed images will always be added to the default Session Output Folder.
You don't really take advantage of the Sessions concept.
Your Session Trash Folder and Output Folder may contain images from different clients.
3) You use Catalogs to organize your images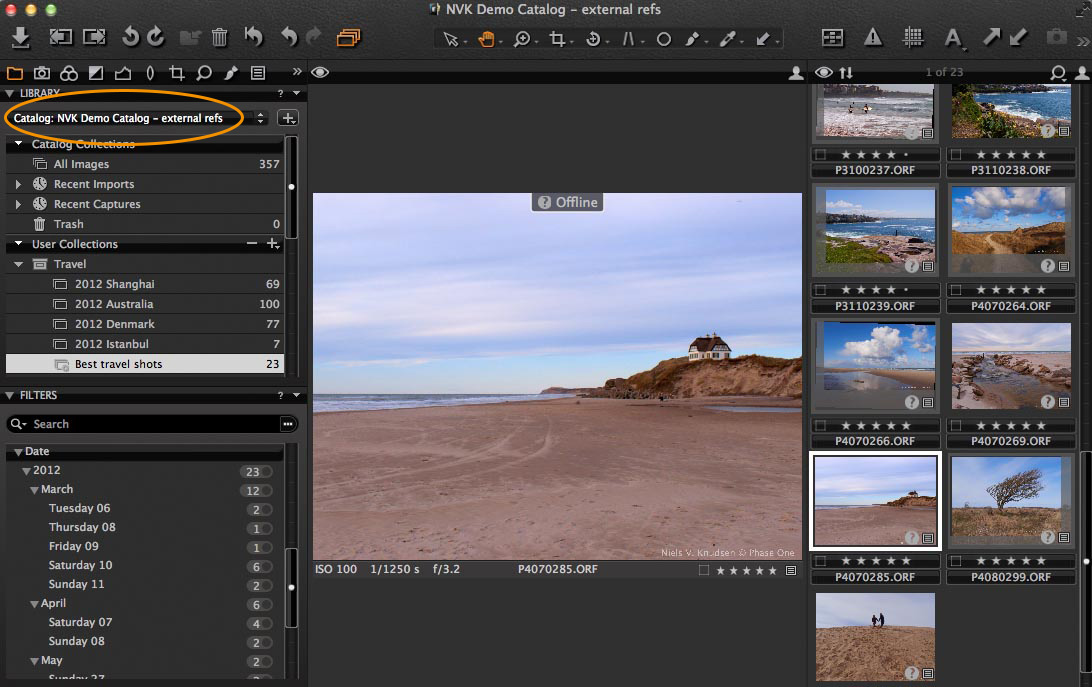 Advantages:
No restrictions on where to place your raw files.
Raw files can even be placed on slow network drives with minimum impact on performance as previews and settings are kept inside the Catalog.
The Catalog database automatically keeps track of the location of all the images in the Catalog.
Full search capability among all the images in a Catalog.
Powerful organization possibilities let you organize your images into Projects, Groups and Albums.
Use Smart Albums when organizing images according to specific criteria.  These albums are always updated as a result of a filtering process.
View and edit files even though they are physically located on an inaccessible or offline device.
If placed on a shared drive, a Catalog can be viewed by several people on different computers and only be changed by one person at the same time.
The folder for processed images can be placed anywhere.
Limitations:
All images have to be imported in order for the Catalog to register the images, the physical location and to generate preview files.
Deleting images is not as straightforward as in a Session. If you delete an image in an album, you just remove the reference to that image in that album. Remember that the same image can be referenced in multiple albums.
Moving a few images to another computer including their settings requires an Export of the originals which will copy the files to an Export Folder including the settings and previews. This folder can then be moved to the other computer.
In future tips on the blog, I will dig deeper into each of the 3 methods of organizing images.
All the best,
Niels
Learn more about Capture One Pro 7
Download the free 60 days trial
The Image Quality Professor
The digital pioneer, Niels V. Knudsen, is Phase One's Image Quality Professor and founder of the IQP blog. Moreover, he is responsible for breakthrough advancements in image quality both in Phase One's medium format camera systems and in Capture One Pro.