For as long as I can remember I've been drawn to fairytales and fantasy. This love for all things otherworldly slips into my pictures, particularly those that I approach as personal work. Simply put, whenever I have 100% creative control. I approach this pictures as a fine art piece, a moment captured from a story.
When I was in L.A. this summer, Phase One kindly sent out a camera. It was a 645DF body with an IQ250 digital back (for the low light capabilities) and a couple of lenses, the 80mm and the 45mm. I tested both and decided that the 80mm felt the most suited to the images I wanted to create. That leads me on to my next story, creating the "Siren" series.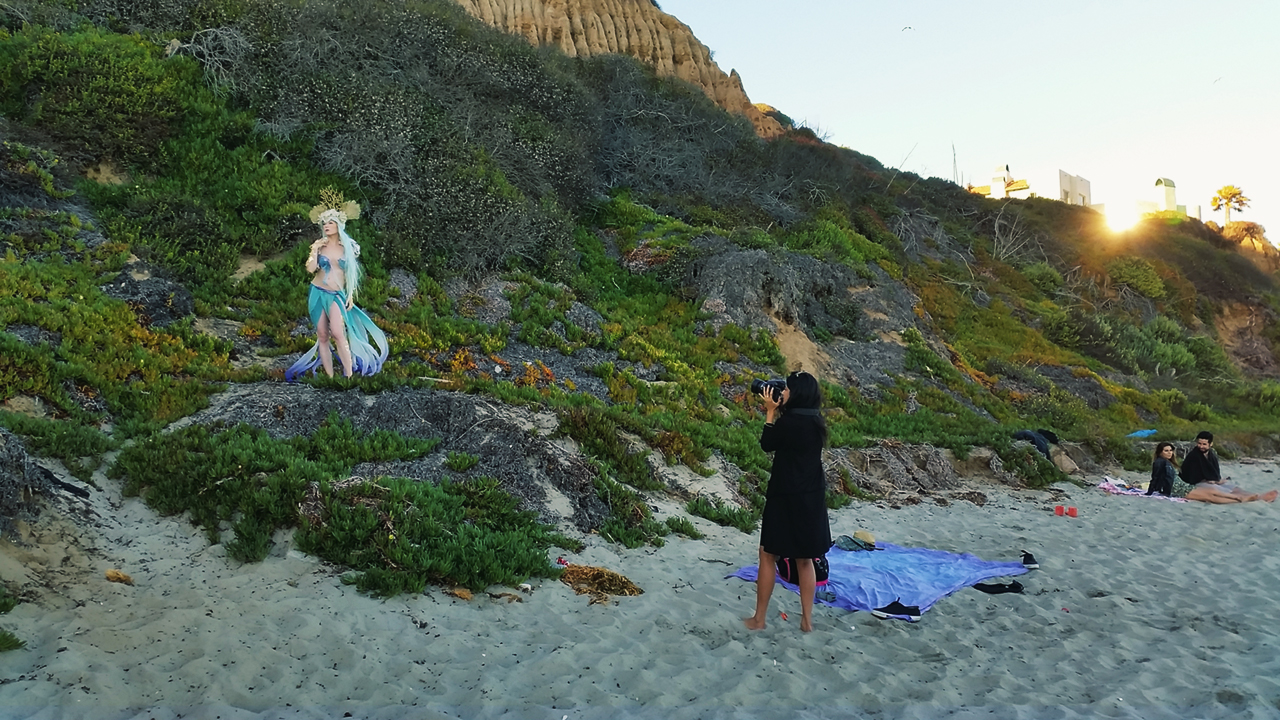 This was my first time to LA, however, thanks to the internet and Instagram in particular, I already had a couple of creatives in mind whom I wanted to work with. It was simply a case of reaching out and getting people on board. I always find that no matter where I am in the world the creative network is small, where everyone knows each other and LA was no exception.
I pitched the idea to Jessica Dru (the model) and Vanessa (the designer + assistant), both got on board and both women miraculously managed to give me some time despite their busy schedules! Caley of Miss G Designs, the headdress designer, loaned me some pieces especially for the shoot and Jessica bought along an incredibly lovely (and heavy!) shell mantle on loan to her from designer, Fortunate Nora. I didn't feel the need to involve a makeup or hair artist, as Jessica assured me she was quite competent at applying her own makeup and for the hair, I'd already prepped a wig that I wanted to use.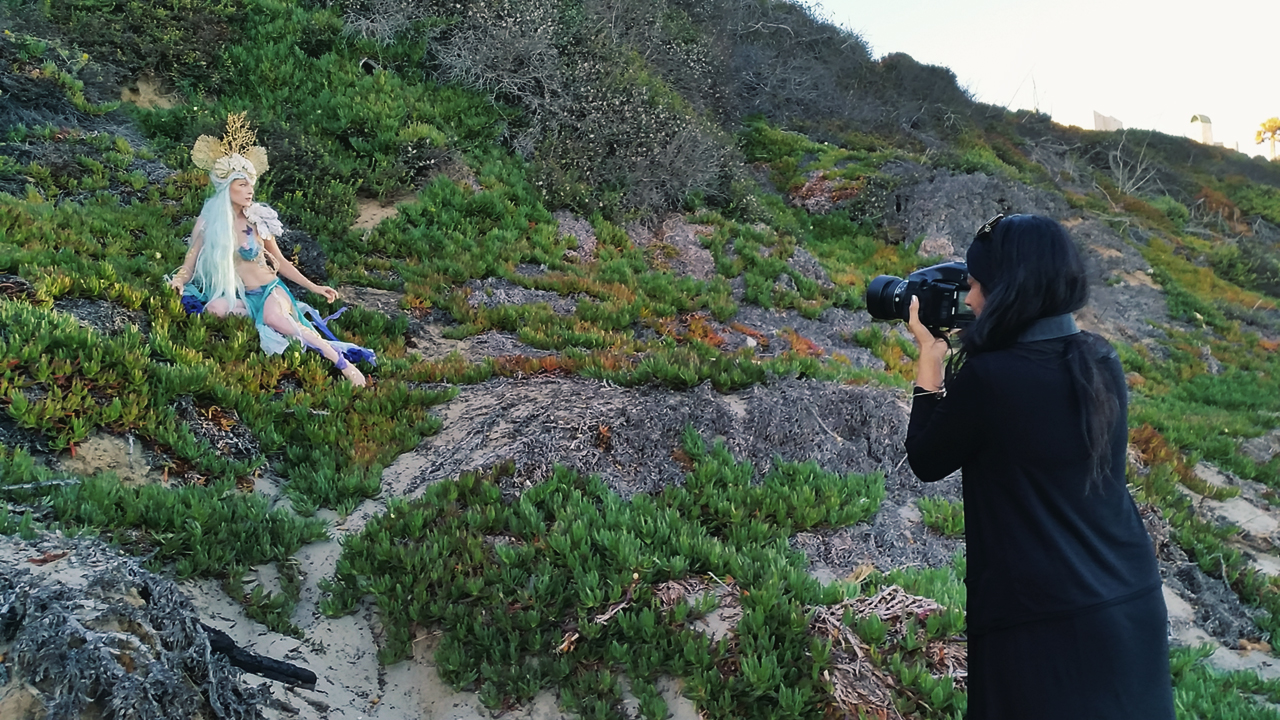 I often shoot in the late evenings, particularly twilight, using the last of the setting sun's soft golden light. I thought this would be a great opportunity to see how well the camera dealt with low natural light.
It was my first time using a Phase One on location and I can honestly say, I was quite impressed! The camera focused incredibly well, this is notable as I was quite paranoid about it. Since I only had this one opportunity to capture everything with this team and limited lighting, getting unfocused images was not an option. In the end it turned out that I was worried about nothing. I would often focus and refocus before capturing a moment and as a result nearly all of my pictures were sharp and in focus.
I often shoot around the subject to give myself options in case I wanted to expand the image later. Shooting with a Phase One was fairly straight forward and when it came to piecing the image together later in Photoshop I enjoyed being able to zoom in and select easily.
Post production
For this series, I began my post process in Capture One. After going through the images, and making selects using the star ratings, I enjoyed a little colour play exploring the various directions that the colour balance could go in with various tones. Since the Phase One retains so much information this part was quite fun as I could push the colours much further than if I had shot with my usual camera.
For these images I used the colour balance adjustments, using the 3-way colour wheels adjusting the shadow, midtones, and highlights.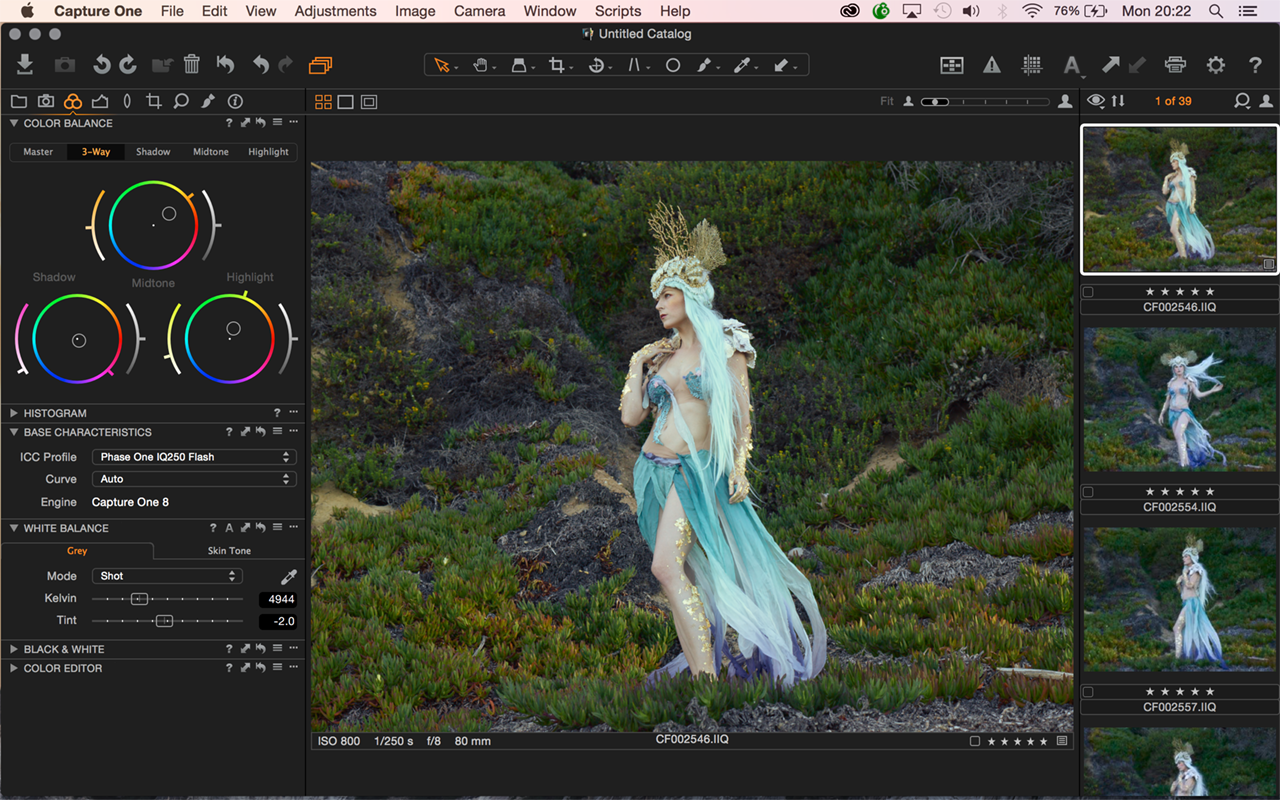 I also adjusted the Exposure, High Dynamic Range, Clarity and Curves adjustments. Capture One offers a lot by way of colour toning and layers too but since I had some compositing to do in Photoshop I focused on getting a base colour that I could then build up from.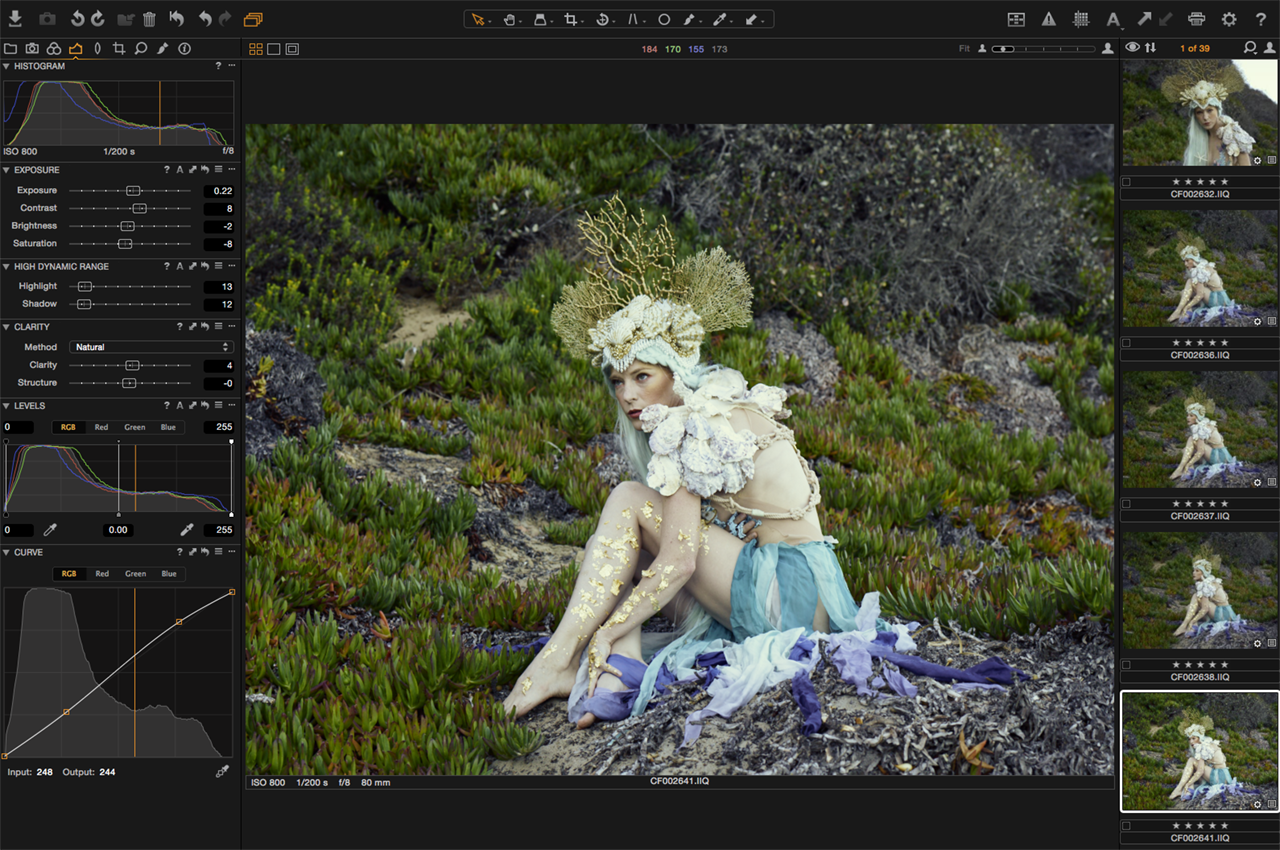 Once I was happy with the way the images looked, I copied and applied the adjustments across the set. This is such a useful function in the program. It allowed me to quickly get a particular colour scheme replicated across several pictures, which was perfect for my workflow. I then exported the pictures, saving them as PSDs and selected the "Open in Photoshop" prompt.
Once the images were open in Photoshop, I began the rest of the editing process. This usually starts off with image composition. Anyone who follows my work knows that I like to add and remove elements to create a unique picture, often bringing together several images to create one final shot. I then follow that up with dodge & burn and colour toning in a more controlled setting, using lots of layers, textures, and layer masks to create a depth of colour toning that is in keeping with my aesthetic.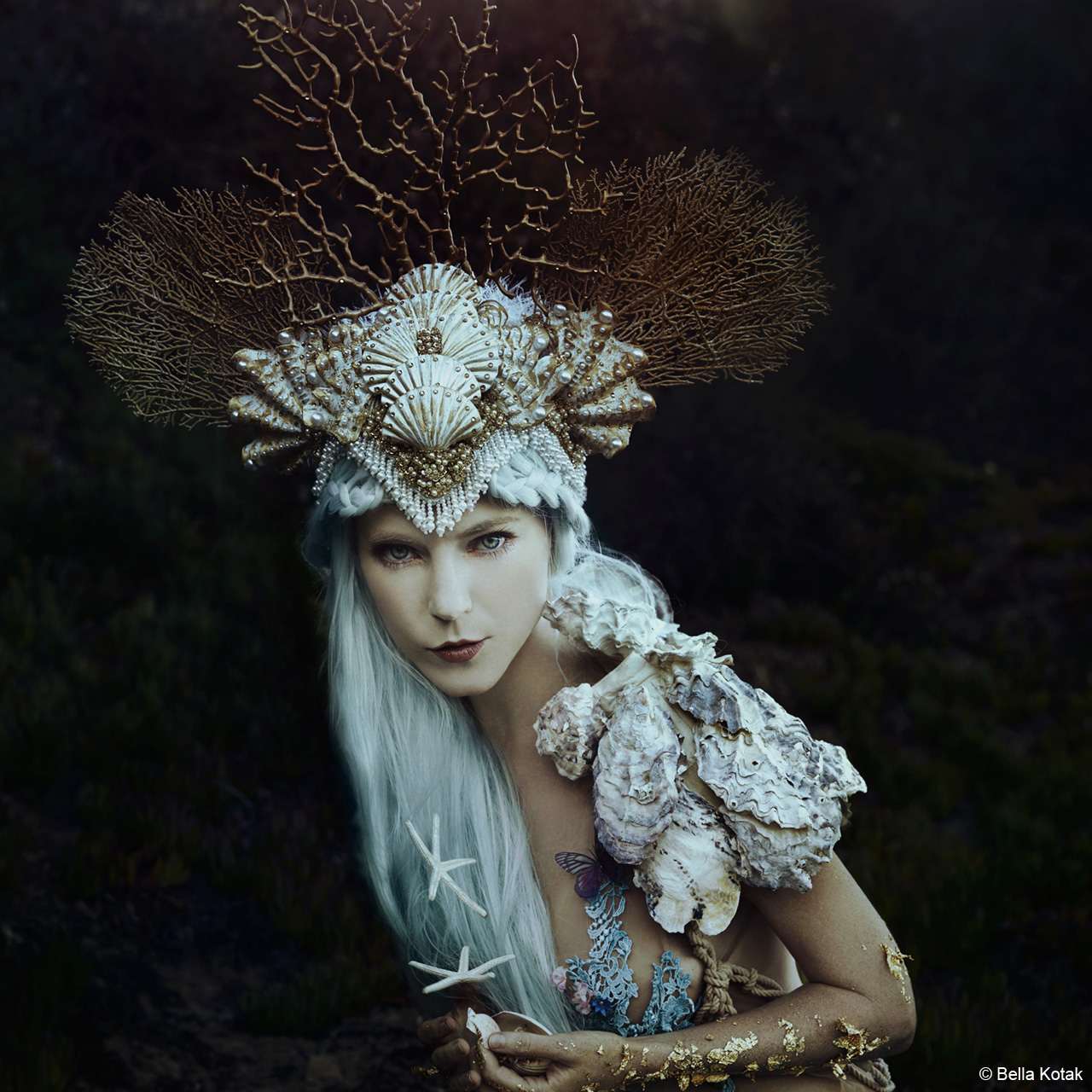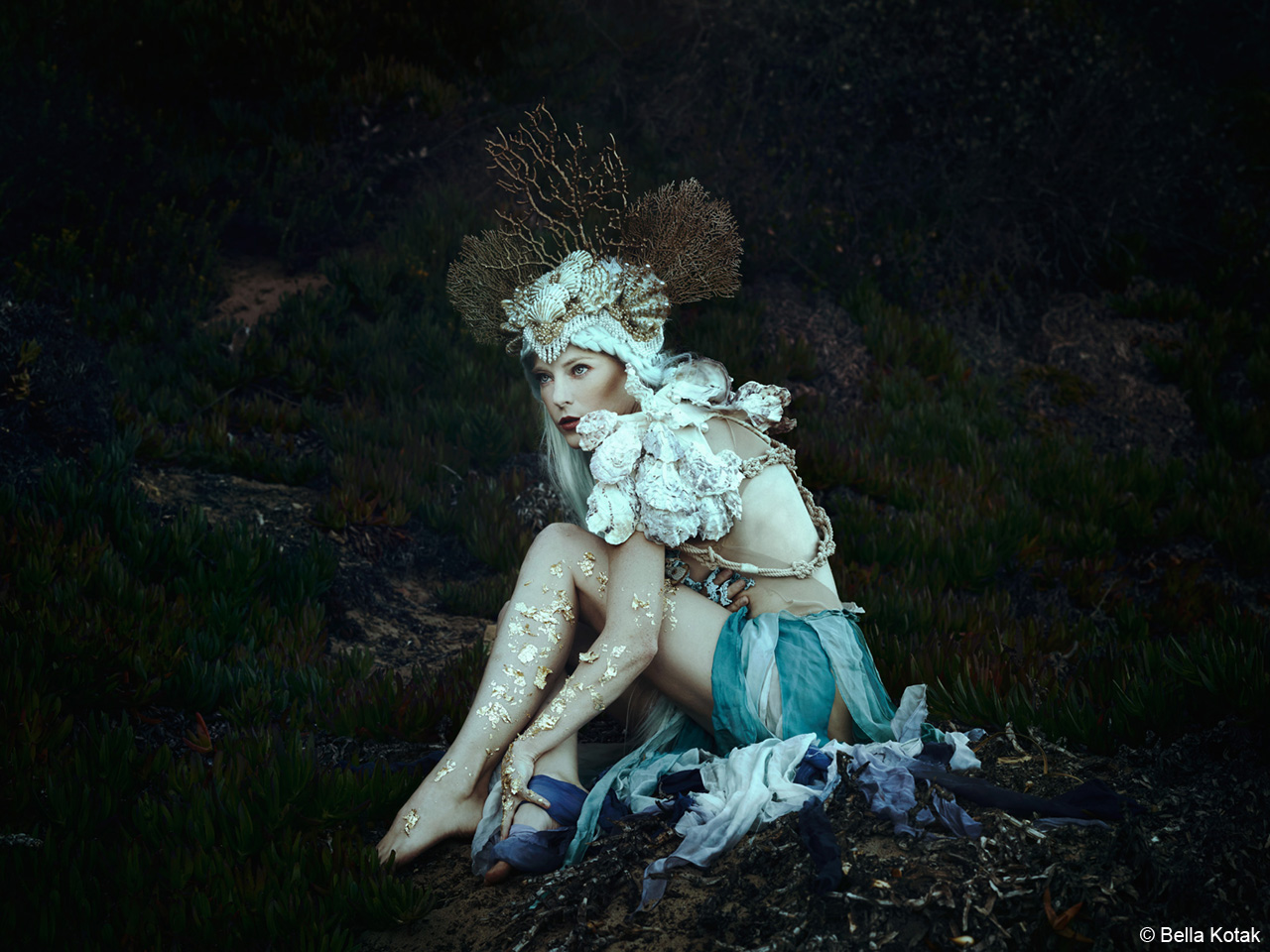 I can honestly say, I truly loved creating with a Phase One and feel that it took my work to another level. If possible, I could happily use it for every picture I created. I enjoyed the size of the picture, knowing that I could print large scale prints from it.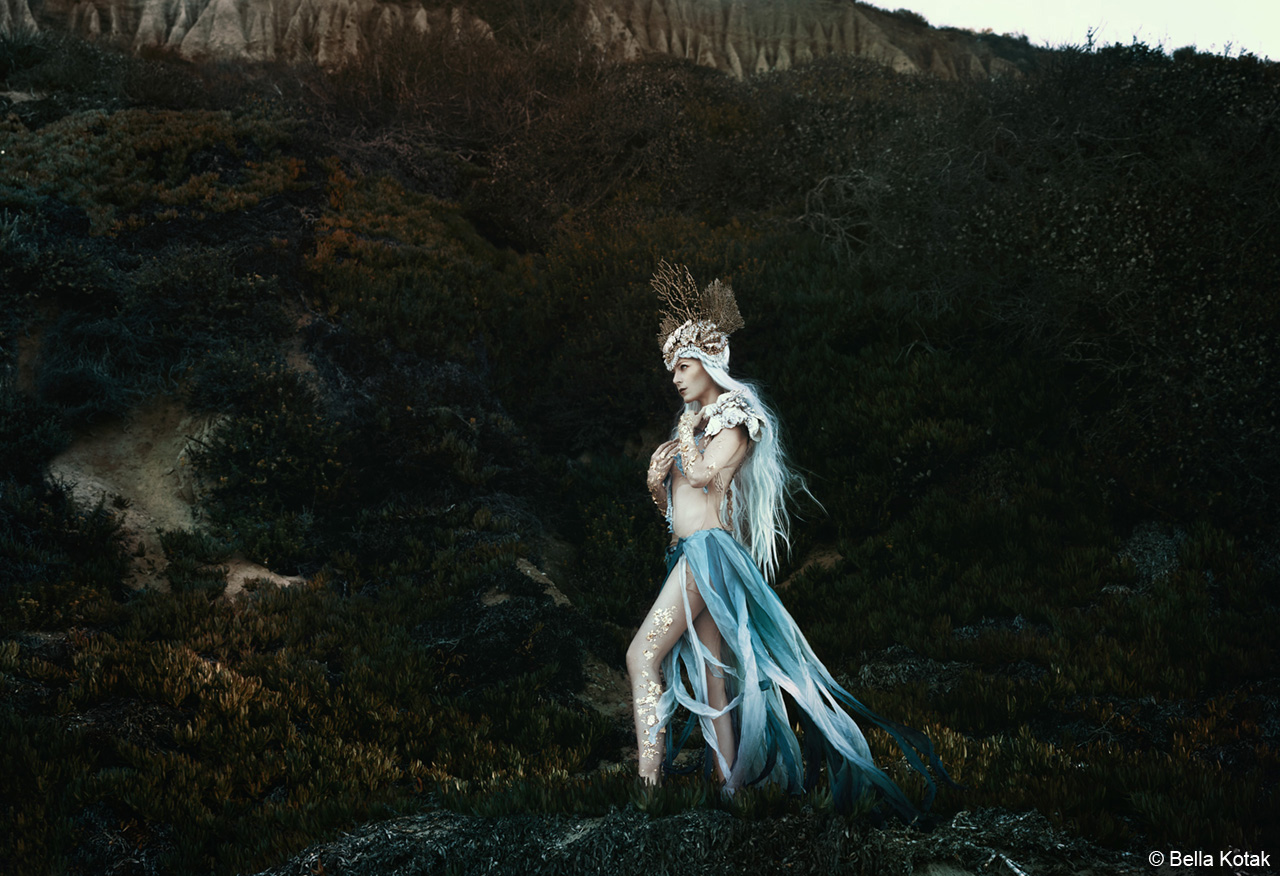 I enjoyed the incredible clarity that comes from a perfectly focused picture. I was particularly taken by the lovely detail that is retained in the eyes of the subject. And lastly, I loved how I could push the colour toning in so many directions. It really does make for a versatile camera and I can see why Phase One's are used by so many of the industry's elite. I've already started saving up for mine!
Best regards,
Bella
www.bellakotak.com