In last week's tip, I talked about the different ways of storing images in Capture One Pro 7 with either Sessions or Catalogs and the advantages of both.
This week, I will concentrate fully on Catalogs and the two different methods of storing images. These are:
Fully Managed Image Files (inside Catalog)
Referenced Image Files (current location)
Managed files are images that are stored inside the Catalog file. Referenced image files are those which exist outside of the Catalog file.
When you create a new and empty Catalog in Capture One Pro 7, regardless of whether you choose to have Managed or Referenced images, a Catalog file must be created.
Choosing 'New Catalog' in the file menu of Capture One Pro 7 will open this dialogue:

Here, you can choose a name for the Catalog and where it should be stored. By default, it is placed in the 'Pictures' folder on a Mac and in the 'My Pictures' folder on a PC, but you can specify any location.
The Catalog file is essentially the database for your image collection. It tracks the location of images and holds information about them – for example, metadata and adjustment settings. If you use Fully Managed Image Files then they will also be stored in this Catalog file. Once created it will appear like this: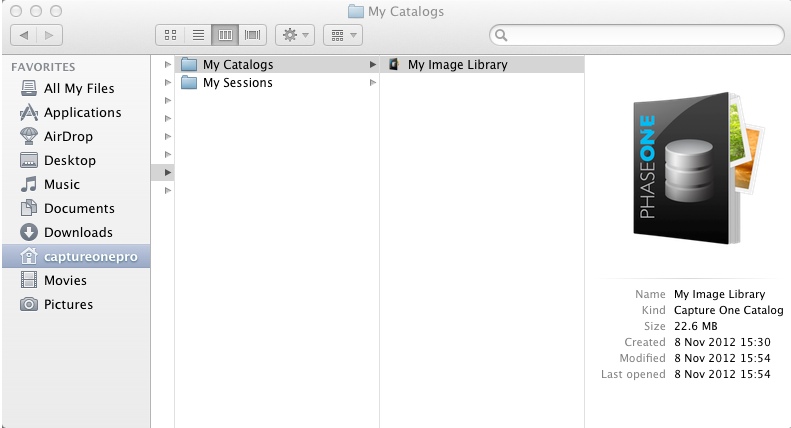 Opening a Catalog in Capture One Pro 7 is easy – just double-click on it. You can also have several Catalogs open at once, if you wish.
Once you have set up your Catalog, you can now decide whether to use Fully Managed or Referenced images, or perhaps even a combination of both.
Importing into the Catalog.
For your Catalog to recognize an image, it must be imported into it, via the Import dialog. This ensures the database is kept up-to-date and Capture One Pro 7 knows how to locate the files. It is within the Import dialog that you can choose to have Managed or Referenced image files.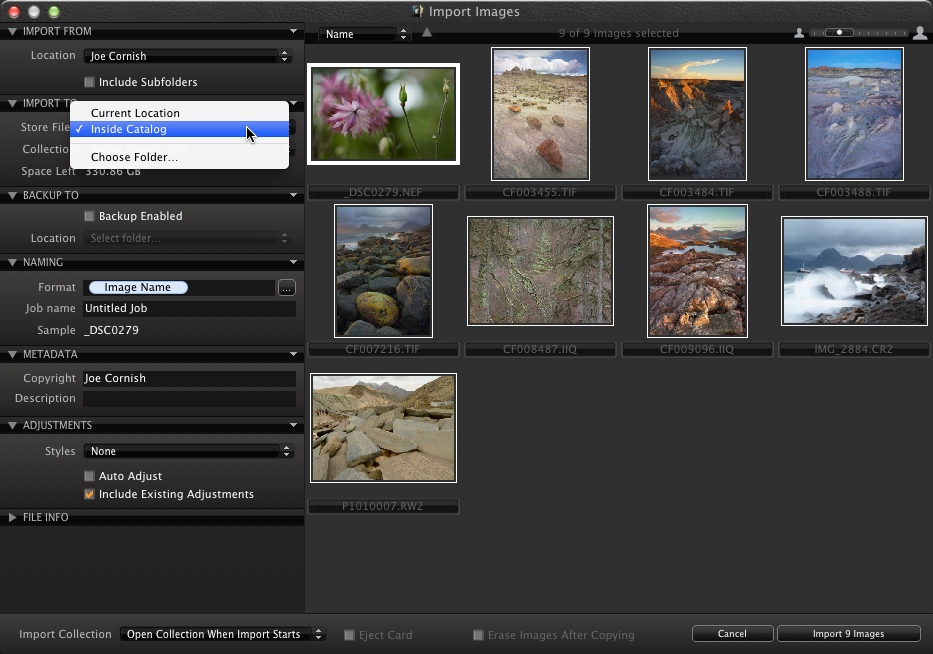 In the 'Import To' section of the Import dialogue, choosing 'Inside Catalog' will copy and place the images directly inside the Catalog file. These are Fully Managed Image Files.
Choosing 'Current Location' will leave the image files where they are. These are Referenced Image Files.
The 'Choose Folder' option is useful for importing images from a memory card and copying them to another chosen storage area. These would also be Referenced Image Files as they exist outside the Catalog file.
Fully Managed Image Files
A Catalog with Fully Managed Image Files is very simple to organize and maintain as you don't have to think about where to place or store the images. The Catalog takes care of that!
Even though the original files are stored insidethe Catalog file, they are not inaccessible or completely hidden from view. In the Mac OSX Finder, right-click on the Catalog file and choose 'Show Package Contents'.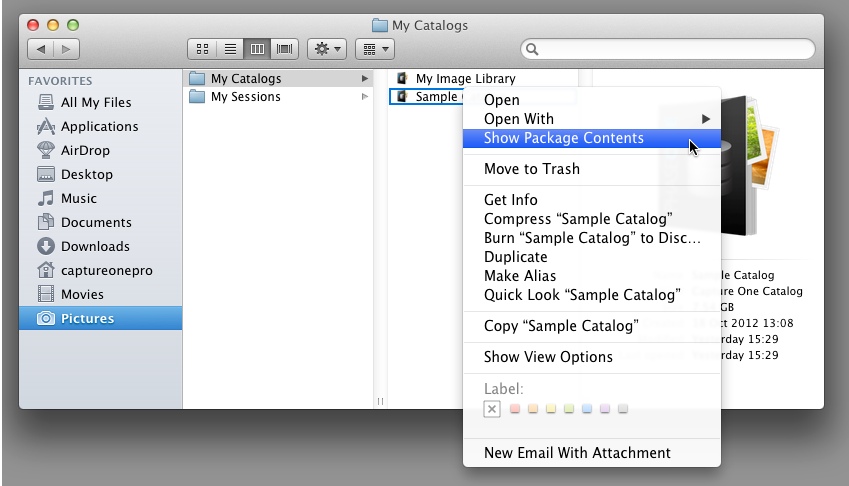 The following secondary window will appear: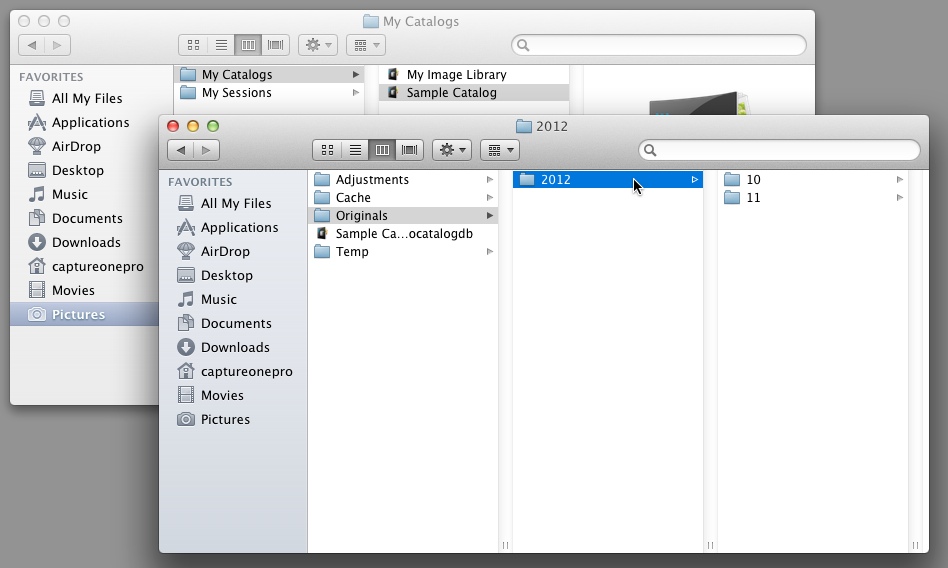 This shows that your original files are stored safely in the folder marked 'Originals' and organized by year / month and date imported into Capture One Pro 7.
However!  Making any changes into this structure will render the Catalog unreadable or damaged.
A Catalog with Fully Managed Image Files is very easy to backup, as it is simply one file to duplicate and sharing is also quite simple! If multiple users have access to the Catalog then simple mechanisms are in place to prevent damage.
As opening a Catalog in Capture One Pro 7 is like opening a document, you could have different Catalogs for different clients, or even types of photography. Remember though, that any search and filtering would be limited to the currently open Catalog.
Referenced Image Files
If you prefer to store your image files outside of the Catalog file, on any other storage device, then your images will be Referenced Image Files. This way you can also retain an existing folder structure.
Therefore, the images will not be copied and moved inside the Catalog file but remain in their existing location, or another location if you chose to do so in the Import Window.
Using this method means you have no limitation on your storage as you can place the image on very large external devices (for example a RAID or other kind of server) or even across multiple storage devices.
Remember also that the Catalog file and images don't have to be on the same location. Therefore the Catalog file can be placed on your laptop while the images are on your external storage.
The Catalog file holds a large high-quality Preview of every image in your database so you can still browse your entire Catalog even when you don't have access to the external storage.
You can even make image adjustments, edit metadata, and change the virtual organization!
Using the Folders area in the Library tool
The location of referenced images is shown in the Folders area of the Library Tool and can be managed here. By default, only the root of the storage and final folder location are shown. To see the complete hierarchy, right click in the Folders area and choose, 'Show Folders Hierarchy'. This will reveal the complete path from the storage to the imported folder.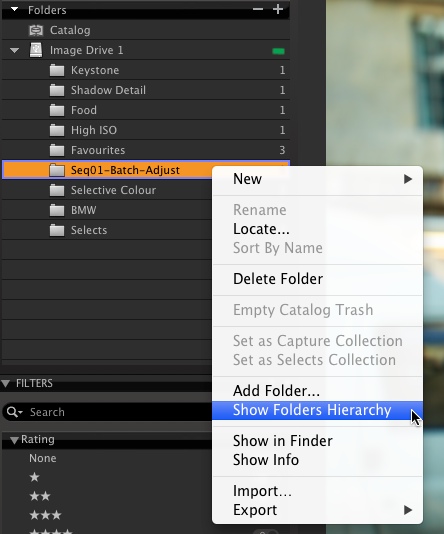 Here, you can also add a Folder to the system, by clicking on the '+' icon for the Catalog to recognize. This is not a facility to add images to the catalog (the Import dialogue must always be used for that) but for making a new empty folder to move images too.
Images can easily be dragged and dropped between folders, but make sure you do this within Capture One Pro 7 to keep the Catalog database aware of the changes.
Combining Managed and Referenced Image Files
Your Catalog can also contain a combination of managed and referenced files. If your Catalog is comprised of referenced image files but you would like to go 'on the road' with the full raw data then simply drag and drop any images onto the Catalog icon in the Folders area. In the example below, it will move the file from the external storage to the catalog file itself.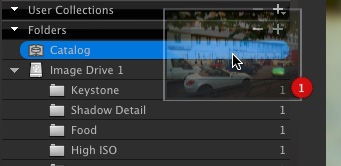 Images can also be moved in the same way from the Catalog back to a storage location.
This is another good reason why you might want to add a new folder in the Folders area. For example you can shoot tethered on location into the Catalog file itself and then move these images to your external storage when you are back in the studio or office.
All the best,
Niels
Other Resources
Phase One's YouTube Channel has plenty of videos on the subject of Catalogs.
Offline Browsing
http://www.youtube.com/watch?v=8IgzqVLtuoE
Catalogs In-depth
http://www.youtube.com/watch?v=H1uj5ytvklo
Working with Referenced Images
http://www.youtube.com/watch?v=HfJHSizFcyE
The Image Quality Professor
The digital pioneer, Niels V. Knudsen, is Phase One's Image Quality Professor and founder of the IQP blog. Moreover, he is responsible for breakthrough advancements in image quality both in Phase One's medium format camera systems and in Capture One Pro.