By using the Adjustments Layers Tool in Capture One Pro 7 you can do image adjustments in up to 10 separate adjustments layers.
An adjustment in an adjustments layer will only be applied to the image, where an adjustments mask has been created. You create and adjust a mask for an adjustments layer by using the cursor tools named: Draw Mask, Erase Mask and Gradient Mask.
You can use simple shortcuts to change between the different mask cursor tools and to show the mask in a layer.
The image to the left is without any adjustments.  The image to the right has been optimized in Capture One Pro 7 primarily by using the Adjustment Layers Tool. Three adjustments layers have been used:
One layer to brighten up the cliffs to the left, a second layer to bring more contrast in the waterfall and to emphasize the sunbeam through the mist and a third layer to brighten the surface of the river.  Finally the overall white balance has also been tweaked.
Once you have selected one of the mask cursor tools you can use the keyboard shortcuts to switch between them:
(b) for Draw Mask
(e) for Erase Mask
(g) for Gradient Mask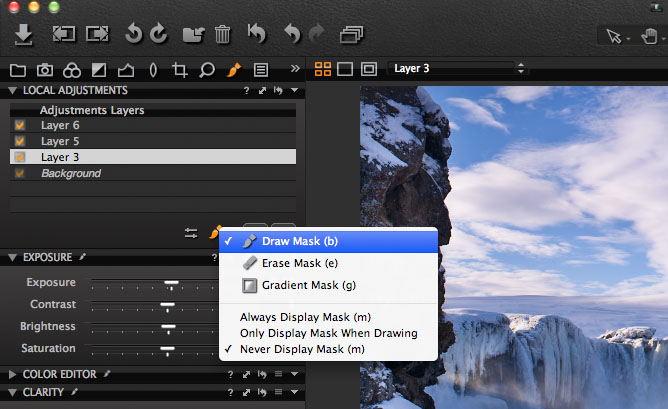 To control how you want to see your masks, you can choose the options below in the dropdown menu for the mask cursor tools:
Always Display Mask (m)
Only Display Mask when Drawing
Never Display Mask (m)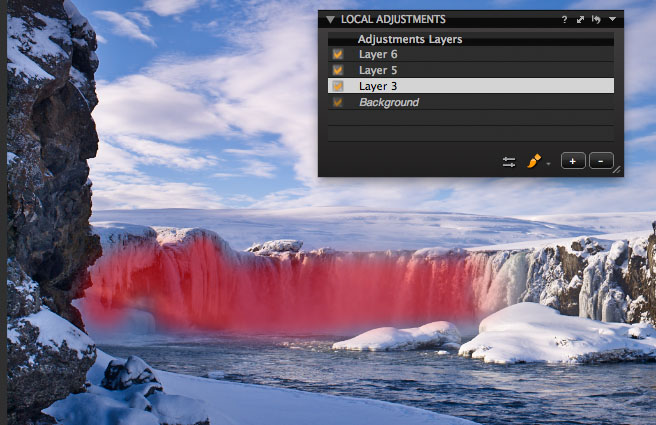 Once you have selected an adjustment layer in the layer list you can change between "Always Display Mask" and "Never Display Mask by simply using the keyboard shortcut (m).
The shortcuts explained here are using plain letters, no Cmd or Ctrl combinations.
All the best,
Niels
The Image Quality Professor
The digital pioneer, Niels V. Knudsen, is Phase One's Image Quality Professor and founder of the IQP blog. Moreover, he is responsible for breakthrough advancements in image quality both in Phase One's medium format camera systems and in Capture One Pro.