NOTE: This article discusses an outdated version of Capture One. To learn more about our latest version, click here.
All image sensors used in digital cameras, regardless of make, model, manufacture or intended application, will have a number of defective pixels. This is not a problem, however, as these errors are mapped and accounted for when the camera is manufactured.
Special algorithms then take care of replacing the invalid content of the defective pixels so the image appears as though the sensor is perfect.
When do hot pixels occur then?
When exposing an image at longer exposure times, from around a second and longer, a varying number of pixels may act differently from those around it and display much larger values than the average pixels. These pixels are called "hot pixels".
Why do hot pixels occur?
The number of hot pixels is close related to the length of the exposure and the temperature of the sensor.  In Capture One Pro 7 these hot pixels will typically be removed automatically.
It happens that a sensor, after a period of time, may start showing some more stubborn or seemingly permanent hot pixels, even in images shot at short exposure times.
This happened for one of my cameras after it had captured around 15000 images. With another camera however, it happened after just a few hundred images.  This change can be caused by cosmic background radiation (EMR) hitting a pixel on the sensor and, unfortunately, it is simply not something you can avoid.
If you mainly shoot in bright daylight you may never notice these defective pixels. However, if you have a really dark area in your image, it suddenly becomes quite easy to spot such pixels. But not to worry, with Capture One Pro 7 it is very easy to remove such hot pixels.
How to fix these single pixels behaving strangely
In the details Tool tab in Capture One Pro 7 you'll find the Noise Reduction Tool. The third slider in the Noise Reduction Tool is named 'Single Pixel'.  This is a tool specially designed to deal with single pixels behaving strangely, which typically happens with higher ISO settings and at longer exposure times.
Capture One Pro 7 will automatically apply a certain amount of Single Pixel noise reduction depending on the exposure time and ISO.  Normally when using a camera at low ISO in daylight it will be set to a value of '0'.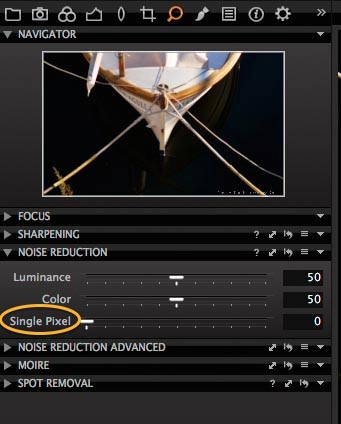 The Noise Reduction Tool in Capture One Pro 7 with the
default settingsfor a low ISO image exposed in daylight.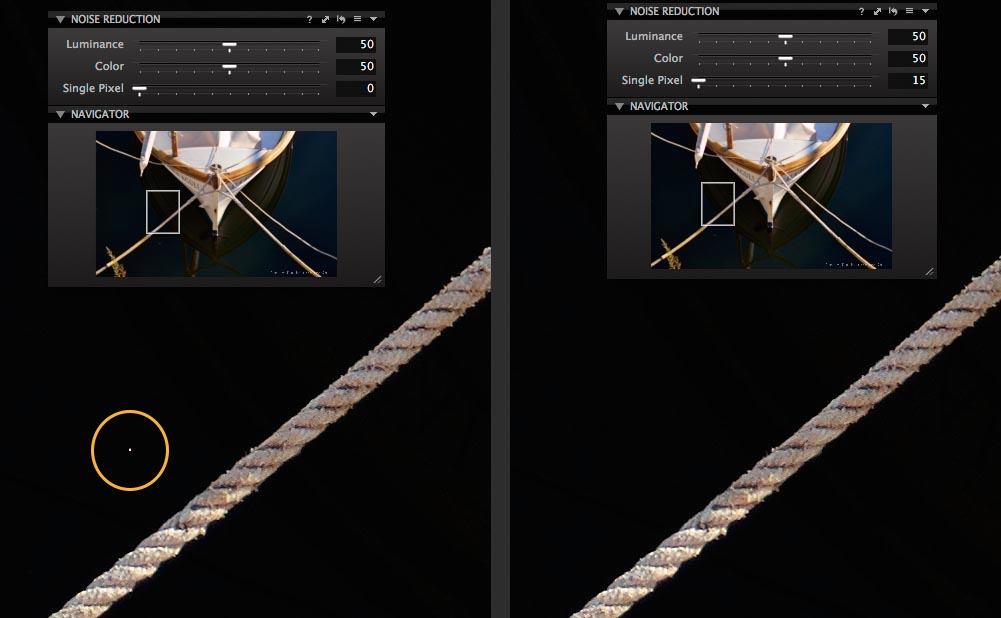 When zooming into the above image, I noticed a permanent hot pixel. This was very easy to remove though, by using the Single Pixel slider in the Noise Reduction Tool. On the image to the left the Single Pixel noise slider is set to '0'.  In the image to the right I moved the slider until the hot pixel disappeared, which in this case happened at a value of '15'.
The algorithm behind the tool is designed so it can distinguish between defective pixels, like hot pixels, and real image information such as tiny light spots and reflections. If we zoom into the water surface we see some real image information in the form of small reflections. As you can see, using the single pixel noise slider doesn't remove the true optical reflections, regardless of their size.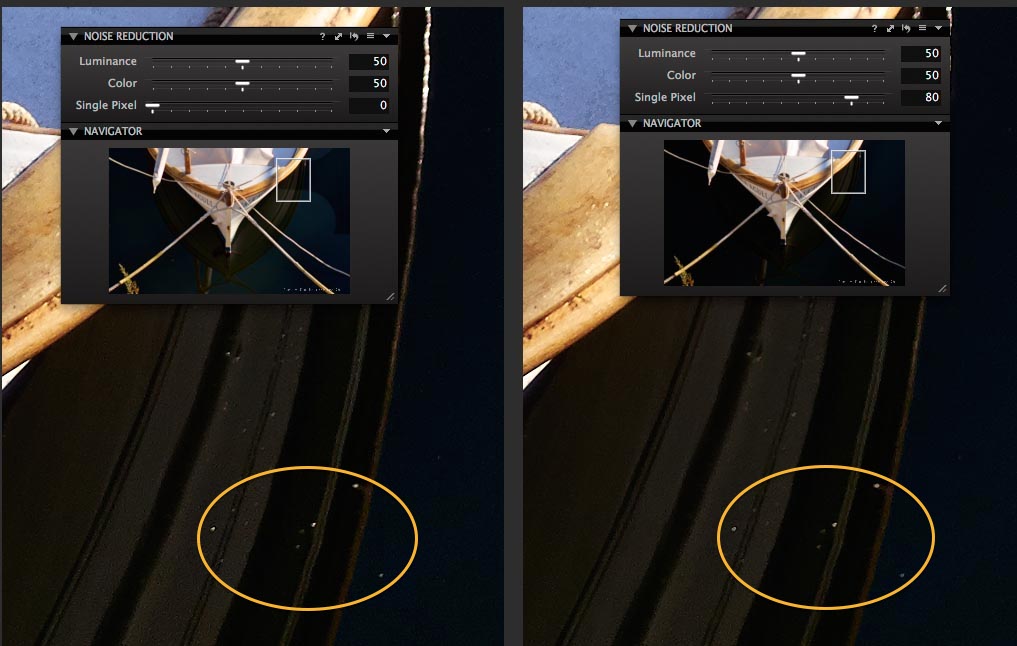 Single pixel = '0'                                                                Single Pixel = '80'
Real image information is maintained even with the Single Pixel noise slider set to '80'.
The tool works like this: For values between '1' and around '50', it removes primarily single pixel defects but does it with more and more strength. Between '30' and '80' the tool will also look for single pixels that are adjacent to each other.  Above '80' the tool looks for even larger clusters of defective pixels.  Using the tool with values up to '80' will hardly ever remove real information from the image so it's safe to copy even such a high value to another image.
All the best,
Niels
The Image Quality Professor
The digital pioneer, Niels V. Knudsen, is Phase One's Image Quality Professor and founder of the IQP blog. Moreover, he is responsible for breakthrough advancements in image quality both in Phase One's medium format camera systems and in Capture One Pro.