NOTE: This article discusses an outdated version of Capture One. To learn more about our latest version, click here.
We understand that many of you are keen to try the outstanding RAW conversion available in Capture One 7, and would like to do this with images that may already be associated with other applications. We have therefore added a new import function in Capture One 7.1.3 for Mac OS X that helps you migrate your images in no time
It's now possible to import your Lightroom 4 and/or Lightroom 5 Catalogs into Capture One 7, so you can get started straight away while keeping your Catalog structure intact.
While we have succeeded in reading much of the database within the Lightroom Catalog, we unfortunately cannot transform all adjustments.  Some settings in Lightroom like color edits cannot be imported due to the sophisticated methods we use in Capture One's color handling and RAW conversion. Currently we can move the following parameters from Lightroom to Capture One 7:
Collections
Crop, Rotation and Orientation
White Balance, Exposure, Saturation and Contrast
Metadata (IPTC, Rating, Color Label, Keywords)
Importing a Lightroom Catalog
Importing a Lightroom Catalog is easy and it only requires a couple of steps. First, you will need to create a new Catalog in Capture One 7 by choosing File>New Catalog, or you can use an existing Catalog if you would like to combine it with a Lightroom Catalog.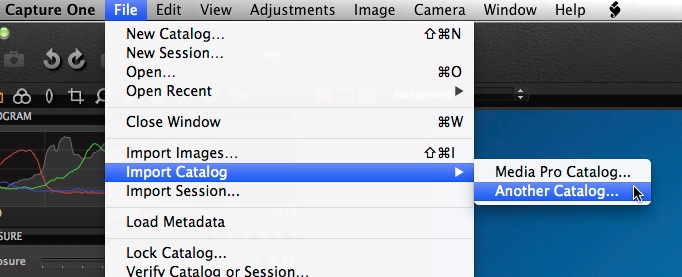 Next, choose File>Import Catalog>Another Catalog.

Next, browse to the location of the Lightroom .lrcat file…
The following dialog box will appear in Capture One 7, reminding you what parameters can be transferred.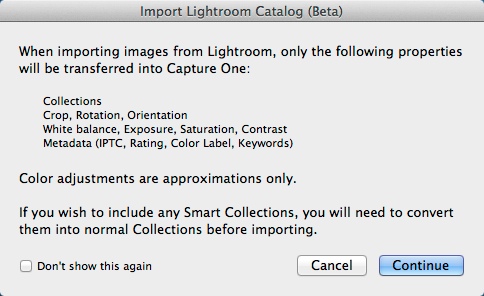 Click Continue and Capture One 7 will read the contents of the Lightroom Catalog and duplicate the information in the database to Capture One. You will see the following Activity dialog boxes during the process. The first indicates how many items are to be imported and the second shows the progress of building preview images.


When the import has completed, you will see a summary of how many items have been imported and if there were any skipped items. Skipped items may include images that are "offline" in Lightroom.  Should a file be offline, Capture One 7 will prompt you to provide/locate the Volume that the images are on during the import process, or allow you to skip each particular item.
The speed of the migration process depends on how many images you are importing into Capture One 7.
Finally in the User Collections area of the Library Tool, you will see your Lightroom collections.  Click on these to view the contents.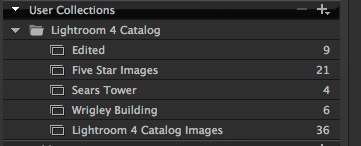 The Folders area in the same tool shows you the actual path of the images – reflecting how they are organised on the system.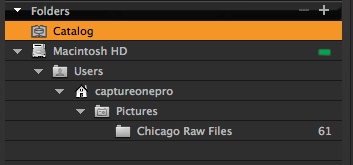 Points to Remember
Capture One 7 is a "read only" software and makes no changes whatsoever to the Lightroom .lrcat file. Capture One 7 simply reads the information contained in    your Lightroom catalog file and is therefore a very safe operation. If you are at all concerned however, please work with a copy of the .lrcat file.
Close Lightroom before trying the import otherwise the .lrcat file will be unreadable.
Adjustments to Saturation, White Balance, Contrast and Exposure are approximate and your image may look slightly different compared to Lightroom. Try the full complement of Capture One 7 Tools to get an ever better look.
Smart Collections in Lightroom cannot be imported. So if you want to see them in Capture One 7, save them as Collections first in Lightroom.
We hope you enjoy seeing your images with the quality of Capture One's Raw conversion.
To help you with your transition into Capture One 7, we have prepared the following material:
Quick Start Guide to get you up and running with Capture One Pro 7 in no time
Webinar below:
All the best,
Niels
The Image Quality Professor
The digital pioneer, Niels V. Knudsen, is Phase One's Image Quality Professor and founder of the IQP blog. Moreover, he is responsible for breakthrough advancements in image quality both in Phase One's medium format camera systems and in Capture One Pro.