Basically, a Capture One Pro 7 Catalog can be organized in two ways:
By using a simple folder structure at a system level (i.e. the organizational structure is handled using folders on your Mac or PC with images residing in the folders you've made).
By using a virtual organization in the User Collections area of the Capture One Library Tool.
How does virtual organization work?
A Collection is simply a 'group' of images gathered in one place for easy reference. I used the term 'Virtual', as placing images into a collection does not physically move them on disk. We simply update the Catalog database to reflect where you have organized images and in which collections.
Virtually organizing your images has a number of advantages over the traditional way of placing images in various physical folders on the system:
A single image can belong to several different collections and does not require a physical copy
Smart Albums can be used to automatically sort images with a variety of search terms
Projects (one of the four Capture One Pro 7 organizational items) can be intelligently used to enhance your organization and workflow.
The main benefit, of course, is that you should not be struggling to find your best assets in your Catalog… EVER!
Creating organizational items
All the virtual organizational items can be created in the User Collections area of the Library Tool. So for example, if we wished to create an Album in our Catalog, we would simply click on the Plus icon in the User Collections title bar: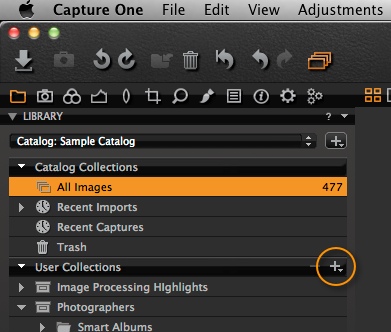 Then you can choose one of the four organizational items, which I'll go through now:
Albums
Albums are the most basic of organizational items. Simply create it and then drag and drop, whichever image(s) you want to appear in that album. Remember! You are not moving any image files on the disk, therefore an image can belong in several different albums.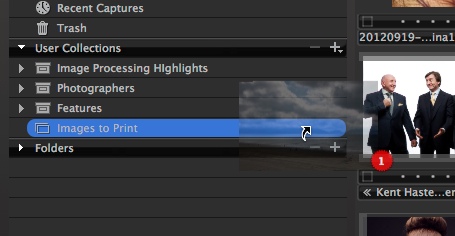 Smart Albums
If you have never used a Smart Album before then I would recommend you to explore them. Smart Albums are quite versatile in helping you sort images with a minimum of effort.
A Smart Album populates itself with images based on a user defined search criteria. For example, you could have a Smart Album that:
Only contains images that you have given a specific rating. e.g. Five Stars
Only contains images that contain a certain keyword
Only contains images shot with a particular lens
… and so on!
Of course, all search terms can be combined to create complex queries with results being returned in a matter of milliseconds.
For example, a Smart Album could be set to only contain images shot within a certain time period, that are keyworded with a certain term, are rated five stars and, captured with a particular camera and lens combination. The only limit is your imagination really!
Using Smart Albums with Projects
The power of Smart Albums is best explained in combination with the 'Project' organizational item. As busy photographers we can all imagine that we could end up with a great number of Smart Albums and Albums in our Catalogs. This could get very untidy and confusing.
Because of this we can use Projects for some brilliant organizational options.
Basically a Project limits the search scope of a Smart Album, so remember these basic guidelines:
A Smart Album

not contained

within a Project will search the entire Catalog.
A Smart Album contained within a Project will only search the images within that Project.
Therefore you can use both 'global' Smart Albums outside of Projects to monitor your entire Catalog and Smart Albums inside Projects to monitor only images specific to that Project.
Example
In this small Catalog we have 477 images: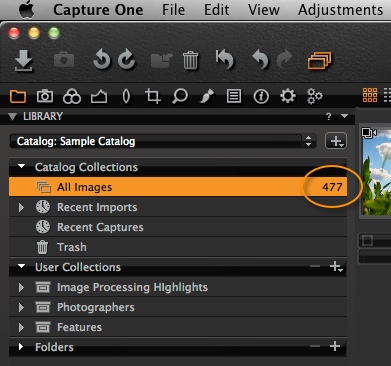 You can also see that three Projects already exist in the User Collections area, but let's make a new Project from scratch to show you the process.
I'll start by choosing Project from the menu described earlier, and naming it: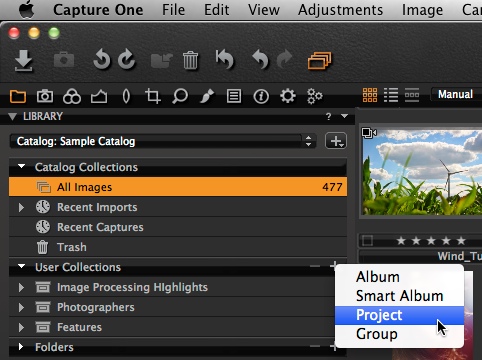 This creates a new, and empty, Project in the User Collections area:

As a Project cannot contain images itself, I will right-click on the Project and choose 'New Inside…' and create an Album.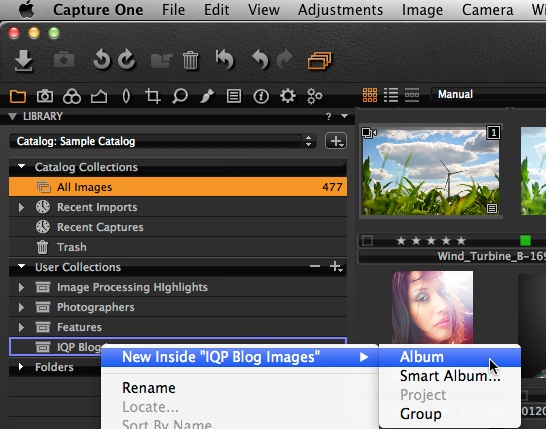 If you expand out the Project, the empty Album will be ready to accept images, simply by dragging and dropping as we did before.
Alternatively, if you right-click on the album and choose 'Set as Selects Collection' we can use a handy shortcut to quickly move images into that album, if you prefer not to drag and drop.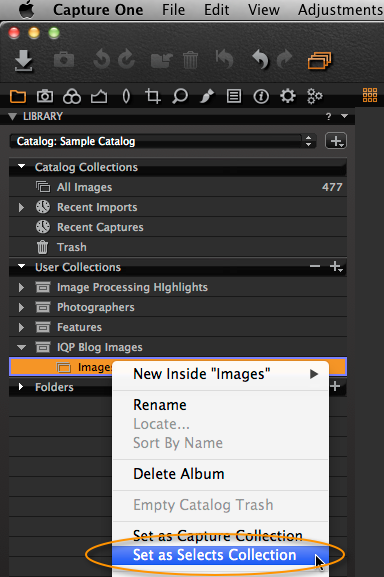 Simply select any image(s) and hit Cmd (Mac) / Cntrl(PC)-J on the keyboard to populate the Album with the image.
After selecting our files, we have an Album that now contains 13 images. Circled in orange is the icon that designates this as the Selects Collection.

Now the magic starts with Smart Albums!
I'll right-click on the Project once more, as we did to create the Album in the Project earlier, but this time I'll choose to create a Smart Album. The following dialog box opens, which is where we set the parameters for the Smart Album's search scope. I have used a Preset to automatically set the Search Criteria that the rating must equal five stars.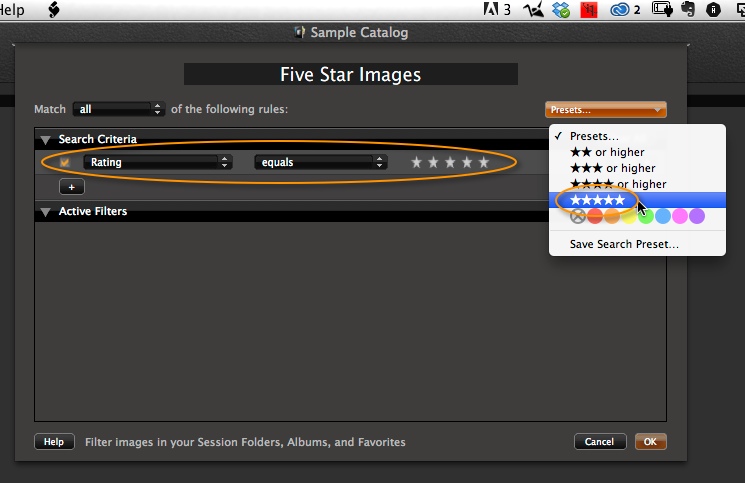 So any image in my Project that agrees with the criteria will be automatically added to the Smart Album.  You can see that the Smart Album now only contains six five star rated images from that Project.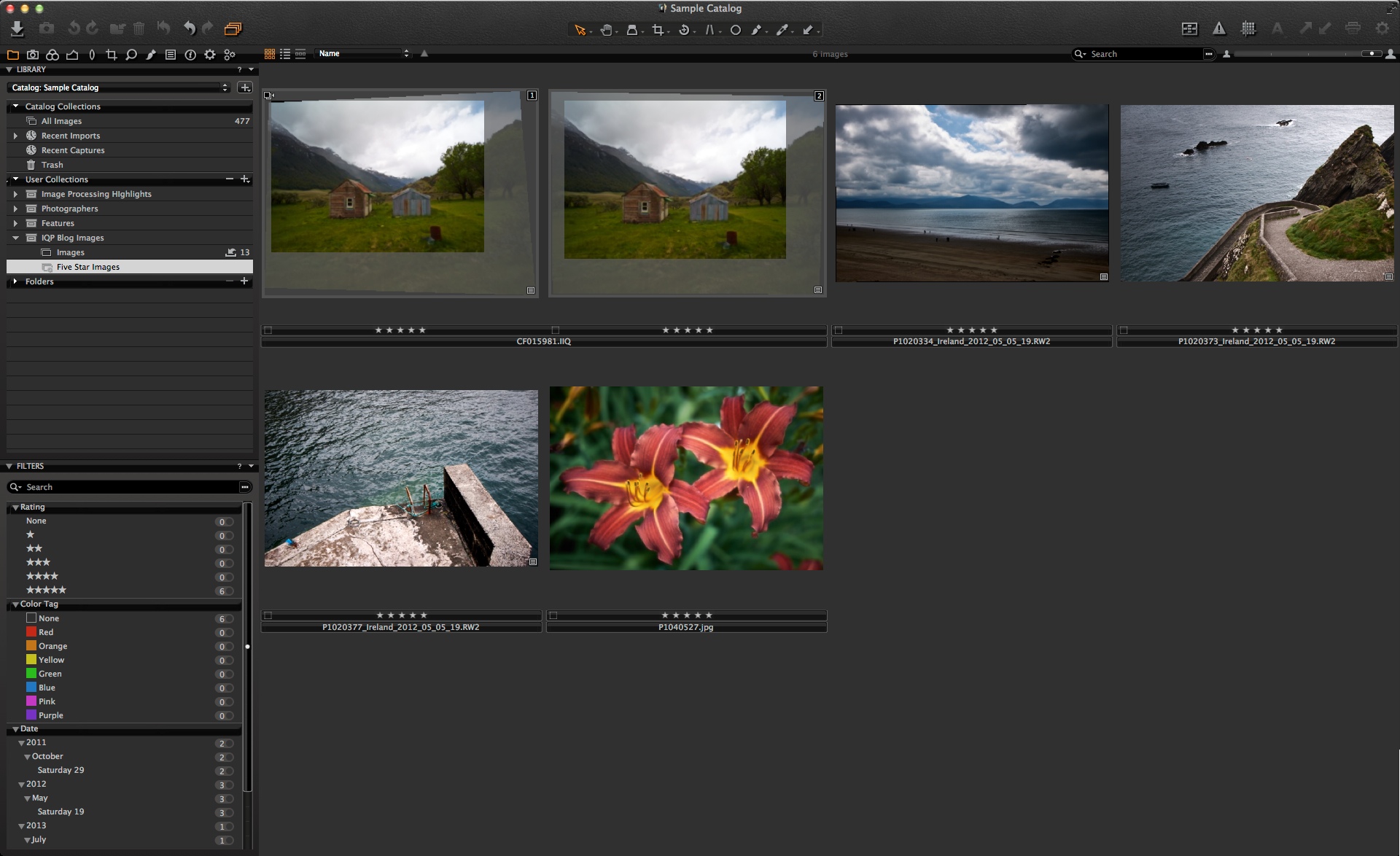 Finally, if I were to place a Smart Album outside of any Project in the User Collections area, then this Smart Album would search the entire Catalog. Here we have a returned result of 143 Images.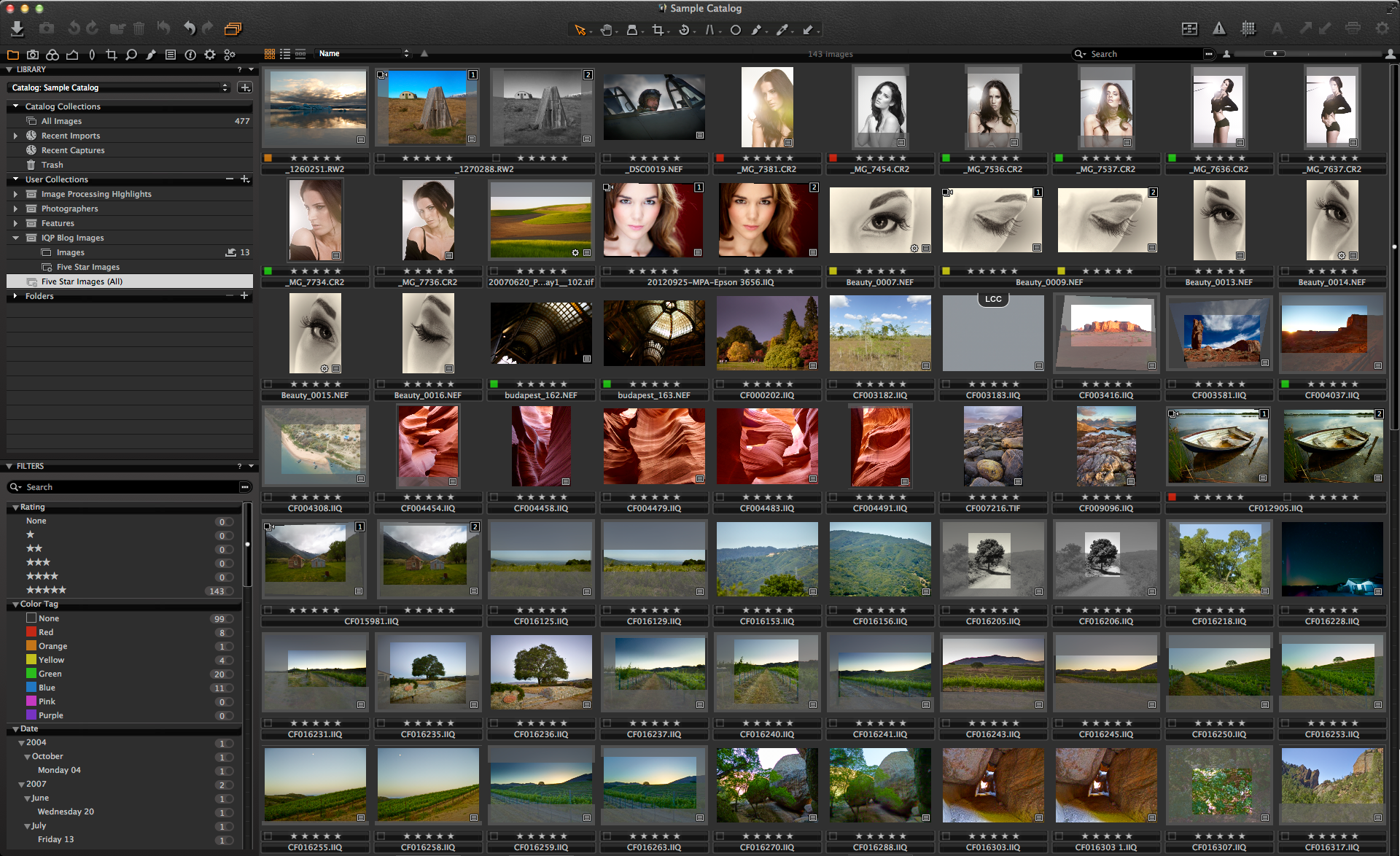 Using Groups
Our final organizational item is a Group. This is a free form item, which you can use pretty much the same way as a system folder. It places no limits on the scope of Smart Albums like a Project does.
For example, here I have just used a number of Groups to categorize my collections further.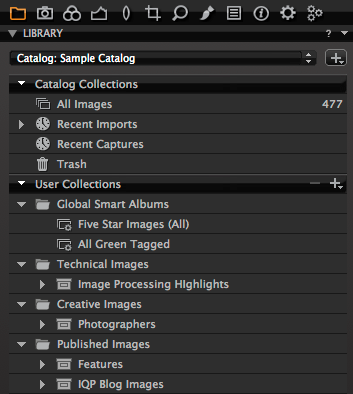 I hope by reading this tip you can see there is a lot of scope for using virtual organization as a way to empower your Catalogs in an intelligent way. By careful addition of Projects, Albums and Smart Albums it will be easier and most importantly faster, to find the assets you need for any given assignment or task.
Best regards,
David