Capture One Pro 7 introduced a much improved toolset for searching and filtering your images – not only in a Catalog but also in a Session.
By default, the Filters tool is placed in the Library tool tab, containing the basic filters of Rating, Color Tag, Date and Keywords.
Whenever you browse to a collection of images, the search filters show a corresponding number to the right, which represents how many images match those criteria. For example, in this collection we can see that twenty images are rated at five stars and ten images are tagged with Green.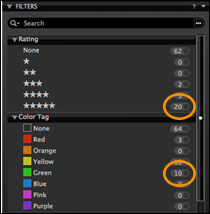 To filter the Browser view to a certain criteria, simply click on the button next to the value.  In this case, we have selected to show only the five star rated images.  The browser view will be instantly filtered.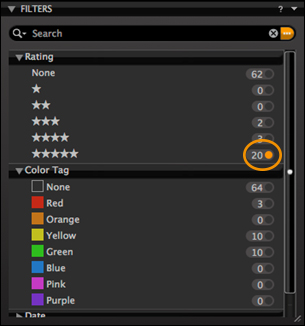 Combining Search Criteria
To activate more than one filter simultaneously, simply click on the filters you want to activate whilst holding the Option key (Mac) or the CTRL key (Win).  This will filter the results in the browser based on all the selected filters.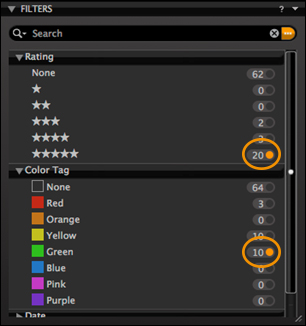 So consequently, only images with a Green tag and a Five star rating will be shown in the Browser.
Using the 'Date' Filter
The Date Filter acts as a very useful timeline on a collection of images.  It is split into Year/Month/Day so it is very easy to locate images shot in a particular period.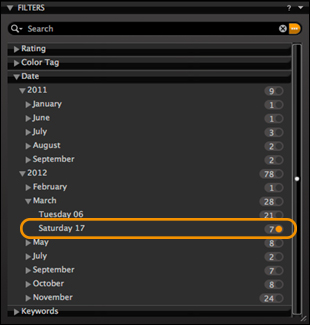 Here we have selected to view the seven images that were captures on the 17th March, 2012 – with just one click.
Adding Other Filters
Besides from the default set, a whole host of other filters can be used to search an image collection.  Click on the arrow in the Filters tool bar and choose Show / Hide Filters.

This will show the complete list of available Metadata filters.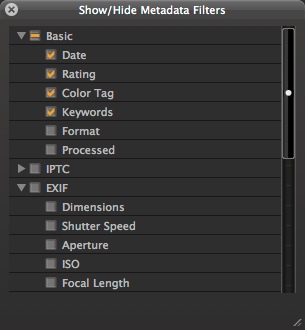 Simply check any of the boxes to make them available in the Filters tool.
Saving Searches as Albums
It is very simple to save a search using the filters as an Album or Smart Album.  Whenever there is an active filter, the Advanced Search option in the Filters tool search input bar is colored orange.  Clicking this will show the currently selected search criteria in the Advanced Search window.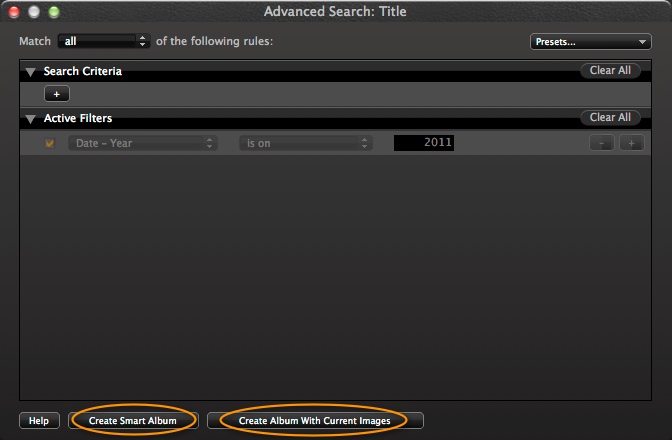 To save this as an Album (of the filtered images) or a Smart Album (of the current criteria) use one of the options in the window. The Album or Smart Album will then appear in the User Collections as shown below:

The Image Quality Professor
The digital pioneer, Niels V. Knudsen, is Phase One's Image Quality Professor and founder of the IQP blog. Moreover, he is responsible for breakthrough advancements in image quality both in Phase One's medium format camera systems and in Capture One Pro.