One of the biggest annoyances with tethered capture is having to constantly move back to the computer to trip the camera. I often work independently, so anytime an adjustment needs to be made with a soft box, moving a bounce card, moving the subject or styling the scene, I have to move from behind the computer and into the frame. That gets old quickly and chews up a lot of time that could be spent more productively. Of course, an assistant or digital tech would be helpful, but that isn't always an option. Capture Pilot is an awesome mobile solution to many of these
challenges. The app integrates seamlessly with Capture One Pro 10 to review capture right on the iOS device with the option to control many tethered camera settings, including shutter release.
Independent Workflow Benefits
Capture Pilot reliably allows me to step away from the tethered camera to style a scene, reposition lights, hold bounce cards, while still adjusting camera settings and taking the shot without having to move. When tethering a camera to Capture One Pro 10 on my Mac, I position the display to face back towards the scene. I can stand just out of frame and see exactly what is happening on a larger monitor with precision. For added refinement at a glance, viewing the Focus Mask displays a green overlay to show image areas in focus. Previews will quickly load on my smart device in Capture Pilot and a simple pinch to zoom helps to evaluate fine detail. Working independently on projects is vastly more feasible using Capture Pilot with Capture One Pro 10.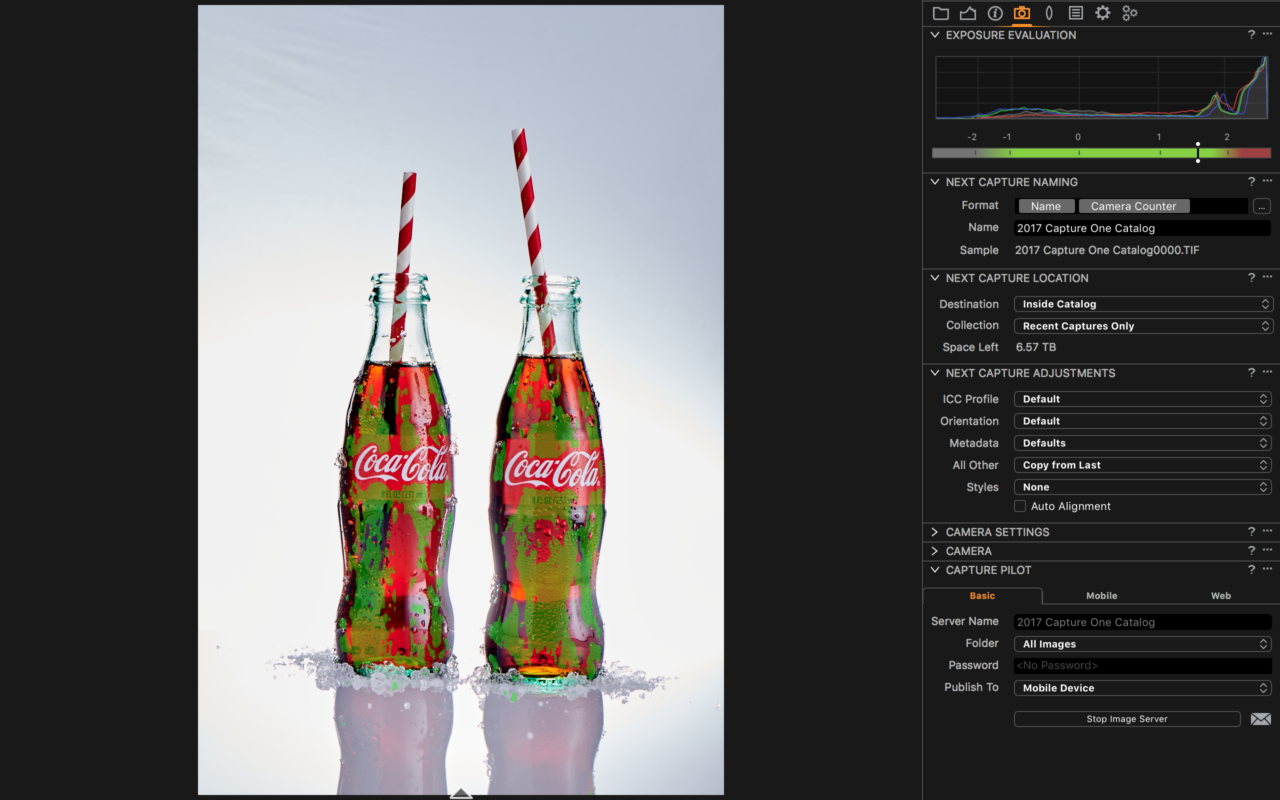 Focus Mask displaying a green overlay
Collaborative Workflow Benefits
On set, time is money, and it's not simply your time that goes into consideration. If you have a creative team with a producer, creative director, stylists, assistants, chefs, clients, etc., there can often be a number of staff on hand. Any amount of time you can save is multiplied across every person on set and that can be considerable. For food or beverage photography, the level of efficiency that Capture Pilot helps establish can make all the difference with brief windows of opportunity after styling, saving additional takes.
Having the best creative tools will you help maintain a less chaotic, more productive atmosphere on set, further increasing the value you offer. Capture Pilot is one more resource to have on hand to speed up and simplify the process, especially if you are working shorthanded. It can also be implemented to easily include a key player in the creative process, giving them their own personal review station on a phone or tablet.
Setup and Tethered Camera Controls
To begin, make sure your computer and smart device are both connected to the same Wi-Fi network. After installing Capture One Pro 10 and Capture Pilot iOS app, open Capture One Pro 10 on your computer and navigate to Capture Pilot within the Capture Tool Tab. Under the Publish Tool, select either Mobile or Mobile and Web. Launch the app on your smart device and select the local server you just created in Capture One Pro 10. By default, it will share the same name as the Capture One library that is open. Once connected, it will launch camera controls with previews behind it. You can disable the controls and change the size of previews, as well as intuitively navigate within the frame by pinching to zoom. You can choose your priority/drive mode, and within the applicable mode, adjust Aperture, Shutter Speed, ISO, and Exposure Value.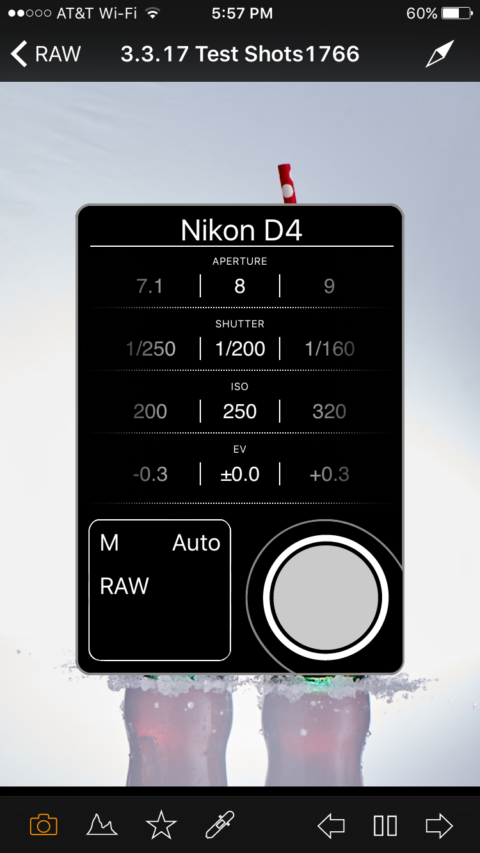 Adjust Aperture, Shutter Speed, ISO, and Exposure Value
RAW or JPEG file types can be selected, as well as preset while balance options. The ability to set a white point for color balance is built in. What's really slick is that you can rate photographs as you are working.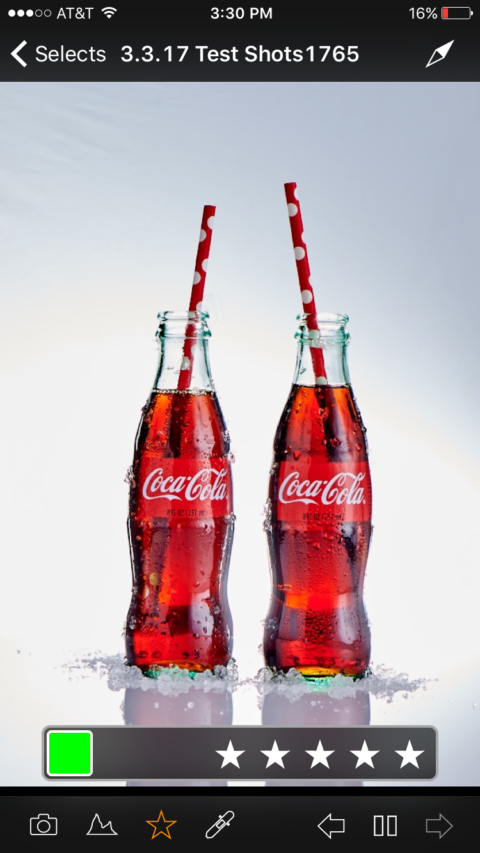 Rating photographs
Coupled with Smart Albums in Capture One Pro 10, that's a powerful feature and enables more freedom from being stuck behind the computer.
Pro tip: keep a charging cable on hand to charge your smart device. I have a case with a built in battery for additional redundancy and only kick it on if charging between shoots can't keep up with demand. Enabling Do Not Disturb on an iPhone can help keep you from getting interrupted by notifications while working.
What I Love About Capture Pilot
Freedom to work more independently on studio or location projects. Time saved being able to interact with a scene while still controlling the tethered camera. The seamless implementation with Capture One Pro 10, quickly adjusting camera settings, and tripping the shutter with ease. The pinch to zoom previews show all the detail I could ever hope for. The app itself is free, with camera control being an optional (massively beneficial!) in-app purchase. Basically everything about it. It considerably upgrades my workflow and Capture One Pro 10.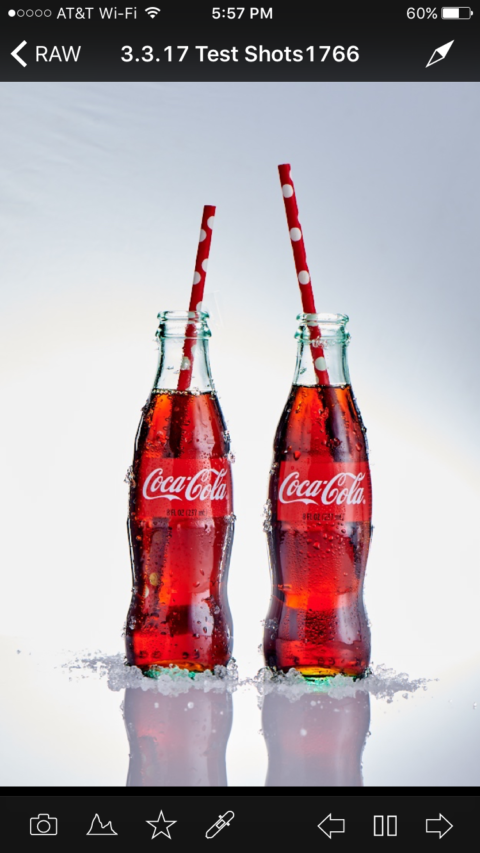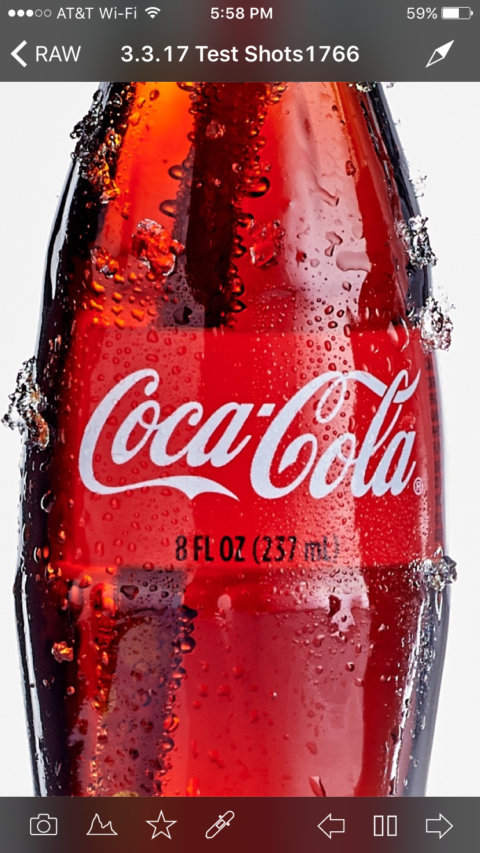 Pinch to zoom preview
Improvements I'd Like to See
Focus control, which was just added to Capture One Pro 10, would be an amazing feature. The histogram doesn't load for me on mobile, though perhaps it is my camera. Ability to check camera battery status when the camera is powered by a battery and not with a power adapter. The camera could be a Phase One XF 100MP. A better photographer.
Closing Thoughts
In the past, I've used third party remote apps, paid more for them, and they were not this easy to use and never this integrated. At $15 for an in-app purchase (the app itself is free), it's on the steeper side of what one might consider paying for a phone apps. That said, when you consider the amount of time savings, creative control, and mobility it provides, it upgrades the value of Capture One Pro 10 and your overall production workflow. If you tether even occasionally, using Capture Pilot with Capture One Pro 10 really is a must.
Capture Pilot is available as a free iOS App from Apple's App Store
Download Capture Pilot here. You will need Capture One as well, download a 30-day trial to make everything work!
Read more in-depth details about Capture Pilot in our User Guide.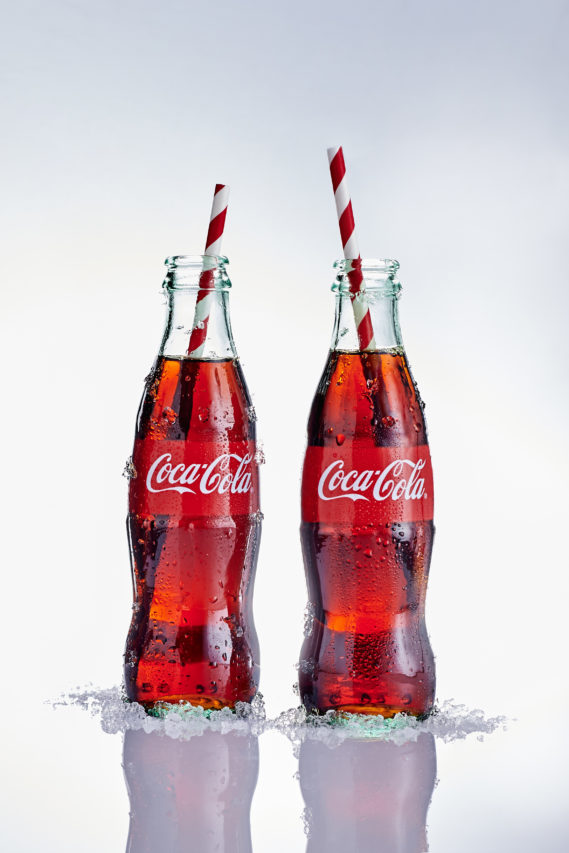 Jordan Bush
Jordan Bush is a photographer and writer based in the countryside just outside of Philadelphia, PA. Always adapting, he focuses on commercial photography and photojournalism. From snipers to social issues, his photojournalism work has taken him to five continents and counting.
Follow Jordan Bush