It is almost three years ago since I wrote on this blog about using a Wacom tablet with Capture One Pro (Work faster by customizing your Wacom tablet in Capture One Pro 7), so I thought it was about time for an update!
I began using a tablet after struggling with the worst mouse design of the century, the infamous Apple 'Hockey Puck' mouse.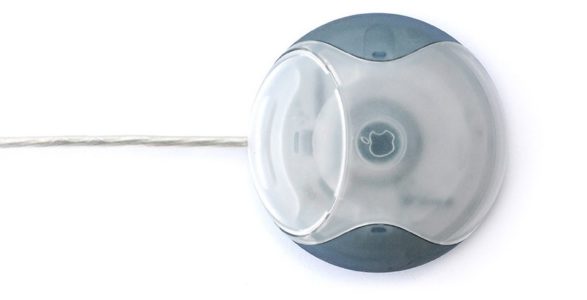 Whilst looking sleek, it was an ergonomical disaster and soon led to RSI in hand wrist and arm. At the time, I was creating cutting paths for about 7-8 hours per day, so maybe I'm being hard on the mouse, but something had to change. So I found the Wacom tablet.
Since then, I have never looked back and I use my Wacom all day every day for every single application. I do not even have a mouse anymore or feel the need to get one.
Why Wacom?
So, apart from comfort, why else use a Wacom tablet? If you haven't tried one before, my advice is to certainly give it a go. It may take a short time to adjust, but once you have, you won't regret it!
The latest models also act like a large trackpad, so if you want a break from pen holding, you can simply activate the touch sensitivity and use it like you would use a laptop trackpad. The pen also responds to pressure, which can be linked with some functionality in Capture One Pro and as well as to other applications.
The model I am using for this post is the Intuos Pro (http://www.wacom.com/en-us/products/pen-tablets/intuos-pro-medium).  They come in a number of sizes, but I have always found the smaller size adequate for my needs, plus it's also easy to travel with. It really does come everywhere with me.
Wacom were kind enough to send me a new one so I could compare to my much older model I've been using. If the financial stretch to a Pro model is too much, the Intuos line (http://www.wacom.com/en-us/products/pen-tablets/intuos-photo) should definitely not be seen as a poor substitute.
Customisation
Since my last look at the Wacom driver, I can certainly see that things have moved on in terms of customisation possibilities. There's almost a mind boggling array of customisable functions and it's going to take me some time to dig into what will work the best.
Let's have a look at the Pen first….
Pen
Changes to Pen and Tablet functionality are all carried out in the System Preferences (I am told the possibilities are the same with Windows). Here are the Pen options: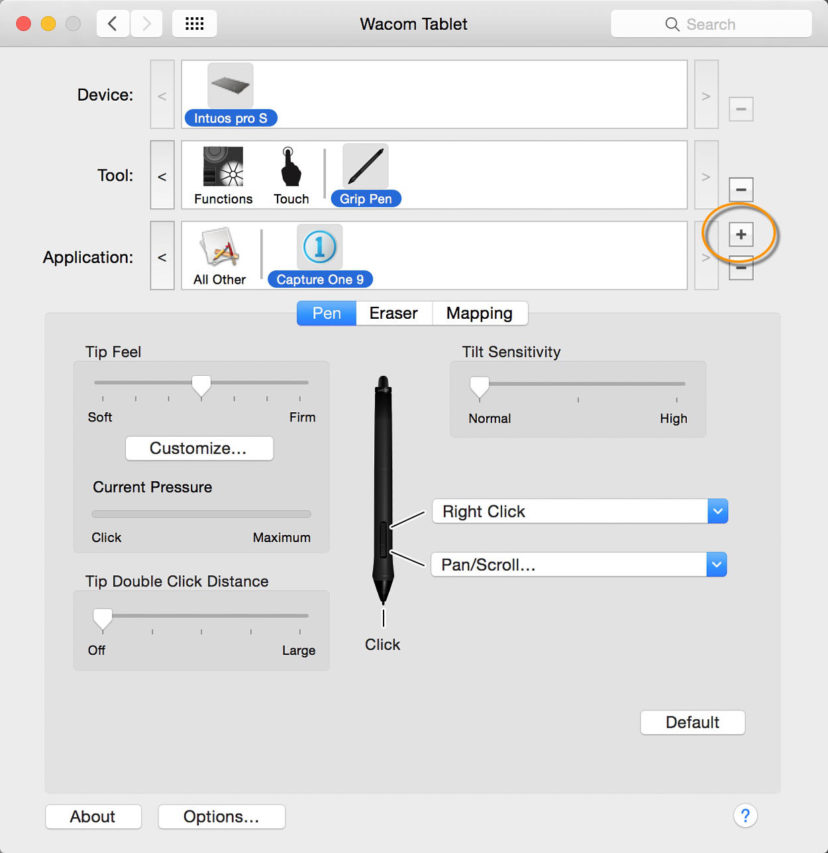 The feature circled in orange is important! It allows you to create custom configurations for individual apps.  So, click that to begin creating a setup just for Capture One Pro.
I change very little on the Pen configuration, except for the switch which you can operate with your thumb.  The lower part (set to Pan/Scroll) I can click and hold which allows me to scroll up and down through the thumbnail view, or indeed any other scrollable window in Capture One or any other application..
The upper part I've set to Right Click, which means I can access many of the sub menus of Capture One Pro directly from the Pen.
If you've read my older blog post about Wacom, you might remember a function called the Radial Menu which can also be accessed by a Pen button click. This brings up an OSD-like menu wherever the cursor currently is: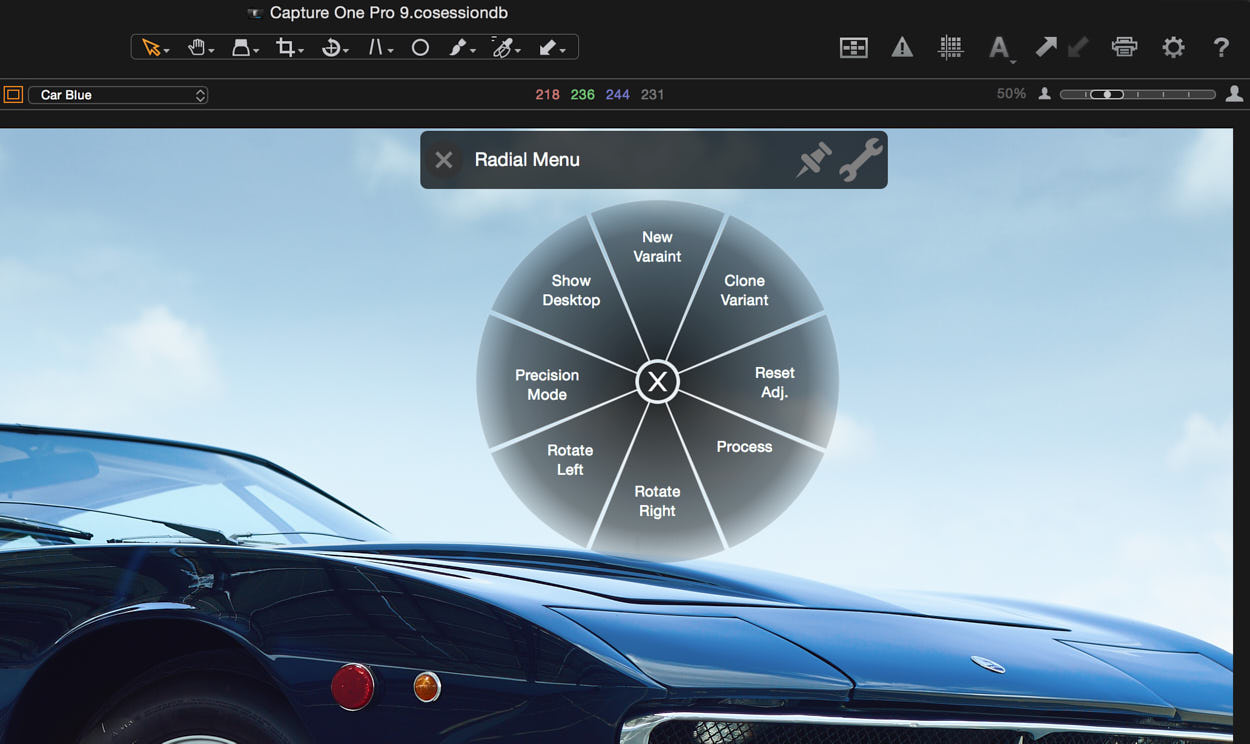 This menu can be customised to respond to Capture One Pro's shortcut keys, and if you're new to Capture One Pro and can't remember all the shortcuts yet, this is a great way of adding some of the frequently used functions.
To configure it, you need to change to the Functions section, On Screen Controls Tab and then the Radial Menu: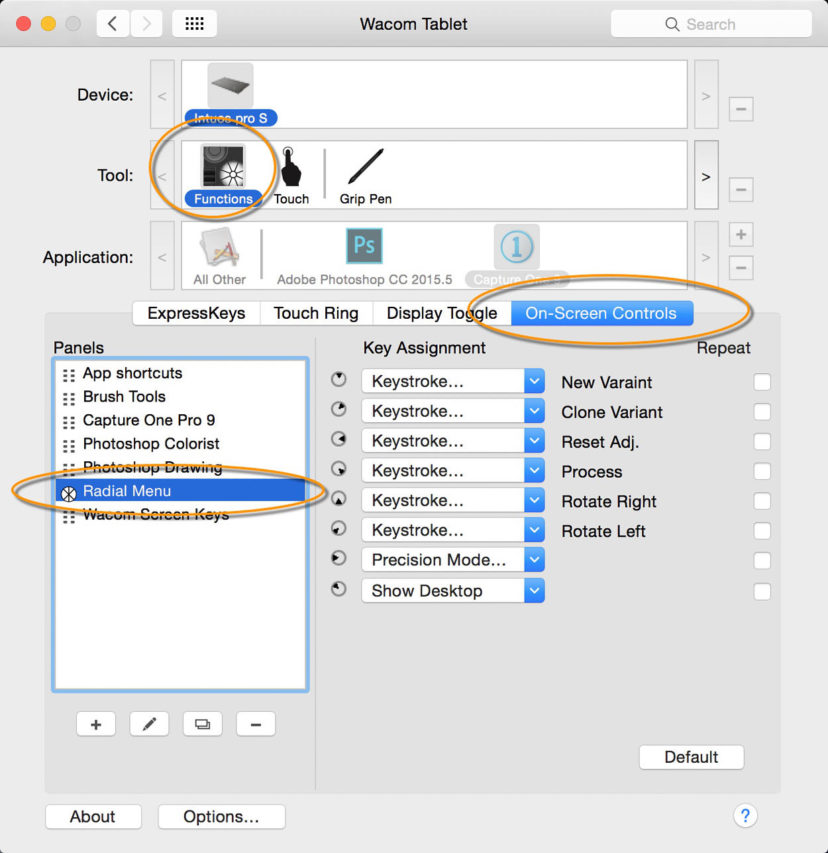 For each 'wedge' of the Radial menu you can assign a function. In this case, I have set Keystrokes that correspond to certain Capture One actions, like creating a New Variant.
I will admit that I've moved away from using this, as I became more and more used to using shortcut keys and being able to remember them! However, this is a GREAT option if you can't remember shortcuts or simply don't like using them.
If you want to use this option, just change the top Pen switch to Radial Menu, or use one of the Express Keys (See below) if you prefer.
I think that, potentially, a great action to add here would be options for Local Adjustments like Fill Mask and Invert Mask. I plan to try this out right away.
If neither of those options appeal to you, simply take a look at the available ones from the list, there's a lot!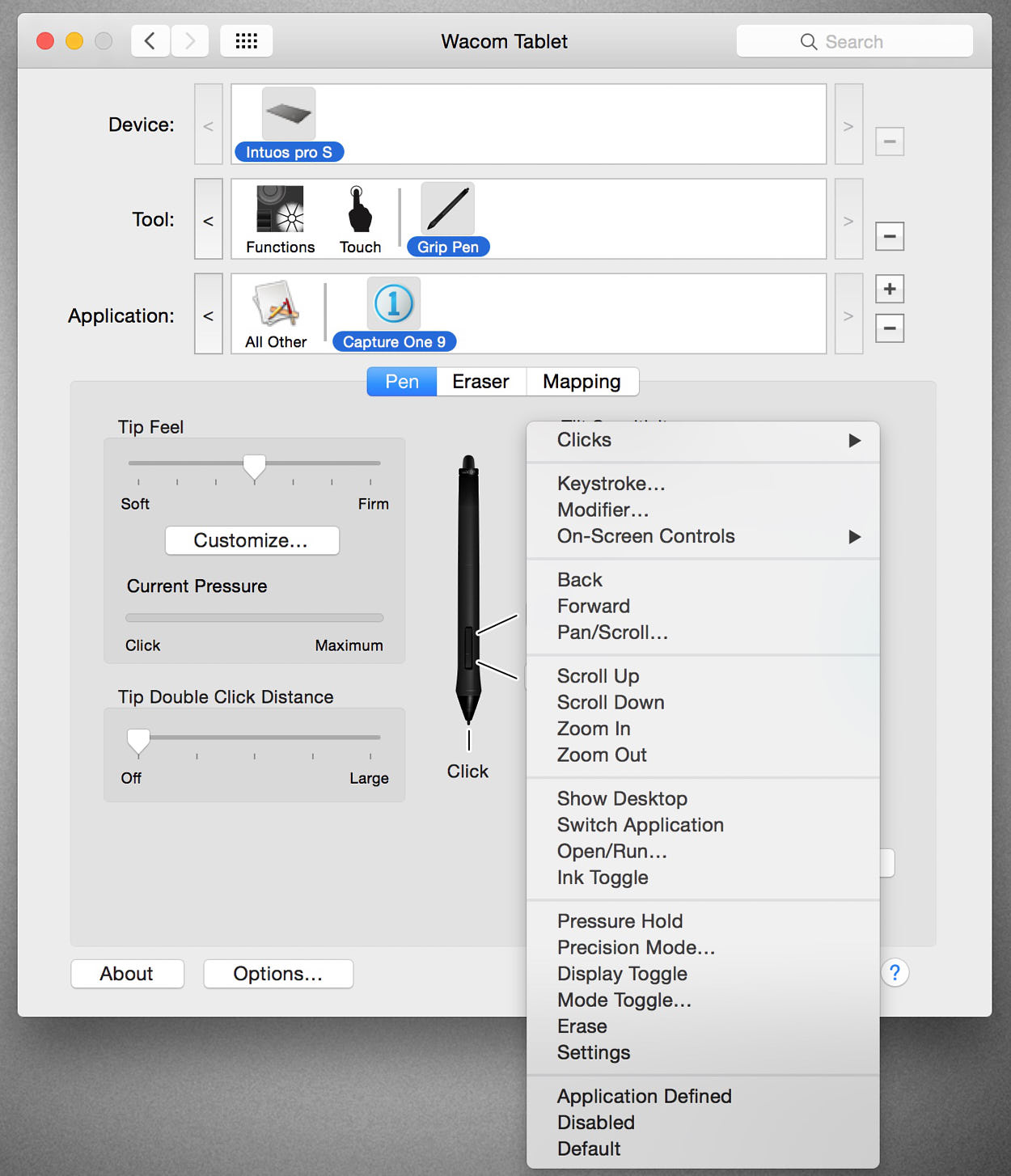 The Tablet
The tablet itself also has customisable Express Keys and the Touch Ring, which is a touch sensitive wheel that can also be customised. It's commonly used for changing brush parameters or zooming.
Once again, I will be completely honest and say that I don't use these keys as much as I use the keyboard. Ergonomically, I have my left hand on the Keyboard where I can access, CTRL, SHIFT, CMD, ALT etc., and the Pen in my right.
(Don't worry if you are left handed, as you can flip the tablet, and set to being left handed in the preferences)
However, instead of using the Express Keys as modifier keys, they are useful for accessing some Wacom specific functions.  One of them, I've actually just discovered while writing this post.
The Express Keys are configured just like the Pen toggle switch.  Each key is shown graphically, with a drop down menu of options.
I leave the first Express Key set to the default, which just turns the touch sensitivity on and off.
Display Toggle
If you work across two monitors, like me, the surface area of your Wacom will be divided between them. In the Mapping tab, a graphical representation shows you how the tablet is divided. Generally, I leave it like this, but if you are working on two displays that vary greatly in size, you can find that you don't have enough tablet for the screen in terms of accuracy.
Therefore, I've just set the second Express Keys to Display Toggle: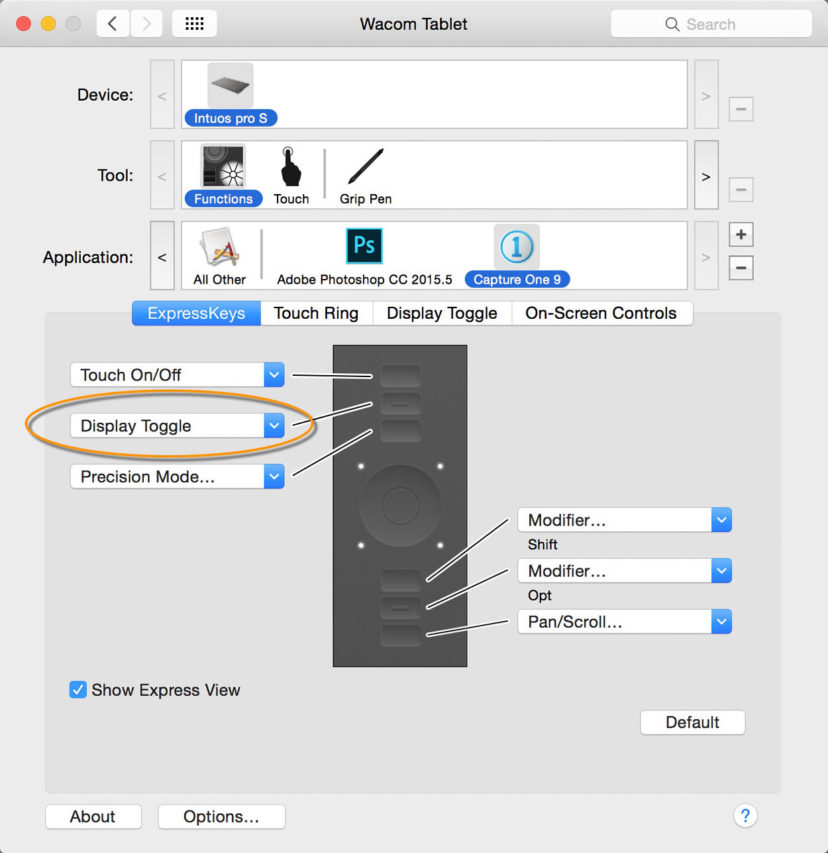 This means that clicking this button will remap the tablet to either one of the monitors or both of them.  So if I would like to concentrate on my main monitor only, I just toggle through using that key. I have to say that I'm so glad I found this feature.
Precision Mode
This can be really handy when doing some intricate masking work in Local Adjustments. Basically, it remaps the tablet area to a very small part of the screen, so you can work very smoothly.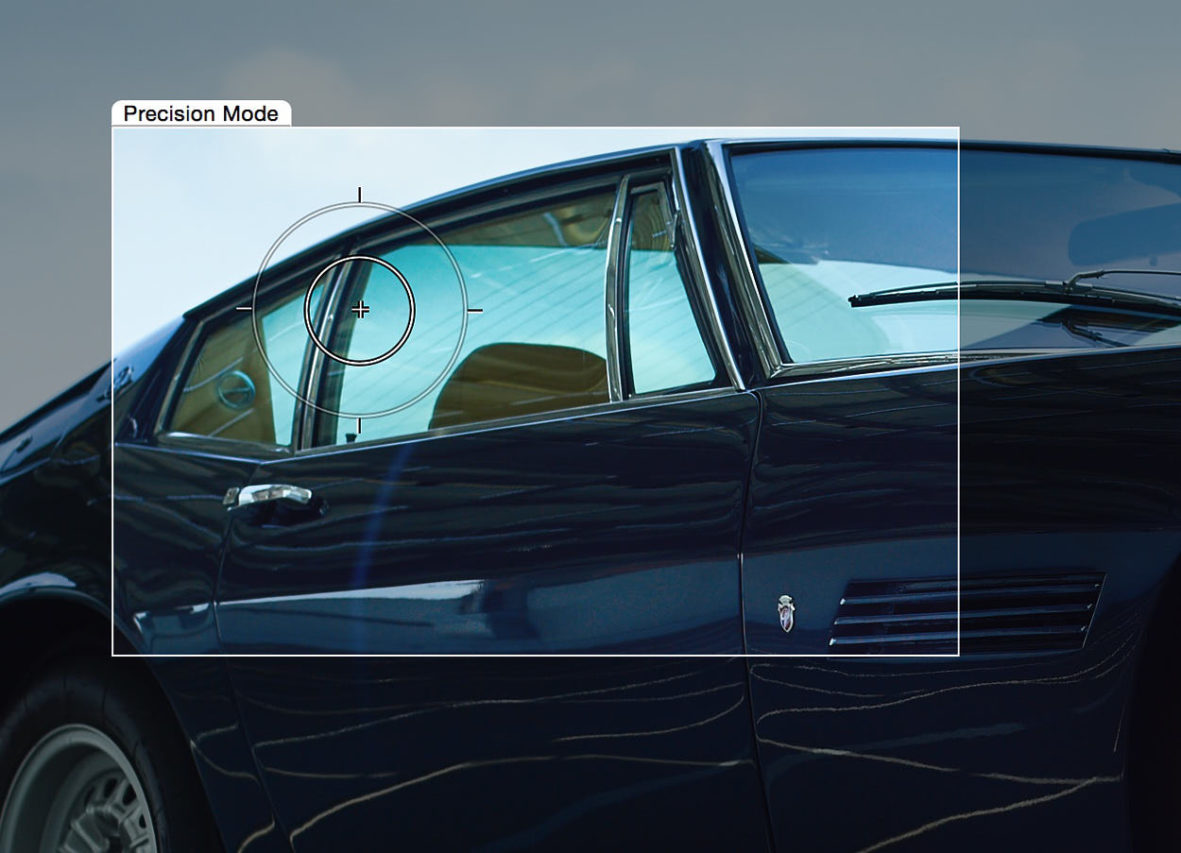 The Touch Ring
If you've ever used a classic iPod (showing my age here), you'll know exactly how the touch ring works.  It's a touch sensitive dial that can be used for things such as zooming or adjusting the brush size and hardness:
Sometimes I use this, but sometimes I can either just Right Click whilst using the brush (easy to do on the Pen as you have seen) to bring up the Brush parameters, or even hold CTRL on the keyboard.
So at this time, I haven't found a time saving use for the Touch Ring, but I will keep investigating.
On Screen Controls
On Screen Controls are similar to the Radial menu but going one level deeper for the amount of shortcuts you can add with more customisation possibilities: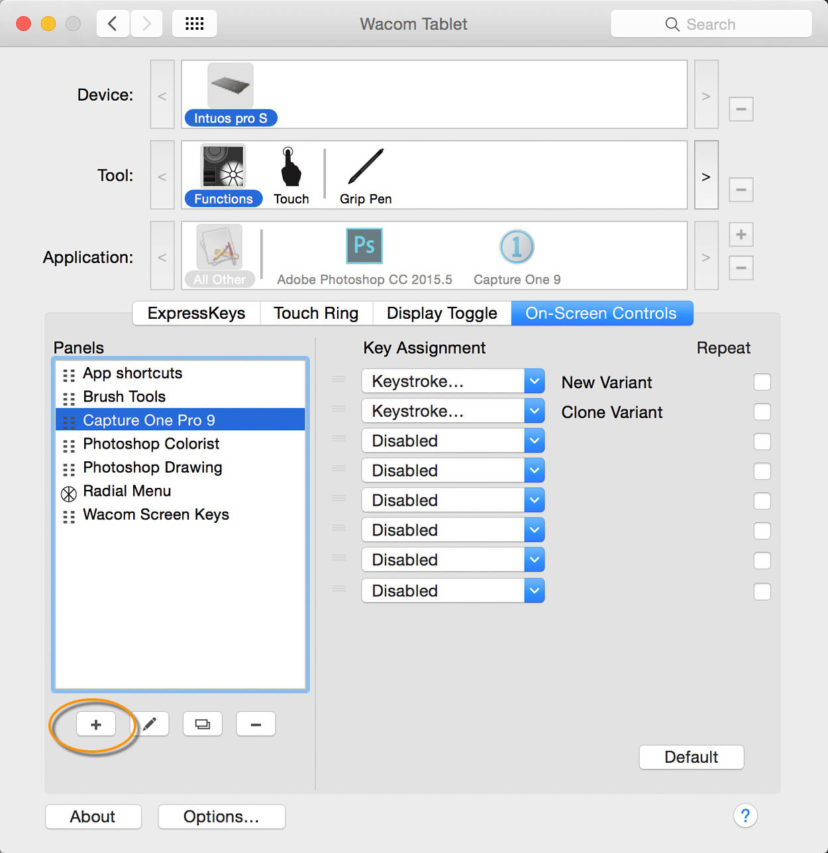 By clicking the plus button (indicated) you can create a list of key assignments in a similar way to the Radial Menu.
They show as a HUD style grid on screen:

Again, this could be a useful way to convert shortcut keys into visual buttons, if you have a hard time remembering them.
Using Pen Pressure
Depending on the model, Wacom tablets are sensitive to the amount of pressure you place on the pad. You can link that pressure sensitivity to the size of your brush in Capture One Pro's brush settings panel: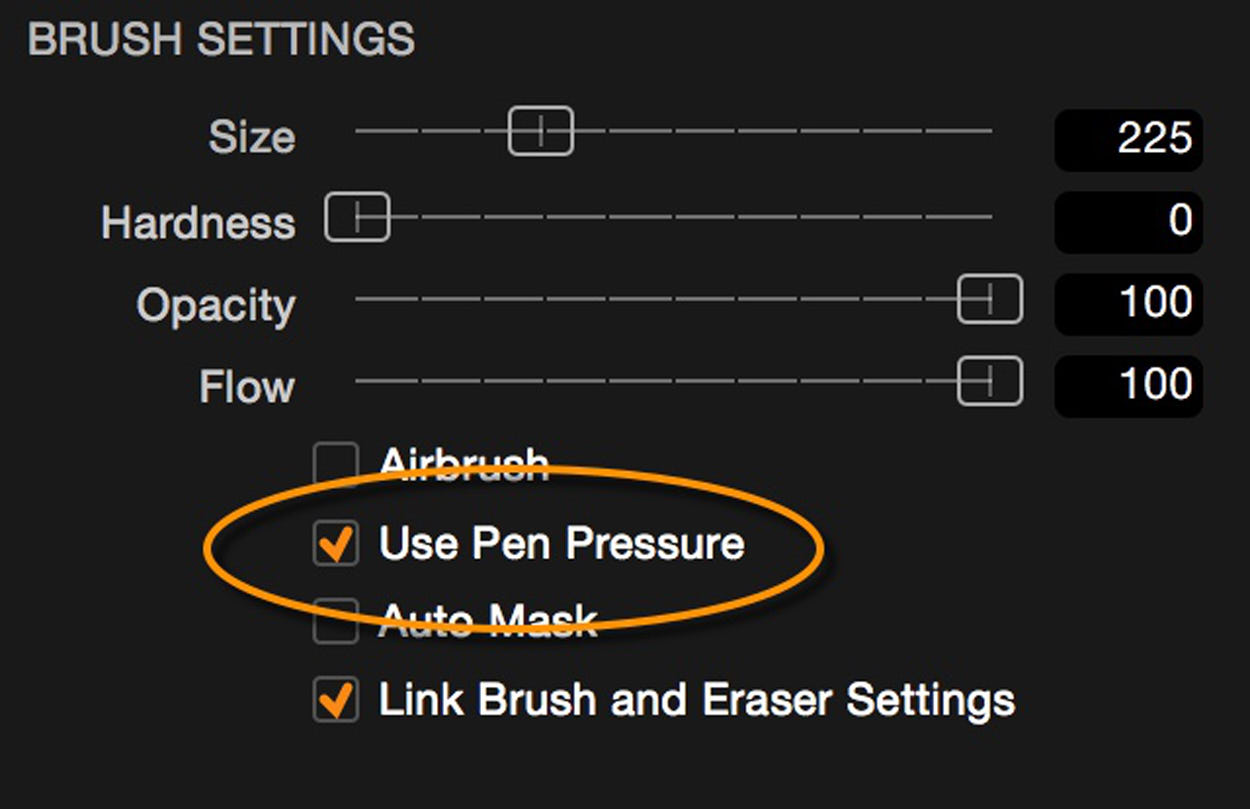 Personally, I am not skilled enough to make this work well, and find it faster to just bring up the settings panel to finesse brush size as I work. Also, with the addition of Flow control (The importance of Flow control) it doesn't make sense to link Pen Pressure to Opacity right now.
But try it and see what you think.
Conclusion
So far, I have only scratched the surface of what's possible in broader terms with a Wacom tablet.
If you decide to take the plunge and start using a Wacom as a result of this post, then please let me know in the comments how it went.
What have you found that makes your workflow easier?
If you're already a Wacom user, what can you tell us about your shortcuts and settings?
As I work more with this new tablet and driver, no doubt that I will settle on a configuration. When I do, I will follow up with my final setup!
All the best,
David Grover