There's a lot that goes into crafting a mouthwatering photo of a delicious dish or decadent desert. Michaela Hartwig takes us behind-the-scenes with key tips on prepping food shoots, what to do on set, and how to achieve natural-looking images with the right tones using Capture One's photo editing software.
MICHAELA'S TIPS
Preparation
Prep all the ingredients that you plan to use for your shoot. Sort the most beautiful herbs, fruit or vegetables. Place everything on a table nearby in separate bowls and plates so everything is ready when you need it. Provide a chopping board and a sharp knife, a scissor, some Q-Tips, tissues and a bowl with fresh water in case you need to clean something. When you're shooting, you don't want to waste time searching for a specific ingredient or tool. This prep will save a lot of time.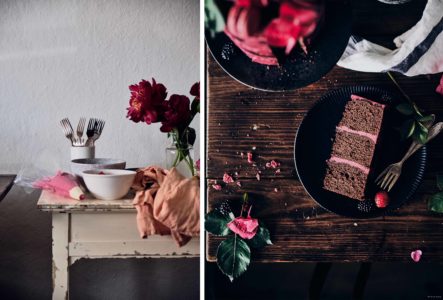 Prepare your setting. Use a placeholder to make some test shots before you start with the food. Be aware of what kind of lighting you want. Place blackboards wherever you want to create shadows. Place whiteboards wherever you want to brighten up the image. Of course, you can add some shadows in Capture One Pro afterwards, but it's always better to shoot the image as close to the desired result as possible.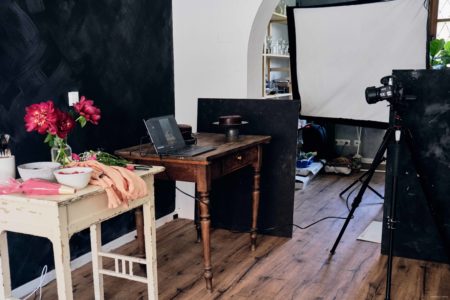 Don't ever wash your salad or your herbs. If you want to have fresh-looking produce, use unwashed salad or herbs and just spray it with a bit of water just seconds before you press the shutter release.
Buy more ingredients than you need for the actual recipe. You will always need extra herbs, chocolate, flowers, etc to decorate around the plate and make the picture look more interesting and appealing.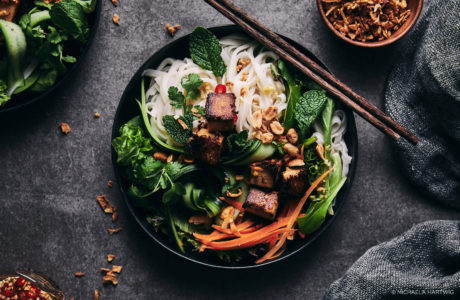 When on set:
Shooting tethered using Capture One Pro's industry-leading tethering and keeping an eye on the Live View Screen helps immensely to get the styling on point when you're working alone.
Style on Eye Level. If you are shooting a top down, style from above. If you're shooting angled, style from the angle your camera is shooting from. This could hurt your back sometimes, but the end result will be better when you style from the camera's perspective.
When you fill glasses or decorate creams on a plate, always use a piping bag or clean spoons for neat and clean arrangements with no spillage.
If possible and if you're shooting with a tripod: try to show human interaction. This will always give a more vivid look to the image in comparison to a classic plate shot. Try to freeze actions like powdered sugar sprinkling on a cake or chocolate drizzling over the edge of a brownie.
Create foreground. Use some of the props, flowers, herbs, etc to create a foreground. It could be something as simple as a glass of wine just touching the edge of the image in the lower corner. Or perhaps a chair or a leaf close to the lens to create blur.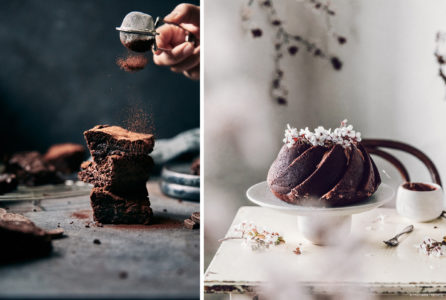 Editing and Color grading in Capture One Pro:
Color Grading is a difficult but exciting aspect of food photography and I rely on Capture One Pro's RAW editor to achieve my desired look. The challenge is to create interesting color grading without changing the color of the food so it looks unnatural or unappealing. The intention of food photography is usually to make the viewer hungry. Therefore, the food has to look appealing and natural, not artificial. To achieve this, I like to give my shadows a cool tint and my highlights a warm toning using Capture One Pro's advanced color tools. I also like to give the greens a blue toning.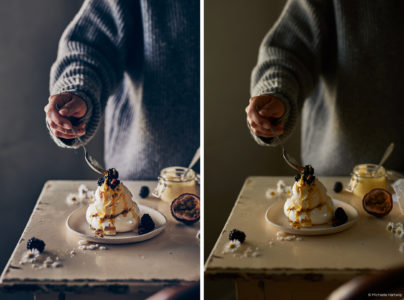 Capture One Pro's image editing software is a lifesaver when it comes to achieving these tones, because I can do any color grading I want on the backdrop, which will affect the plate or perhaps props like cutlery or flowers. But If the color grading affects the actual food too much, I can always erase parts of the mask, so the food itself preserves its natural color.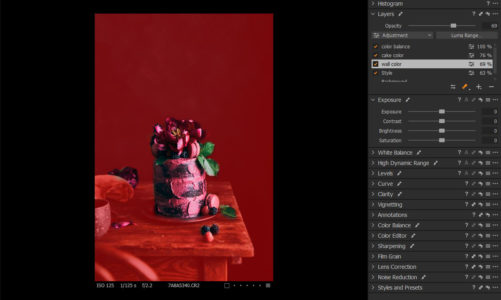 My pictures most commonly live in cool and blueish shadows, so in most cases it's necessary to draw in warm tones on a separate layer to the food to make the overall photo more pleasing. However, this is subjective and varies from photo to photo.
I hope this helps you create delicious-looking photos. Good luck!
Michaela Hartwig
Michaela Hartwig trained as a fashion designer and worked as an accessory designer for a few years, but always had a passion for baking and decorating deserts. Encouraged by friends to create a cookbook, Michaela started a food blog in 2013 and dove into the field of photography as a result. Since then, she has practiced every minute to become a better stylist and photographer. In 2018, she quit her day job as a designer and began working as a full-time food photographer, stylist and blogger.
Rather than following conventional food photography approaches featuring perfectly-styled plates, Michaela says her images always contain some kind of imperfection – desired or not. Michaela is currently based in her hometown in the countryside close to Munich, where she has a small studio with a kitchen and a huge shelf for one of her most expensive passions: beautiful ceramics.
Follow Michaela Hartwig